The Magazine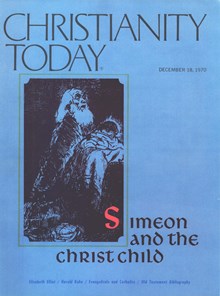 Read CT online anywhere you go.
Subscribers get full print and digital access, including:
10 award-winning print issues
PDFs of each issue
Full web access to ChristianityToday.com
60+ years of magazine archives
Table of Contents
The CT Archives are a rich treasure of biblical wisdom and insight from our past. Some things we would say differently today, and some stances we've changed. But overall, we're amazed at how relevant so much of this content is. We trust that you'll find it a helpful resource. - Mark Galli, editor-in-chief
No Disappointment in Jesus?
A case for letdowns.
Also in this Issue:
'Consciousness III': Greening or Withering?
Can Catholics Learn Anything from Evangelical Protestants?
COCU Alternatives
Editor's Note from December 18, 1970
Part 2: The Old Testament as a Whole
Peripatetic Pope: Philippine Peregrinations
Preaching amid Smog
What Do Evangelicals Believe about the Bible? Second of Two Parts
Simeon and the Child Jesus
FILLER TITLE
More than Holly—Holiness
FILLER TITLE
FILLER TITLE
Churches Rally to Aid Pakistan
U.S. Catholic Bishops: Non-definitions
Revival in Russia?
Tennyson Anyone?