The Magazine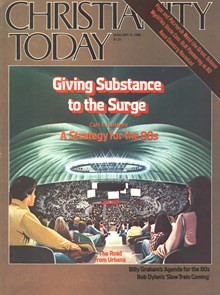 Read CT online anywhere you go.
Subscribers get full print and digital access, including:
10 award-winning print issues
PDFs of each issue
Full web access to ChristianityToday.com
60+ years of magazine archives
The CT Archives are a rich treasure of biblical wisdom and insight from our past. Some things we would say differently today, and some stances we've changed. But overall, we're amazed at how relevant so much of this content is. We trust that you'll find it a helpful resource. - Mark Galli, editor-in-chief
Not Buying into the Subculture
Slow Train Coming reveals that Bob Dylan's quest for answers has been satisfied
Bob Dylan Finds His Source
A call into the bars, into the streets, into the world, to repentance.
Also in this Issue:
Editor's Note from January 04, 1980
Evangelicals: Out of the Closet but Going Nowhere?
SIL/Wycliffe's Uncle Cam: At 83 He Is Still Pioneering
Eutychus and His Kin: January 4, 1980
Gaining Perspective after a Decade of Change
An Agenda for the 1980s
The Road from Urbana
Refiner's Fire: Bob Dylan Finds His Source
The Biblical Scope of the Christian Mission
Book Briefs: January 4, 1980
Mending the Great Schism: The Pope Takes a Second Step