The Magazine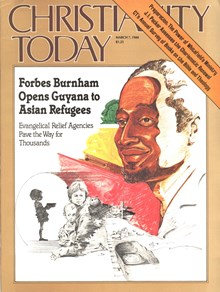 Read CT online anywhere you go.
Subscribers get full print and digital access, including:
10 award-winning print issues
PDFs of each issue
Full web access to ChristianityToday.com
60+ years of magazine archives
The CT Archives are a rich treasure of biblical wisdom and insight from our past. Some things we would say differently today, and some stances we've changed. But overall, we're amazed at how relevant so much of this content is. We trust that you'll find it a helpful resource. - Mark Galli, editor-in-chief
Also in this Issue:
Charismatic Renewal: Pointing to a Person and a Power
Editor's Note from March 07, 1980
Evangelicals Win a Breakthrough on Asian Refugee Resettlement
Eutychus and His Kin: March 7, 1980
Promoting Quaility Evangelical Literature
Preparation: The Power of Whitefield's Ministry
Whole Bible Book Survey 1979
The Old Testament
New Testament Book Survey 1979
Basic Theology Is Back
Calling for Peacemakers in a Nuclear Age, Part II
SALT I Gives New Visibility to Single Adult Ministries
Critics, Electronic Church Try Two-Way Communication
To Move Ahead or Dig In?