The Magazine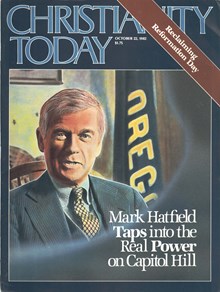 Read CT online anywhere you go.
Subscribers get full print and digital access, including:
10 award-winning print issues
PDFs of each issue
Full web access to ChristianityToday.com
60+ years of magazine archives
The CT Archives are a rich treasure of biblical wisdom and insight from our past. Some things we would say differently today, and some stances we've changed. But overall, we're amazed at how relevant so much of this content is. We trust that you'll find it a helpful resource. - Mark Galli, editor-in-chief
Mark Hatfield Taps into the Real Power on Capitol Hill
The senior senator from Oregon shows keen discernment between the power of politics and the power wielded by the Holy Spirit.
Also in this Issue:
Down Go the Abortion and School Prayer Bills
Editor's Note from October 22, 1982
The Mgm Fire
World Pentecostal Conference Meets in Nairobi
Eutychus and His Kin: October 22, 1982
The Divisions in Christendom
Mark Hatfield Taps into the Real Power on Capitol Hill
Tradition Can Keep Theologians on Track
Catholics and Evangelicals: A Roman Priest Looks across the Divide
Is Halloween a Witches' Brew?
Reclaiming Reformation Day
Who's Who in the Lebanese War
Moon's Movie Disaster
The Changing Face of American Religion
Creationists Are Gaining Some Ground in the Textbook Battle
The Gospel Spreads among the Descendants of the Incas
Refiner's Fire: Servant Band: Prophets to the Rock Generation
The Harmony of Preaching and Singing the Word
'Born Againism': An Evangelical Innovation?
A New World Order?