The Magazine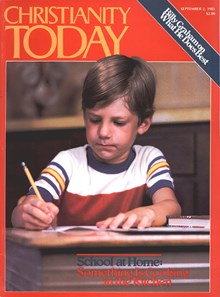 Read CT online anywhere you go.
Subscribers get full print and digital access, including:
10 award-winning print issues
PDFs of each issue
Full web access to ChristianityToday.com
60+ years of magazine archives
Table of Contents
The CT Archives are a rich treasure of biblical wisdom and insight from our past. Some things we would say differently today, and some stances we've changed. But overall, we're amazed at how relevant so much of this content is. We trust that you'll find it a helpful resource. - Mark Galli, editor-in-chief
Also in this Issue:
By the Way: We Are Honored
Guatemala's Evangelical President Is Overthrown
How to Be an Evangelist
Martin Luther Is Outdrawing Karl Marx in East Germany
The Great Commission in a Tense World
Eutychus and His Kin: September 2, 1983
The Bob Jones Decision: A Dangerous Precedent
Schooling at Mother's Knee: Can It Complete?
"What Book Has Influenced You Most?"
Billy Graham on What He Does Best
Baptistification Takes Over
Seeing Christianity in Red & Green as Well as Black & White
A Golf Pro's Commitment to God
Is the Antichrist in the World Today?
Book Briefs: September 2, 1983
Is It Right to Read the New Testament into the Old?
Refiner's Fire: Christian Music's Unsung Hero
Review of 'Zelig'
Is the Midlife Crisis a Phony?