The Magazine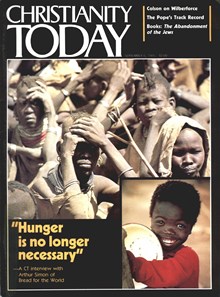 Read CT online anywhere you go.
Subscribers get full print and digital access, including:
10 award-winning print issues
PDFs of each issue
Full web access to ChristianityToday.com
60+ years of magazine archives
Table of Contents
The CT Archives are a rich treasure of biblical wisdom and insight from our past. Some things we would say differently today, and some stances we've changed. But overall, we're amazed at how relevant so much of this content is. We trust that you'll find it a helpful resource. - Mark Galli, editor-in-chief
Also in this Issue:
Eutychus and His Kin: September 6, 1985
Satan Scores Twice
A Man Under Orders
"Hunger Is No Longer Necessary"
The Pitfalls of Positive Thinking
Standing Tough against All Odds
Animal Rights: How Much Pain Is a Cure Worth?
Book Briefs: September 6, 1985
Youth Congress '85: A Call to Change the World
Visitors See Signs of Strong Evangelical Faith in China
How Will the Democrats Answer Evangelical Concerns?
Tensions between Church and State in Nicaragua Pose Dilemma for U.S. Christians
Billy Graham's Los Angeles Crusade Evokes Memories of His 1949 Tent Meeting
A Nobel Laureate Speaks in Defense of Unborn Life
U.S. Churches Debate Abortion, South Africa, and Pornography
Two U.S. Groups Cancel Joint Trip to Nicaragua
Does Your Youth Ministry Measure Up?