The Magazine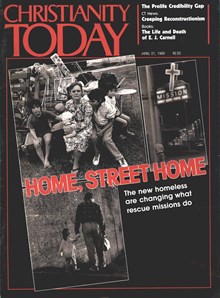 Read CT online anywhere you go.
Subscribers get full print and digital access, including:
10 award-winning print issues
PDFs of each issue
Full web access to ChristianityToday.com
60+ years of magazine archives
The CT Archives are a rich treasure of biblical wisdom and insight from our past. Some things we would say differently today, and some stances we've changed. But overall, we're amazed at how relevant so much of this content is. We trust that you'll find it a helpful resource. - Mark Galli, editor-in-chief
Also in this Issue:
An Elusive Peace
Last Temptation Boycott Gets Mixed Reviews
Listening to the Homeless
Refugees Find Little Refuge in U.S.
Sound Bites from Never-Never Land
Unravelling the Mystery of Weakness and Strength: The Answer Lies in the Paradox of the Cross
Voodoo Sect Members Attack Missionaries
What I Was Doing at the Hospital: A Minister Explains Spiritual Healing to a Skeptical Physician
Letters
Visions, Voices, and Choices
Teaching as Though Life Hangs in the Balance
Bad-news Bearers
Home, Street Home: Today's Homeless Are a Lot like Us, and Urban Missions Are Adapting to a New Range of Needy People
The Prolife Credibility Gap: A Consistent Commitment to the Lives They Save Could Earn Antiabortion Activists More Support from Black Christians
The Other Half of the Gospel?: Few Issues Generate as Much Discussion—And Disagreement—As the Role of Miracles in Today's Church
Classic & Contemporary Excerpts from April 21, 1989
Christians and Culture: The Theonomic Urge
Leaders Disagree on Future of the Church
Doctrine: Lcms Pastor Could Face Heresy Charges
Central America: Evangelicals May Become a Majority in Guatemala
Ethics: Watergate Figure Preaches Honesty
A Victim of Inerrancy?