The Magazine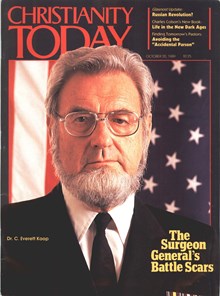 Read CT online anywhere you go.
Subscribers get full print and digital access, including:
10 award-winning print issues
PDFs of each issue
Full web access to ChristianityToday.com
60+ years of magazine archives
Table of Contents
The CT Archives are a rich treasure of biblical wisdom and insight from our past. Some things we would say differently today, and some stances we've changed. But overall, we're amazed at how relevant so much of this content is. We trust that you'll find it a helpful resource. - Mark Galli, editor-in-chief
The Embattled Career of Dr. Koop
Despite political pressures, the surgeon general was out to fight disease, not people.
Also in this Issue:
A New Era for Black Missionaries
Back to the Family
Evangelism: An Open-Air Crusade in the Soviet Union? Believe It!
Exit Interview
Freedom Gusts On
Glasnost in Perm 35?
Interview: The Church in Africa
San Francisco Set to Define 'Family'
Letters
The Prayboy Club
Home on the Ranch
The Drug War Next Door
Test-Tube Tangle
The Embattled Career of Dr. Koop: Despite Political Pressures, the Surgeon General Was out to Fight Disease, Not People
Russian Revolution?: The Effects of Glasnost and Perestroika on the Church Have Been Significant, but Government Officials Are Watching Carefully
Echoues of Glasnost: A Country-by-Country Look at the Religious Winds of Change in Eastern Europe
Living in the New Dark Ages
Classic & Contemporary Excerpts from October 20, 1989
Fund-Raising Ethics: ECFA Celebrates Ten Years
Ten-Year Run for Jesus
Faith and Sports: Giant Comeback Cut Short
Who Invented Patriarchy?