Table Of Contents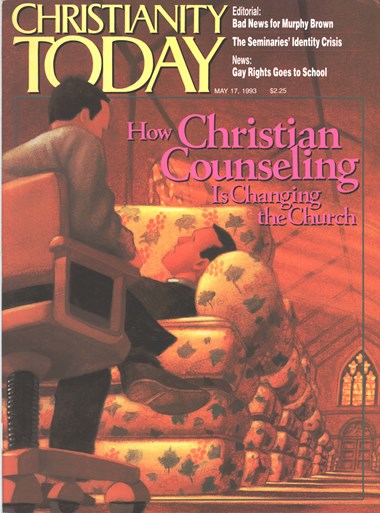 Read CT anywhere you go.
Subscribers have full access to CT's digital archives. Download a PDF of this issue, or browse individual articles below.
About The Archives
The CT archives are a rich treasure of biblical wisdom and insight from our past. Some things we would say differently today, and some stances we've changed. But overall, we're amazed at how relevant so much of this content is. We trust that you'll find it a helpful resource.
Also in this Issue:
At Home in Dallas, Not Vienna
Letters to the Editor
Speaking out: Don't Lie to Homosexuals
At the End of a Straight Road
The Two-Parent Heresy
The Therapeutic Revolution
The Cardinal and Brother Buckskin
Happy Meal® Spirituality
The Seminaries' Identit Crisis
The Twenty-First Century Seminary
Classic & Contemporary Excerpts from May 17, 1993
Book Briefs: May 17, 1993
Homosexual Rights Go to School
Bob on the Block
American Blacks Look to Future
Congressman Fasts for Hunger Awareness
Southern Baptists: Freemasonry Vote Scheduled for Convention
Africa: Civil War Brings Suffering to Sudan
Waco, Texas: After the Raid
News from the North American Scene: May 17, 1993
Warnke Admits 'Failure'
World Scene: May 17, 1993
Call for Renewal Pays Off
Republicans: The New Whigs?