The Magazine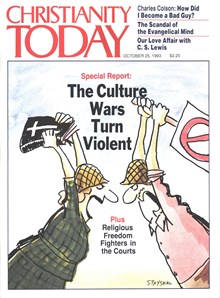 Read CT online anywhere you go.
Subscribers get full print and digital access, including:
10 award-winning print issues
PDFs of each issue
Full web access to ChristianityToday.com
60+ years of magazine archives
Table of Contents
The CT Archives are a rich treasure of biblical wisdom and insight from our past. Some things we would say differently today, and some stances we've changed. But overall, we're amazed at how relevant so much of this content is. We trust that you'll find it a helpful resource. - Mark Galli, editor-in-chief
Also in this Issue:
Godsend
Letters to the Editor
Move over, ACLU
Speaking out: Why I'm Feminist and Prolife
The Battle to Define America Turns Violent
Dallas's New Dispensation
Healing the Health-care Stystem
Why Doesn't Somebody Stop that Cult?
The Scandal of the Evangelical Mind
Our Love Affair with C. S. Lewis
Classic & Contemporary Excerpts from October 25, 1993
News from the North American Scene: October 25, 1993
Palestinian Christians Hopeful after Accord
Higher Education: Institutions Tap New Presidents
Southern Baptists: Moderate Wing Takes Flight
An Urban Twist to the Bible
Evangelism: Graham Leaves His Imprint
World Scene: October 25, 1993
Scholars Hope for Thaw in Evangelical-Orthodox Relations
Evangelism: Hispanics Eye Mission Role
The Family: Sex Abuse Charges Disputed
Book Briefs: October 25, 1993
How Did I Become a Bad Guy?