The Magazine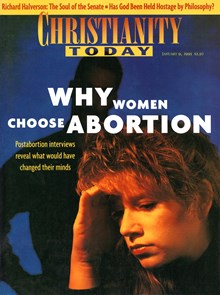 Read CT online anywhere you go.
Subscribers get full print and digital access, including:
10 award-winning print issues
PDFs of each issue
Full web access to ChristianityToday.com
60+ years of magazine archives
Table of Contents
The CT Archives are a rich treasure of biblical wisdom and insight from our past. Some things we would say differently today, and some stances we've changed. But overall, we're amazed at how relevant so much of this content is. We trust that you'll find it a helpful resource. - Mark Galli, editor-in-chief
Also in this Issue:
A Transcendence-Starved Deity
Afraid of Infinitude
Bioethics: Test-Tube Wars
Does Theology Matter?
Has God Been Held Hostage by Philosophy?
Letters to the Editor
Whatever Happened to Luther?
Mrs. Dudley Goes to the 'Hood
FILLER TITLE
Why Women Choose Abortion
The Soul of the Senate
Classic & Contemporary Excerpts from January 09, 1995
News from the North American Scene: January 09, 1995
School-Prayer Amendment Draws Mixed Support
Time to Strip the Lemon Pledge?
Somalia: Warlords Await Un Withdrawal
Missiology: Unearthing Civil Dialogue
Oregon: Christians Use Courts to Fight Assisted-Suicide Measure
World Scene: January 09, 1995
Georgia: Hard Times down on the Farm
Books
Why Not Commit a Crime?
Loading