On October 31, 1517, a 33-year-old Augustinian monk, parish priest and professor of theology nailed "95 Theses" to the door of the Castle Church in Wittenberg, Germany, denouncing the papacy's sale of indulgences to finance the restoration of St. Peter's Basilica. (Indulgences are papal certificates offering remission of the temporal penalty due forgiven sin, supposedly granting sinners parole from the fires of purgatory.) That man, Martin Luther, gave birth to the Protestant Reformation. And that date, October 31, has been commemorated long since as "Reformation Day" by Lutherans and many other Protestant Christians.

Lutherans have traditionally celebrated Reformation Day in quite triumphal fashion, with rousing renditions of Luther's hymn, "A Mighty Fortress Is Our God," and with frequent anti-Catholic polemics as well. But this year, many Lutherans observed this day in a whole new way, by affirming with Roman Catholics a Joint Declaration on the Doctrine of Justification.
For centuries now, the doctrine of the sinner's justification in the sight of God has been referred to as the "first and chief article" of Protestant Christianity, indeed the article "on which the Church stands or falls." Luther taught that believers are justified not by anything they do, but only because of Christ's righteousness, which God in his infinite mercy graciously reckons as their own. No one deserves this divine favor. In fact, we sinners deserve condemnation. But God has promised that those who trust in Christ alone for their salvation will not be judged on their own (de)merits, but on the basis of the genuinely meritorious life, death, and resurrection of their Savior, to whom they are united by the Holy Spirit and whose righteousness they wear as a sacred robe. Luther believed that the Holy Spirit does indwell justified Christians, liberating their souls from bondage to sin and freeing them for Christian service. But he insisted that good works have nothing to do with acceptance by God. We are accepted only by faith as members of Christ's mystical body. In the words of the formula employed by Luther's Protestant successors ever since, justification comes by grace alone, through faith alone, in Christ alone.
As Luther contended in his Smalcald Articles (1537), "this must be believed and cannot be obtained or apprehended by any work, law, or merit." No good works, including the purchase of the pope's best indulgences, can earn us favor in God's sight and lessen the penalty due our sins. Further, "nothing in this article can be given up or compromised, even if heaven and earth and things temporal should be destroyed. ... On this article rests all that we teach and practice against the pope, the devil, and the world. Therefore we must be quite certain and have no doubts about it. Otherwise all is lost, and the pope, the devil, and all our adversaries will gain the victory."
Roman Catholics, for their part, excommunicated Martin Luther and firmly opposed his understanding of the doctrine of justification. While they did institute reforms with regard to the selling of indulgences, they did not abandon the practice. Nor did they redress many of the other grievances expressed by their Protestant critics.
The Roman Catholic Council of Trent (1545-63), called in part to respond to Protestant criticisms, spent a great deal of time discussing justification. And while the Catholic hierarchy distanced itself from those theologians most offensive to the Protestants, it also clearly rejected Luther's teaching. "No one ought to flatter himself with faith alone," declared the Church, "thinking that by faith alone he is made an heir and will obtain the inheritance." Rather, faith must be perfected by concrete acts of Christian charity before the faithful will be found worthy of eternal life. It is "to those who work well unto the end and trust in God" that "eternal life is to be offered, both as a grace mercifully promised to the sons of God through Christ Jesus, and as a reward promised by God himself, to be faithfully given to their good works and merits."
Further, the Roman fathers at the Council of Trent anathematized ("cut off") those who disagreed, claiming that dissenters had no place in the family of God. They proclaimed in their canons (rules) concerning this doctrine, "if anyone says that the sinner is justified by faith alone, meaning that nothing else is required to cooperate in order to obtain the grace of justification ... let him be anathema." Further, "if anyone says that the justice received is not preserved and also not increased before God through good works ... let him be anathema." And, "if anyone says that the good works of the one justified are in such manner the gifts of God that they are not also the good merits of him justified; or that the one justified by the good works that he performs by the grace of God and the merit of Jesus Christ, whose living member he is, does not truly merit an increase of grace, eternal life, and in case he dies in grace, the attainment of eternal life itself and also an increase of glory, let him be anathema."
So Catholics and Lutherans have come a long way since the divisive days of the sixteenth century, when each charged the other with having departed from the faith. Not only are they now embracing one another as fellow Christians. They are also articulating a "common understanding of justification," agreeing that their Joint Declaration "encompasses a consensus in the basic truths." Moreover, they are claiming that "the differing explications" of this doctrine within their respective traditions "are compatible" with the Joint Declaration, and thus "no longer the occasion for doctrinal condemnations."
Are they claiming too much? Well, yes. But more on that in a minute. First an appreciative word about the work of those responsible for the Joint Declaration. In our day, when many evangelicals no longer act as though they believe in "one, holy, catholic and apostolic church," when many have given up on Jesus' prayer for Christian unity ("May they be brought to complete unity to let the world know that you sent me and have loved them even as you have loved me," John 17:20-26), the hard work of the theologians who have labored over this document—some of them for 30 years—deserves commendation. To divide the body of Christ is to commit serious sin. To work for unity is to do the will of God. It is all too easy for Protestants, who have shattered the church into thousands of pieces, to speak blithely of spiritual unity and continue along a schismatic way.
Further, those Protestants who have proved the most vocal opponents of this document have often exaggerated its weaknesses in a derisive and harmful manner. It is not "a betrayal of the gospel," as claimed by President Al Barry of the Lutheran Church-Missouri Synod (the Missouri Synod Lutherans do not belong to the 58.1 million-member Lutheran World Federation, and thus are not represented among the signers of the Joint Declaration). Nor is it possible, as Barry claims on the Missouri Synod Web site, "for the Pope's representatives to sign it without changing, retracting or correcting anything that has been taught by the Roman Catholic Church since the time of the Council of Trent." Rather, in signing the Joint Declaration, the Catholic Church now affirms (for the first time ever) that its condemnations at the Council of Trent of the Lutheran doctrine of justification are no longer valid. Let me put this another way that may help to highlight this ecumenical breakthrough: the Catholic Church now concedes that, as far as justification is concerned, the Lutheran position is acceptable and not a Church-dividing doctrine.
This does not mean that Roman Catholics have now adopted the Lutheran position. They have only condoned it and will likely continue to articulate their own view of justification in what amount to fairly traditional Catholic terms. Here is the place to point out that the Joint Declaration does not accomplish all that its framers seem to claim and certainly not all that other eager proponents have been suggesting. Truth be told, the Joint Declaration is full of the kind of vague theological language that so often characterizes even the best work of the modern ecumenical movement. Consequently, its subscribers have not really agreed with one another so much as they have consented to a very minimal core of common Christian language and then agreed to condone charitable renderings of one another's historic differences.
Perhaps an analysis of the crux of the agreement will help to illustrate this point. The central statement of the document reads: "Together we confess: By grace alone, in faith in Christ's saving work and not because of any merit on our part, we are accepted by God and receive the Holy Spirit, who renews our hearts while equipping and calling us to good works." Sounds great. But both parties would have affirmed this phraseology in the sixteenth century, while fiercely opposing the finer points of one another's doctrines of justification. The Catholics at Trent never denied that justification comes by grace alone. Nor did they deny that it is based entirely on Christ's saving work, or even that God accepts us initially without regard to human merit. But they did deny that we receive this grace by means of faith alone. And they maintained strongly against the Lutherans that human merit plays a significant role in adding to this grace, causing God to accept us ultimately as those who deserve his special favor. Remarkably, the Joint Declaration does nothing to adjudicate these differences except to interpret them rather mildly and encourage their acceptance.
Is it true to say, then, that these parties have reached "a consensus in the basic truths" and that their remaining differences "are compatible" with this consensus? No. It is not much more true today than it was in the sixteenth century. What has changed in recent years, for better and for worse, is primarily the willingness of both Protestants and Catholics (though especially liberal Protestants) to look past historic differences in the name of Christian unity.
To be sure, we also enjoy a greater degree of familiarity and genuine sympathy with one another than we ever have before. And insofar as recent talks between evangelicals and Catholics in North America serve as a reliable indicator of theological developments, the Catholic Church seems increasingly willing to sanction the Reformation solas. (In "The Gift of Salvation," or ECT II, a prominent group of American Catholics subscribed to the following with papal approval: "We understand that what we here affirm [regarding salvation] is in agreement with what the Reformation traditions have meant by justification by faith alone.") Clearly, then, we have made some significant headway in recent years. But the kind of progress based primarily on a willingness to excuse one another's differences should not be confused with real consensus.
In short, no ecumenical body should claim consensus among its constituents when it has glossed over the kinds of differences on which some have staked their lives. And no Protestant-Catholic dialogue on the doctrine of justification should ignore important related issues such as indulgences, penance, and purgatory (to name only a few). May God be praised for the ecumenical blessings represented in the Joint Declaration. But let us not claim more consensus than actually exists.
Douglas A. Sweeney, a member of the Evangelical Lutheran Church in America, is Assistant Professor of Church History and the History of Christian Thought at Trinity Evangelical Divinity School in Deerfield, Illinois. He is also the co-editor of The Sermons of Jonathan Edwards: A Reader (Yale, 1999).
Related Elsewhere
The official site of the Joint Declaration is, appropriately enough, Justification.org. In addition to the statement, press releases, and relevant Bible passages, it also has video of the signing service.
The Evangelical Lutheran Church in America devoted an area of its site to the Joint Declaration On The Doctrine Of Justification. It has the text of the agreement, of course, plus the text of other statements made about it. It even has a study guide.
The Lutheran Church-Missouri Synod's statement against the declaration, "A Betrayal of the Gospel," is posted on its web site.
In past articles for Christianity Today and our sister publication, Books and Culture, Douglas Sweeney argued for "recovering doctrine from its academic captivity," considered "the Calvin College school of historiography," and examined "The Sorrows of the Quaker Jesus."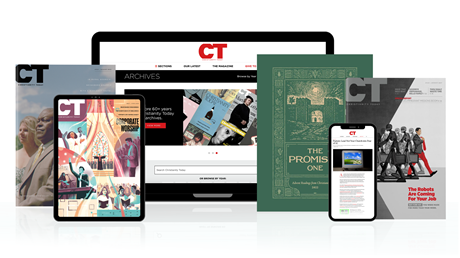 Subscribe to Christianity Today and get access to this article plus 65+ years of archives.
Home delivery of CT magazine
Complete access to articles on ChristianityToday.com
Over 120 years of magazine archives plus full access to all of CT's online archives
Subscribe Now
Reformation Day Celebrations Ain't What They Used to Be
Reformation Day Celebrations Ain't What They Used to Be