Two hundred families in the village of Dalits, a three-hour drive from New Delhi, plan to convert from Hinduism to Christianity 10 days before Christmas unless the Indian government promises to reserve slots for villagers in medical and engineering colleges.
The threatened conversion of Dalits in Badana in Haryana state has so unnerved allies of the Bharatiya Janata Party (BJP), which governs India at the federal level, that representatives of several Hindu nationalist groups have descended on the sleepy village to discourage the villagers.
Dalits are low-caste Hindus or untouchables, who comprise 20 percent of India's population of 1 billion. Suresh Dravid, a Dalit leader from Badana village, said the families want to convert because they are looked down on by upper-caste Hindus. Dalits who want to convert believe that Christianity removes the shackles of a society that denies them an education and consigns them to poverty, offering instead equality, brotherhood, and hope.
Soumitro Das, a senior writer for The Statesman newspaper, explained, "The appeal of the image on the cross, someone who suffers like an ordinary mortal and dies for his beliefs, is immediate. The genius of Christianity, if you like, was in having made a persecuted rebel its prophet on earth with whom not only all the outcasts of the earth, the humiliated and the downtrodden, the spurned and the rejected, can identify, but also the normal human being who feels that compassion and justice are virtues central to civilization." Social revolution in all its varieties, he notes, is derived from the Christian ethic of the primacy of the poor.
Leaders of Hindu groups, still smarting from the call of Pope John Paul II for continued evangelization of Asia during his visit to New Delhi earlier this month, allege that villagers convert because Christians pay them, an allegation that Christian leaders deny repeatedly. Hindus fear mass conversions will destroy the caste system that is at the heart of India's social structure.
Dalits are considered low caste under the doctrines of varnashrma and karmasamsara, which suggest that people are destined to be what they are and that their social and economic status is determined by where they are born. Caste is the divisive offspring of these doctrines, and Dalits are on the lowest rung. Typically they live in rural India and are shunned by members of the upper caste, Brahmins, who occupy key posts within political parties and the government. Dalits generally are not well educated and do work that is considered menial, such as removing night soil—human excrement—or serving as bonded laborers on agricultural land owned by upper-caste Hindus.
Nearly three-fourths of India's 23 million Christians were Dalits before conversion. The act of conversion disqualifies a Dalit Christian from receiving many constitutionally guaranteed protections and privileges. Although Dalits form the majority in all churches, their influence remains minimal, eclipsed by the power of upper-caste Christians. This is especially true in the Catholic Church where such discrimination is strongly felt. Church leaders are aware of the discrimination but rarely discuss it. That is why some Dalits have turned to Buddhism or Islam.
Mahatma Gandhi, father of the Indian nation, was inspired by many tenets of Christianity, including the Sermon on the Mount, which prompted him to refer to Dalits as God's children, or "Harijans." He also was highly critical of some British Christians he encountered, arguing that they discriminated against Indians while espousing a religion of love for all of God's children.
Dalits in Badana claim that Hindu extremists have threatened prospective converts that they will be evicted from the village if they abandon Hinduism. About 15 to 20 members of various Hindu groups are camped out in the village to prevent the conversion. Five teams of the Vishwa Hindu Parishad (VHP), or World Hindu Council, are reported to be in touch with local police and other government officials to check conversion.
The Badana villagers' decision is reminiscent of a similar conversion that occurred earlier this year in a Gujarat village, despite a series of violent attacks against Christians and their institutions in the western state. Although mass conversions away from Hinduism are not frequent, several have made headlines and spurred the VHP to action. Dr. Baba Saheb Ambedkar, a major leader from an untouchable caste and an architect of the Indian Constitution, and 200,000 followers converted to Buddhism shortly before his death in 1956 as a sign of protest against the caste system. In 1981 an untouchable subcaste in Meenakshipuram village in Tamil Nadu converted en masse to Islam. Oil-rich Muslim nations in the Middle East were blamed then for trying to Islamize Hindus.
The VHP itself has worked to reconvert some of the tribals it believes were lured by Christian missionaries. In March this year the VHP said that it reconverted about 500 tribal Christians and 50 Muslims back into the Hindu fold in the western state of West Bengal. This occurred a month after a VHP-sponsored religious parliament (dharma sansad) convened in Ahmedabad in Gujarat, attended by nearly 6,300 sadhus (saffron-clad priests) who had resolved to launch a countrywide program of reconverting Christians. The VHP is concentrating on northeast India, especially the seven small states that are predominantly Christian. About 200 years ago, these northeastern tribals were headhunters until American Baptist missionaries arrived and changed their way of life.
Just how difficult life is for Dalits became apparent recently in the village of Tamil Nadu, where upper-caste Hindus denied Dalits the services of a barber shop, requiring them to trek 10 kilometers to a neighboring village for a haircut. An upper-caste Hindu leader—a Gounder—issued an order that none of the Dalits were to be employed as laborers in this village and several others around it. The incident was triggered by the presence of three young Dalits—college students—sitting on a bench and sipping tea at a shop in the village. The upper-caste Hindus took offence because according to local customs and traditions, Dalits are not supposed to have tea seated on a bench. The Gounders of the area are influential and control local government, so Dalits have no recourse. Tea and grocery shops deny their products to Dalits in this village, whose upper-caste Hindus are supporters of the BJP. The federal government technically eliminated the untouchable caste half a century ago, but the reality is that Dalits remain outcasts in Indian society.
Officials under the powerful home affairs minister, Lal Kishen Advani, are preparing a comprehensive report on conversions, especially in India's north and northeastern states. Some Hindu nationalists say their campaign against conversion and proselytizing activities is meaningless if the BJP-led government does not prepare a detailed report on conversions. Such a report could rein in Christian missionaries whose influence, they claim, is spreading by running schools, converting poor people through enticements, deceit and lies, and through terrorist tactics.
In a visit to Gujarat in January this year, Prime Minister Atal Bihari Vajpayee called for a national debate on conversions. The BJP-led federal government does not have any official report on conversions and missionary activities in India.
VHP President Vishnu Hari Dalmia, who meets regularly with Advani at functions outside the office, particularly religious events, says that when India achieved independence from Britain in 1947 some members of the Constituent Assembly called for a ban on conversion and proselytizing. A VHP report to the federal government claims that nearly 200,000 of India's 23 million Christians are missionaries who are engaged in conversion activities, and that the goal of Christian groups in India is to establish nearly one million churches and thousands of Christian institutes, schools and missions across the country. It accuses the West of actively helping the church with political support and by pumping in millions of dollars into India.
"Tribals are part of Hinduism, and we want all the tribal Christians to be back in Hinduism," VHP Vice President Acharya Giriraj Kishore said. "Therefore we want the government to immediately ban Christian conversion in the country." The VHP will press for legislation in the upcoming budget session of Parliament to ban foreign Christian missionaries in India and their conversion activities among rural and tribal areas, he warned.
R. Rajaratnam, president of the National Council of Churches in India, responded: "The church would oppose tooth and nail any government plan to bring in Parliament legislation to ban conversion in India. Freedom of religion is guaranteed to all citizens in the Constitution of India. Therefore, the VHP's claim that everyone in India should be a Hindu is a ridiculous proposition."
Pravin Togadia, international general secretary of the VHP, alleged that thousands of gullible tribals are being converted "by force, by fraud, and by inducement," but did not say how such a ban could be enforced. "What we want to stop is the way the church is converting gullible people by offering money, medical help, and education. They have no right to do that.'' Christian leaders respond that they are empowering tribals and low-caste Hindus by teaching them how to read and write and making them aware of their minority rights.
There is "something unhealthy in the whole missionary idea," insisted one Hindu hardliner who asked not to be named. "To go to a people like the Hindus, a race of high culture and a long tradition with philosophical, ethical, and religious systems ante-dating Christianity and to go avowedly to save its people from damnation is certainly something grotesque!"
Copyright © 1999 Newsroom
Related Elsewhere
See our related story today in ChristianityToday.com, "Murdered missionary's widow will continue his work with India's lepers."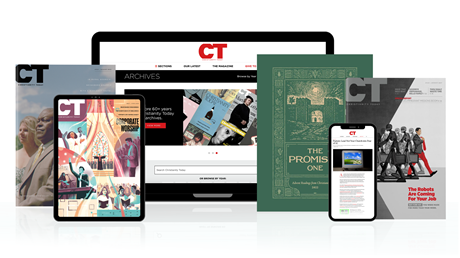 Annual & Monthly subscriptions available.
Print & Digital Issues of CT magazine
Complete access to every article on ChristianityToday.com
Unlimited access to 65+ years of CT's online archives
Member-only special issues
Subscribe
Hindu 'Untouchables' Threaten Mass Conversion in December
Hindu 'Untouchables' Threaten Mass Conversion in December