This article originally appeared in the November 1, 1999 issue of Christianity Today.
Last week, the Council of Religious Leaders of Metropolitan Chicago issued a statement to the Southern Baptist Convention regarding the denomination's plans to bring 100,000 missionaries to the Windy City next summer. "While we are confident that your volunteers would come with entirely peaceful intentions, a campaign of the nature and scope you envision could contribute to a climate conducive to hate crimes," the letter said. According to the Chicago Tribune, the statement was "prompted by the concerns of local Jewish leaders" who are already upset about the Southern Baptists' September campaign to pray specifically for the conversion of Jews during the Jewish High Holy Days. And, though Southern Baptist leaders have been careful to promise the missionaries will not target specific religious groups, many of the negative comments about the plan focus on targeted evangelism.
Targeted evangelism, particularly targeting Jews, has always been controversial. The archives of Christianity Today are filled with discussions of the topic. Today we are publishing several important articles on the subject both old and new. In this news article, from our November 18, 1977, issue, evangelist Billy Graham is quoted as reaffirming his 1973 statement that his mission is to call all men to Christ without singling out any specific religious or ethnic group. However, Graham's statement at this award meeting is more often quoted than his original 1973 statement, though the two are essentially similar.
"You know that I stand before you as an evangelical Christian who is committed to the beliefs of the New Testament. You do not expect me to be anything other than what I am."
With this introduction evangelist Billy Graham last month made his first public address to a national Jewish group. He considered the opportunity important enough to fly to Atlanta on the eighth day of his ten-day crusade in Cincinnati (see preceding story). It was the annual meeting of the American Jewish Committee's national executive council. A long-time friend, Rabbi Marc Tanenbaum of the AJC staff, presented to Graham the agency's first national interreligious award.
"Let us not hide our differences under a basket," the world's best-known evangelical told his audience of some 200 Jewish leaders. Quoting Jewish philosopher Martin Buber, he counseled understanding and respect. Then the evangelist launched into a brief review of his own testimony, ending with: "I am here today because of that commitment made forty-three years ago."
That 1934 decision for Christ in a North Carolina revival pushed him into a study of the Bible that had profound effects, he recalled. Graham said the result was not only an intolerance of "social and personal evils" of his generation—such as racial discrimination—but also a realization of "the debt I owed to Israel to Judaism, and to the Jewish people."
In introducing the speaker, Tanenbaum left little question that Graham had done as much as any Christian to pay off that debt. He heaped lavish praise on the evangelist, declaring that most of the progress in Protestant-Jewish relations in the past quarter century is attributable to Graham's leadership. Tanenbaum, who has been working at improving Jewish-Christian relations for twenty-five years, said that Israel's political leaders—from Golda Meir to Menahem Begin—could "recite chapter and verse" of times when Graham provided assistance. In addition to aiding the cause of Israelis, said Tanenbaum, Graham has also "been present" to Jews elsewhere in their times of crisis. The evangelist was cited for his repudiation of "deceptive techniques" of proselytism by some Christian groups.
In response, Graham paid tribute to Tanenbaum for working "shoulder to shoulder" with him in trying to build bridges between alienated groups. Of the rabbi he said, "No man in this country has helped me to understand [the Jewish point of view] as he has."
The audience was slow to warm up to Graham as he spoke of meeting "Jesus Christ face to face, a Jew who was born in Bethlehem and reared in Nazareth." Before he finished the thirty-minute address, however, he had been interrupted by applause five times, and at the conclusion he got a sustained standing ovation.
Graham hit the issue of proselytism, currently a top Jewish concern, only obliquely in the speech. He chided Jewish parents as well as Christian for failing to transmit spiritual values to their children. America needs "a spiritual awakening that will not only dynamically influence the social and political life of this country but answer the deepest needs of our young people," he declared. The evangelist spoke of Old Testament revivals and called on his audience to join with Christians seeking a reversal of the nation's moral and spiritual decline. He renewed his call for daily reading of the Ten Commandments in public schools.
In a news conference prior to the luncheon Graham stuck by his position that his work is "to proclaim the Gospel to Jew and Gentile." He reaffirmed the stand he took in 1973 at the height of the controversy over [national evangelism effort] Key 73's espousal of Jewish evangelism. In it, he said he never felt called to "single out the Jews as Jews."
In an even-handed statement on the Middle East, the evangelist said he believes Jerusalem will one day be the capital of the world. Not only does Israel have a right to exist, he declared, but "the Palestinians also have a right to exist under legitimate leadership committed to the peace of the Middle East."
Four days after Graham's Atlanta statement, a full-page advertisement signed by fifteen evangelical leaders (not including Graham) appeared in the New York Times and the Washington Post. It cited their belief in "Israel's divine right to the land" and voiced apprehension over "the recent direction of American foreign policy vis a vis the Middle East." Coordinating the ad project was Arnold T. Olson, president emeritus of the Evangelical Free Church of America. Other signers included Hudson Armerding, Pat Boone, W. A. Criswell, Kenneth Kantzer, Harold Lindsell, Clyde Taylor, and John Walvoord.
A Jewish leader who wished to remain anonymous "advanced" the cost of the ads, according to Olson. He told a reporter that about twenty evangelical leaders were asked to sign and that there were no outright refusals, although some were unable to give permission to use their names before publication deadline.
Related Elsewhere
See today's top story about evangelism and the Jews, "Witnessing vs. Proselytizing," by Rabbi Yechiel Eckstein, another CT classic, "Christmas and the Modern Jew" (Dec. 8, 1958), and Graham's original statement, 'I have never felt called to single out the Jews' (March 16, 1973).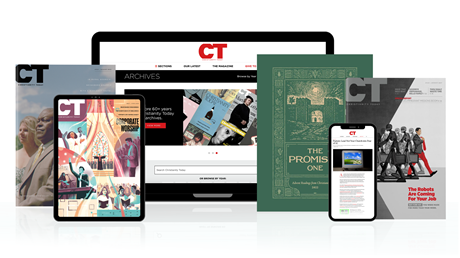 Annual & Monthly subscriptions available.
Print & Digital Issues of CT magazine
Complete access to every article on ChristianityToday.com
Unlimited access to 65+ years of CT's online archives
Member-only special issues
Subscribe
Graham Feted By American Jewish Committee
Graham Feted By American Jewish Committee