Washington Post holds Christian Y2K freak show
The search was on at every major media outlet for religious fanatics who believed January 1 would bring in Christ's millennial kingdom. The Washington Post found some in Huntsville, Arkansas, and writes a surprisingly unsurprising story.
Will the next era be post-Christian?
So asks David Martin in the January 1 issue of Canada's National Post. The author of Tongues of Fire: The Explosion of Protestantism in Latin America argues that Christianity will survive just fine, but it won't be the European version of the last 1,000 years. Those states least involved in Christianity—suppressing it or promoting it, he argues—will be the ones to shape Christian trends in the future. "The Christian religion is on the wrong foot in those old heartlands where it was tied up in established powers and forms. In the U.S., by contrast, it is in alignment with a plural society in motion and well attuned to a messianic nationhood." Didn't de Tocqueville say exactly the same thing in his 1831 Democracy in America? (That's what Books & Culture says in its January 2000 issue, anyway.)
Media continue to beat the candidates' religion to death
The first few articles about how presidential candidates—both Republican and Democrat—are talking about Jesus as never before were pretty interesting. Now, it seems that there's not a current events publication that hasn't covered the topic. Fortunately, the article in the current issue of The Economist is actually insightful, though it maintains the cynicism of most magazines' coverage.
Zambia is a "Christian nation," but does it matter?
While most of the world's eyes focused on the big number change Saturday, Zambia also noted its eighth anniversary of President Frederick Chiluba's declaration the country as Christian. The Post of Zambia used the occasion to assess the label, concluding that the nation has a long way to go before earning the moniker.
A not-so-happy new year
For five Christians in Beijing, New Year's Eve meant a night in jail simply for holding a discussion group on God and faith, reports the Reuters news service. They were released a day later.
Graham weighs in on targeted evangelism—again
"I normally defend my denomination. I'm loyal to it," Graham told Fox News Sunday. "But I have never targeted Muslims. I have never targeted Jews. I believe that we should declare the fact that God loves you, God's willing to forgive you, God can change you, and Christ and his kingdom is open to anybody who repents and by faith receives him as Lord and Savior." See our earlier coverage of Graham and targeted evangelism here.
-->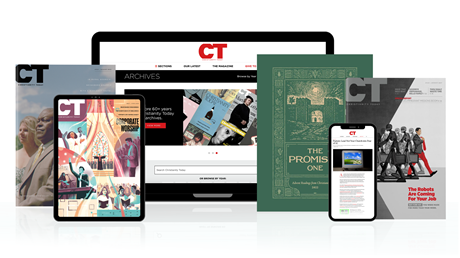 Annual & Monthly subscriptions available.
Print & Digital Issues of CT magazine
Complete access to every article on ChristianityToday.com
Unlimited access to 65+ years of CT's online archives
Member-only special issues
Subscribe
ChristianityToday.com Weblog
ChristianityToday.com Weblog