The son, grandson, and great-grandson of Atlanta preachers, King was raised under the religious pieties of the black Baptist church. "King came out of a very fundamental, evangelical church," explains H. Malcolm Newton, director of urban studies at Denver Seminary. "They taught the Bible at Ebenezer Baptist Church [in Atlanta]. That was his roots."
King's intellectual curiosity and desire to understand the very unchristian race situation in the South (combined with his education at liberal northern seminaries) compelled him to ask questions that would stretch his theology far beyond fundamentalism. Nonetheless, on a practical level, King's Baptist heritage always shone through. "In the quiet recesses of my heart," he often said, "I am fundamentally a clergyman, a Baptist preacher."It was no accident that an effort as socially positive as the civil-rights movement began in the church, says noted New York pastor Suzan Johnson Cook, a member of President Clinton's Racial Advisory Board. "Martin Luther King proved that our faith and our struggle should never be separate. Faith and struggle—when coupled—make us more effective leaders."
"Dr. King taught us that Christianity could be a vigorous voice for conscience in this nation," adds Robert Franklin, president of the Interdenominational Theological Center, an ecumenical coalition of mostly African-American seminaries in Atlanta. "He showed us that the church did not have to marginalize itself. That it could play a major and necessary role in the public square."In August 1963, King's movement organized its massive March on Washington, the event that begat the legendary "I Have a Dream" speech and represented the pinnacle of his fame. A Nobel Peace Prize came in 1964. And there were rousing legislative victories as well, such as the Civil Rights Act of 1964 and the Voting Rights Act of 1965.
King's political efforts received criticism from white religious leaders from both conservative and liberal circles. His famous "Letter from a Birmingham Jail" was actually a passionate response to eight "moderate" clergymen in Alabama who saw King's continued use of nonviolent resistance as "unwise" and encouraged him to let the fight for integration continue in the local and federal courts. Unlike those clergymen, King could not fathom a separation between his faith and politics. He wrote:
In the midst of a mighty struggle to rid our nation of racial and economic injustice, I have heard so many ministers say, "Those are social issues with which the gospel has no real concern," and I have watched so many churches commit themselves to a completely otherworldly religion which made a strange distinction between body and soul, the sacred and the secular.
The Price of Protest
On a steamy July evening in 1967, James Earl Massey's plane touched down at the Detroit Metropolitan Airport. Massey, then the senior pastor of Detroit's Metropolitan Church of God, had been attending a clergy convention when one of the worst urban riots in U.S. history erupted in the Motor City. Incessant gunfire filled the evenings, rocks and bricks bashed downtown windows, storefronts were looted of their goods, flames consumed entire city blocks. When it was over, 43 lives and $50 million in property damage had been the cost. To get home, Massey had to drive through the riot zone. He made it safely, but the biggest challenge still lay ahead for Massey and other leading Detroit ministers who began working to restore peace to their tortured city. "Our church became an outpost for reaching out to people who had lost their homes to fires or had no food because stores had been destroyed." And Detroit was not alone. Racial uprisings had recently erupted in other cities as well—Los Angeles, Harlem, Cincinnati, and several others.
The urban riots were an ugly symptom of the growing spirit of despair that had gripped the Negroes of many northern cities. "There was a lack of jobs and a growing social dissatisfaction," remembers Massey. "With the rise in automation at factories, there were a lot of layoffs, and blacks were feeling the severity of the pinch far more than others."
Although King's civil-rights endeavors had made strides against racism and Jim Crow in the South, issues like poverty, unemployment, and racial discrimination were raging out of control in the North. As a result, younger members of the broader civil-rights movement grew impatient. Leaders of groups such as the Student Nonviolent Coordinating Committee (SNCC) and the Congress of Racial Equality (CORE) tossed aside King's "ineffective" nonviolent strategies in favor of more radical "black power" tactics. Malcolm X had been killed in 1965, but the Black Muslim movement continued to win converts in the inner cities. In 1966, SNCC leader Stokely Carmichael vowed never again to "take a beating without hitting back." King, though troubled, understood what drove the militant factions. "The Black Power slogan did not spring full grown from the head of some philosophical Zeus," he said. "It was born from the wounds of despair and disappointment." Nevertheless, black power did not understand King. Massey observes, "King was being looked upon by black militants as an 'Uncle Tom.' "Massey, now 68, is dean emeritus and professor at large of the Anderson University School of Theology (Ind.) and interim dean of the chapel at Tuskegee University in Alabama. With his neatly trimmed mustache and stately demeanor, Massey was sometimes said to resemble his friend Martin King. He often spent time with King during his trips to Detroit and was aware of his distress and self-doubt over the fragmenting civil-rights scene. Massey points out that, although King remained committed to methods of nonviolence, he was making a clear shift in his rhetoric. "He had moved on to speaking out strongly against poverty and America's participation in the Vietnam War," recalls Massey. "He was, in fact, sounding quite radical."
He wrote in his last book, Where Do We Go from Here: Chaos or Community?: "Whites, it must frankly be said, are not putting in a mass effort to re-educate themselves out of their racial ignorance. … It is an aspect of their sense of superiority that the white people of America believe they have so little to learn."
Despite his personal struggles, in early 1968 King was working to organize a massive Poor People's Campaign in Washington for both Negroes and whites. In late March, he arrived in Memphis to support a Negro sanitation workers' strike. His popularity had long since waned. FBI director J. Edgar Hoover (and others) fancied him a "Communist," and for many white Americans, Martin Luther King and urban unrest had become synonymous. The anger and hostility he had been encountering at different protest events, particularly in the large cities, began visibly to erode King's spirit. Says Massey, "In the pictures of him marching in Memphis, you can see the grimmest look on his face. He was very tense. And the speech he gave the night before his death reveals how much he was expecting hostility to rise against him."
On the night of April 3, a violent thunderstorm drenched Memphis as a somber-looking Martin Luther King took the stage at the Mason Temple (denominational headquarters of the Church of God in Christ). Despite the furious storm, an enthusiastic crowd of 2,000 people had gathered to hear King deliver what would become his final speech. After an impassioned appeal to the audience to continue the work the movement had begun, King's address concluded on an eerie note. "We've got some difficult days ahead," he preached. "But it doesn't matter with me now. Because I've been to the mountaintop. … Like anybody, I would like to live a long life. … But I'm not concerned about that now. I just want to do God's will. And he's allowed me to go up to the mountain. And I've looked over. And I've seen the promised land. I may not get there with you. But I want you to know tonight, that we, as a people, will get to the promised land."
The next evening the 39-year-old preacher was shot down as he stood on the second-floor balcony of Memphis's Lorraine Motel. Massey remembers being at a Detroit television studio that night with his church choir to record a local broadcast for the following Sunday. "While we were preparing to tape, the studio announcer called me aside and told me the news. My heart sank. I didn't tell the choir until after the taping, because I knew they'd be too upset to sing. After King's death, something in me just died."
Something died within the Negro community as well. King's assassination sparked riots in 125 cities, which led to 21,270 arrests and 46 deaths.
Continued on next page | Just not getting it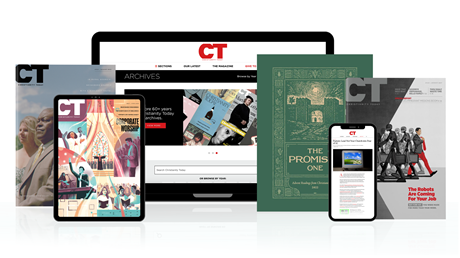 Annual & Monthly subscriptions available.
Print & Digital Issues of CT magazine
Complete access to every article on ChristianityToday.com
Unlimited access to 65+ years of CT's online archives
Member-only special issues
Subscribe
Read These Next
Trending

American Christians Should Stand with Israel under Attack

While we pray for peace, we need moral clarity about this war.

From the Magazine

God's Promises Are Clearest When We Turn Out the Lights

Christians have every reason to reduce light pollution.

Editor's Pick

Don't Miss These African Christmas Hits

Jam out this season to highlife, Afrobeats, jazz, a cappella, R & B, rap, dance, and hip-hop artists from Nigeria, South Africa, and more.
Catching Up with a Dream (Part 2)
Catching Up with a Dream (Part 2)