Six bishops, including the Anglican Archbishops of Southeast Asia and Rwanda, have consecrated two American priests to support conservative parishes—and to plant new ones—in liberal dioceses. Archbishop of Canterbury George Carey calls it "irresponsible and irregular." The head of the Episcopal Church, Frank T. Griswold, says he is "appalled."
The Washington Times suggests the move "could spark an ecclesiastical civil war among American bishops." Watch for more coverage of this breaking story at ChristianityToday.com.
Roger and Ruth Chapman, missionaries with Wycliffe Bible Translators of Canada, had just completed a one-month tour of African countries and were returning home to Kenya, reports The Toronto Star. Even sadder is the story of their daughter, now 19. Ten years ago, she lost both brothers on the same day to malaria. Sunday, she lost both of her parents and became the only surviving member of the family.
The Toronto Star profiles the Syrian village of Maaloula, one of three Syrian communities where Aramaic is still spoken. Even in this largely Christian town, however, the language is disappearing in favor of Arabic. "We have to find a way to preserve the language. It's a link to Jesus himself," says Mother Superior Belajia Sayaf of the St. Takla Greek Orthodox Convent, who is trying to get funding for weekend Aramaic classes.
The debate is also dividing along more partisan lines, reports the Associated Press. Says William Donahue, president of the Catholic League, claims, "There is a residue of anti-Catholicism embedded in the evangelical community. It shows up more often than some people want to admit."
Jesus wasn't dangerous, says Boston University's Paula Fredriksen in her new book, Jesus of Nazareth, King of the Jews. It was the crowds that were a threat to Pilate's authority. "The excitement of the crowds around Jesus that Passover might easily have spilled over into riot," she tells the Boston Globe. "Killing Jesus publicly, by crucifixion, would go a long way toward disabusing the crowd. Let him hang indicted by their own belief: King of the Jews. A nice touch - an insult to the idea itself as well as to their convictions."
Terry Lewis, a member of Canada's Reform party national executive council, says John Steinbeck's novel Of Mice And Men, with its repeated use of the words God, God damned, and Jesus, is blasphemous and should be removed from schools. He has won the financial backing of Christians Influencing Education, which has published 10,000 of Lewis's pamphlets about the book.
Pamela Faull was one of the Church of England's main campaigners for the ordination of women priests. Now her daughter, Canon Vivienne Faull, Vice-Provost of Coventry Cathedral, is to become Provost of Leicester, reports the Times of London. … She awaits a Synod debate later this year on the consecration of women bishops.
Though some might disagree with much of the credit being given to Anglicans, the story, told by Mgr Patrick Devine (Dublin Diocesan Secretary for Ecumenism and parish priest at St Anthony's, Clontarf) is interesting—and illustrative of how divisive unity can sometimes be.
Some Cuban Americans are beginning to give the 6-year-old "divine status," reports the Associated Press. Some believe he's a harbinger of Castro's downfall, others believe he's "a prodigy of God."
Related Elsewhere
See our past Weblogs: February 1 | January 31

January 28 | 27 | 26 | 25 | 24

January 21 | 20 | 18 | 17

January 14 | 13 | 12 | 11 | 10

January 7 | 6 | 5 | 4 | 3

December 30 | 29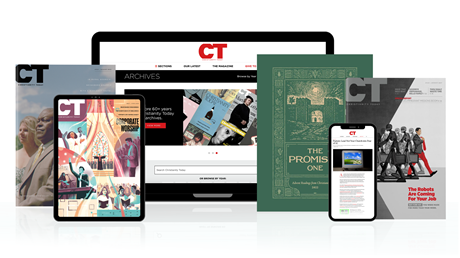 Annual & Monthly subscriptions available.
Print & Digital Issues of CT magazine
Complete access to every article on ChristianityToday.com
Unlimited access to 65+ years of CT's online archives
Member-only special issues
Subscribe
Episcopal Church on Brink of 'Ecclesiastical Civil War' Over Consecrations
Episcopal Church on Brink of 'Ecclesiastical Civil ...