In a letter to the Chicago Tribune, Francis Cardinal George refutes widespread media reports that he signed the letter from the Chicago Council of Religious Leaders to Southern Baptist leadership asking it to call off an evangelistic campaign in the city. "I did not sign it, even though I think it an important letter, because I do not believe it compatible with Christian faith for a Christian to tell another Christian not to preach the Gospel," he said. "I would hope that Catholics … would receive Baptists with love, as brothers and sisters in the Lord. Then let the Lord do His work with all of us." (Since the article appeared yesterday, the only way I know how to read it online is to purchase it from the Chicago Tribune Archives for $2.95.)
While the world's papers write "Should the Pope resign" stories based on reports that Bishop Karl Lehmann, chairman of Germany's Bishops Conference initially suggested it, the bishop is saying he "had in no way called for the resignation of Pope John Paul II." The Vatican is reportedly very upset at all the speculation, and Lehmann has gone on Italian television to reiterate: "I was completely misunderstood, and I protest this manner of reporting my words." (See a related story in the Associated Press about Lehmann's denial.)
The National Religious Broadcasters and Republican Congressmen were in a frenzy over a recent FCC ruling that programming "primarily devoted to religious exhortation, proselytizing or statements of personally held religious views and beliefs generally would not qualify as 'general educational' programming." But yesterday, reports the Associated Press, FCC Chairman Bill Kennard wrote a letter to lawmakers saying "the FCC was only offering additional guidance that impacted a limited number of noncommercial religious broadcasters who seek licenses for specially reserved educational channels." The congressmen aren't buying it. "The simple truth is the commission is restricting those who express faith," Rep. Michael Oxley (R-Ohio) told the AP. (See the AP's related Monday story.)
For the second time in less than four years a Quebec resident has filed a complaint with the Quebec Human Rights Commission claiming he was fired from a job because of his spiritual beliefs (the first suit was against the Salvation Army, which he claimed fired him for quoting the Bible). It's only the most recent of several related Canadian controversies. In the last few months, recitation of the Lord's Prayer in public schools and municipal council meetings have come under fire by Canadian courts. And, most notably, Trinity Western University is on its way to the Supreme Court of Canada against the British Columbia College of Teachers, which says it won't accredit the school because it discriminates homosexuals (see a related front-page story in the Globe and Mail.)
The Hagerstown Suns, a Toronto Blue Jays farm team, offered a $2 discount on Sunday tickets last season if attendees brought a church bulletin. But after an ACLU legal challenge, the team will now allow bulletins from civic or nonprofit organizations (see also the Associated Press coverage).
More than a million people have disappeared from Protestant and Catholic congregations in the England over the past decade, and churches are losing 2,000 vistors a week, says a recent survey quoted in The Times. "Just one generation, and we would indeed have bled to death," it concludes. Meanwhile, Baptists are steady, and some black and evangelical churches are growing.
"Gold teeth are the latest revival twist," reports the Boston Globe, which notes that the phenomenon "was first reported in Argentina during the 1980s and spread to Mexico, South Africa, Canada, and Britain."
Related Elsewhere
See our Weblogs from this week, ( Wednesday, Tuesday, Monday), last week ( January 7, 6, 5, 4, and 3), and December 30 and 29.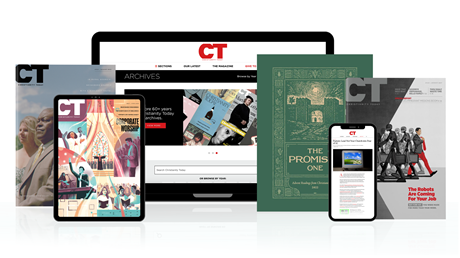 Subscribe to Christianity Today and get access to this article plus 65+ years of archives.
Home delivery of CT magazine
Complete access to articles on ChristianityToday.com
Over 120 years of magazine archives plus full access to all of CT's online archives
Subscribe Now
Chicago archbishop welcomes Southern Baptist evangelistic outreach
Chicago archbishop welcomes Southern Baptist ...