Tim Stafford's Stamp of Glory is the first in a four-part series of novels published by Thomas Nelson Publishers. "Put together, these books are meant to chronicle the ways in which faith interacts with social justice," says Stafford. "I consider abolition the most important movement in American history, and also the most interesting, full of drama and tragic irony. The movement sprang out of Christian revival, so it has many insights to lend Christians who want their faith to make a difference today. Politics, protest, violence, race, the question of how 'Christian' America can be and should be—these topics are all front and center." Subsequent novels will chronicle the woman suffrage, prohibition, and civil rights movements.
1824: Liberty to the Captives
In the cold, wet months of the winter of 1824, Martin Nichols withered and failed to eat. He showed no signs of disease, no fever or diarrhea, but the sickness cut into him like a north wind. He lost his taste for food, and his sparrowlike limbs grew daintier, his skin more like parchment. In this sickness old Black Mary, the keeper of the house and ruling mother for all the slaves, watched over Nichols night and day, spooning food into his mouth, wiping his chin. He lay like a doll in his mahogany bed, lost in its coarse, woven blankets. She would put one vast hand on the small of his back, lifting him upward toward the teaspoon she wielded in her other hand. When he utterly refused to eat, she occupied the kitchen, concocting delicacies to tempt him toward life. The house was filled with aromas then, as she stewed and spiced the venison with her best magic. Still he had no appetite and would only take a spoonful and then turn his head away. She told him sternly he must ...
1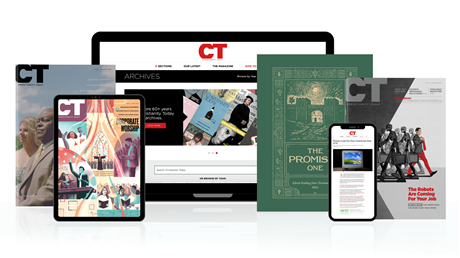 Find hope and historical insight. For a limited time, explore 60+ years of CT archives for free!
Daily devotions from Timothy Dalrymple during this pandemic.
Hundreds of theology and spiritual formation classics from Philip Yancey, Elisabeth Elliot, John Stott, and more.
Thought journalism that inspires you to think more deeply about your faith.
Stamp of Glory
Stamp of Glory