It's easy to identify a movie as Jewish—you know one when you see one. But defining "Jewish sensibility?" That which makes a movie Jewish? Filmmakers themselves struggle to shape a simple definition, much less put it in a single paragraph. And they don't necessarily want to: "You never hear anything referred to as 'that Protestant movie!'" one filmmaker snapped back when the moderator (a Lutheran, it turns out) of a roundtable at a recent Jewish film festival opened the discussion by bringing up the "sensibility" question. And so was launched a lively, hour-long discussion on the paradox and perils of being both tribal and universal.Roundtables and postscreen discussions are typical of film festivals of all varieties, not just Jewish. Watching, or better yet, participating in, the interaction among filmmakers and between filmmakers and audience, or, at the smallest festivals, only among audience members, adds a rewarding dimension obviously not found at a typical Friday night flick.What makes postscreen discussion different at a Jewish film festival is that a large share of comments come from people who have experienced whatever is being discussed, whatever the movie was specifically about. In terms of tribal versus universal, for the brief moments of that discussion, everybody in the room is, or can be, at least a little bit "tribal"—which, in a paradoxical sort of way, makes the experience "universal." Hearing people who could be (and often are) those you just saw on screen, talk about the movie you both just saw—what is true or misleading or incomplete in it or complementary to it—provides a double dose of whatever "sensibility" the movie itself contains or conjures, whether or not you can, afterward, articulate the formula that comprises that sensibility.All this is a recent phenomenon. Twenty-one years ago there were no Jewish film festivals. Twenty years ago there was one: San Francisco, "the grandmother," according to Miriam Morsel Nathan, director of Washington, D.C.'s Jewish film festival, which just celebrated its tenth anniversary. At last count there were almost 50 festivals in the United States.They grow bigger every year, too. Washington, for example, started with eight films, a simple fold-over program, and a total audience of 1,500; this year they had 60 screenings of 41 films (most of them DC premieres, a few world premieres, and a few retrospectives as matinees), a total audience of 6,000, and a slick 18-page program which included a directory of filmprint sources. Plus a webpage (www.wjff.org) to guide you anywhere you might want to go in the Jewish film cosmos.Washington is in the top five, by audience count, and has been described as "the most sophisticated" of the festivals. San Francisco is number one, probably partially due to satellite technology, and has an audience of some 30,000. Then there are "festivals" like little Columbia, Maryland's, which punctiliously calls itself a series—four films in four months—but is dubbed a "festival" by the press anyway. Columbia, in its eighth year, averages 130 viewers per film and screens those movies board members liked or missed at other festivals.The Washington festival greatly benefits from co-sponsorship of several films by various embassies and other institutions (such as Goethe-Institut's free screening this year of East Germany's 1974 "Jacob the Liar"); in turn, the WJFF co-sponsors some films they screen. This year, Bulgaria co-sponsored the high-drama opening-night feature of Washington's festival. After the End of the World (directed by Ivan Nichev) follows an Israeli's return to his Balkan birthplace, where he discovers that the late forties village—where the Jewish rabbi, the Orthodox priest, and the Muslim imam whiled away their afternoons together in congenial card games until, one group after another, Gypsies, Turks, Muslims, Armenians, Jews, all disappeared—was perhaps not so morally different from the mafia-like society brought by the new capitalism.And the Afro-American Studies Department of Howard University co-sponsored the world premiere of From Swastika to Jim Crow (Lori Cheatle and Martin Toub), an important, if somewhat unpolished, documentary about German-Jewish refugee scholars snubbed by elite eastern universities but welcomed by a few Southern "Negro" colleges where, despite the "double alien world" of the Jim Crow community by day and the white Protestant South by night, the scholars quietly made immeasurable contributions to the foundations of the civil rights movement, giving from their first-hand understanding of persecution. The film is partly based on a book of the same title by Holocaust survivor and social activist Gabrielle Simon Edgecomb and was initiated by grateful former students, now themselves professors, indignant at the anti-Semitic fomenters on some campuses a few years ago.One documentary that left everybody smiling was The Life and Times of Hank Greenberg. Aviva Kempner cut a little gem that would sparkle in any setting. She spent 13 years trying to get it right, and she did. Great quotes, great timing, vintage newsreel clips, "Take Me Out to the Ball Game" in Yiddish, and—what required 13 years, because she kept having to stop and raise funds—the pricey Cole Porter and Benny Goodman music."I feel called to counter negative screen images," explains Kempner. "That's about as religious as I get." The movie is a tribute to Greenberg and to her father, who taught her baseball. She's certainly given Greenberg a great image, as if he needed one; in his first game back after four years of service in World War II, the Detroit Tigers slugger hit a grand slam in a pennant clincher. But sports heroes are a dime a dozen. What made Greenberg special was his refusal to play on Yom Kippur, even in a crucial game (just as Eric Lyddell of Chariots of Fire refused to run on Sunday). Greenberg was a Jewish hero against the Nazi backdrop when, even in America, racist catcalls were accepted; "It was a spur to make me do better. If you struck out you were not only a bum but a kike."So what about the "Jewish sensibility"? That would encompass everything from acedia to xenophobia. It fits in all forms, employs every technique, and seems to find expression in every theme. Sports, war, Israel, the Old Testament, "otherness" whether anti-Semitism or Jim Crow or the Israeli Arab as "the Shylock among us," humor, romance, tragedy, paradox, parable, pathos, fable, film-within-a-film, animated short (think Yiddish "Veggie Tales" for grownups), and, of course, the Holocaust. All make the mix.The roundtable moderator, critic Eddie Cockrell, who got a rise when he brought up "Jewish sensibility" in the first place, had the last word on the subject at the Washington festival, as he shall here. "As a Protestant coming to these film festivals," he said, "they make Judaism seem like the swellest club on earth."
Related Elsewhere
In addition to the Washington Jewish Film Festival site mentioned above, be sure to check out Jewishfilm.com (mirrored at an AOL site), the National Foundation for Jewish Culture's Jewish film area, and the Internet Movie Database, which offers lists of films based on the keywords Jews, Jew, Jewish, Orthodox Jews, Judaism, Jewish community, Jewish culture, Jewish history, and Jewish humor.The Jewish Bulletin of Northern California has an article on what it takes to produce a Jewish film festival.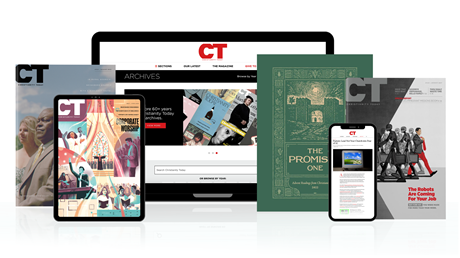 Subscribe to Christianity Today and get access to this article plus 65+ years of archives.
Home delivery of CT magazine
Complete access to articles on ChristianityToday.com
Over 120 years of magazine archives plus full access to all of CT's online archives
Subscribe Now
Semite Sensibility
Semite Sensibility