He greeted me with a friendly embrace that confirmed the warmth of his missives over the past year. David and I are from two different worlds. Son of a Polish immigrant, he was born in Cuba before moving to Brooklyn as a boy; I grew up just blocks from the cold waters of Casco Bay in South Portland, Maine. He studied at City College and then the University of Wisconsin and teaches history at SUNY New Paltz; I went to my denomination's school, Eastern Nazarene College, did my graduate work at the University of Maine, and returned to teach at my undergraduate alma mater. Yet we are friends.We met last year at the first national conference of a fledgling society of historians, The Historical Society (THS). He saw me reading something before a session, and we struck up a conversation. As it turned out, we learned that we both teach courses in historiography and the philosophy of history. In the weeks and months that followed, we shared syllabi and interesting articles, gave each other books, and most of all we connected as persons. Now, we had returned to Boston University for the second national meeting of THS.Last year's inaugural THS convention was a huge success. Over 500 people heard papers and reactions by luminaries such as Eugene Genovese, Donald Kagan, Mary Lefkowitz, Orlando Patterson, John Patrick Diggins, Harvey Mansfield, Gertrude Himmelfarb, and John Lewis Gaddis. By the way, Christian historians were well represented last year: Eastern College historian Allen Guelzo gave a paper on Abraham Lincoln; University of Tennessee at Chattanooga historian Wilfred McClay (with whom I played hooky and spent a delightful couple of hours in leisurely conversation at a coffee bar) was moderator of a session on "Religion and the Academy," featuring a paper by Westminster Theological Seminar historian D.G. Hart and a response by Boston University's Charles Glenn; Richard Etulain, University of New Mexico historian and Southwest Regional Coordination of THS, was in attendance, as was Jay Green of Covenant College; and Mark Noll received accolades in absentia from THS president Eugene Genovese during a plenary session. Would this second gathering be anything like the first?Things got off to a good start. Following a session that featured distinguished historians Bernard Bailyn and Martin Malia, David and I made our way to the banquet area. Without knowing it, we selected a table with Australian historian Keith Windschuttle, author of the controversial book The Killing of History, who was on the last leg of a publicity tour in the States. The dinner conversation was wide-ranging and thoroughly fascinating. We adjourned to a large auditorium and heard Nobel laureate Robert W. Fogel, pioneer in cliometrics (the application of quantitative methods to historical investigation) but still best known as co-author of the controversial study of American slavery Time on the Cross. Fogel's paper, "Coping with Leisure," was based on his new book, The Fourth Great Awakening, just published by University of Chicago Press.On Day #2, David and I joined a New York economist for breakfast at Boston University's faculty club, and I heard intriguing stories about the mysterious world of City College, known only to me as the place where Stalinist and Trotskyite factions once gathered in different alcoves of the cafeteria. Later that day, I heard Dale Van Kley speak eloquently to the issue of religion and Revolution in 18th-century France and John Patrick Diggins respond to a paper by Peter Onuf on "The American Revolution and the Making of the Modern World."But the interactions at lunch were for me the most memorable, especially since David invited a well-known the Lincoln scholar and a prominent sociologist to join us, and once again, I was wrapped up in the conversations about ideas and the emerging "THS culture." One story, in particular, was memorable.It seems that several historians were put off by the reticence of one panelist in a session that morning to give her opinion as to which was the best among competing interpretations. Such reluctance in other settings would likely be deemed as a highly appropriate recognition that all interpretations have a measure of validity and that to select one as the best would be an unwarranted "privileging" of one's own views. But at a THS conference, this hedging was a cardinal sin. Humility is fine, but failure to discriminate on the basis of plausible premises, logical reasoning, and appeals to evidence is not.Here in friendly conversation was an indication of the ethos and raison d'etre of The Historical Society. Only two years old, and amazingly already well over a thousand members strong, THS is emerging as a significant force in the historical profession. It has been utterly fascinating to watch THS forge its own identity.Such identity-building occurs on two fronts simultaneously: the intentional efforts (mission statements, public pronouncements, etc.) and the unintended messages and interactions that collectively become the ingredients of a new academic subculture. On the intentional front, THS represents a backlash by historians from a variety of subdisciplines and a wide range of ideological and political perspectives. Together they are reacting against what they see as the growing irrelevance of professional history—with its overspecialization, faddism, fragmentation, and trivialization—to the broader society. Led by one of the nation's most distinguished historians, Eugene Genovese, and an executive committee and board of governors that reads like a Who's Who of historians, The Historical Society has been described by one of its prominent members as "a group with an attitude, an in-your-face feistiness not normally found in academic circles."THS is the institutional manifestation of a deep dissatisfaction with the state of historical scholarship in America today, particularly as exemplified in the flagship professional organizations, the American Historical Association (AHA), an umbrella organization devoted to all aspects of history, and the Organization of American Historians (OAH), dedicated to the study of American history. In a May 1998 Los Angeles Times op-ed piece "Restoring Dignity to the Historical Profession," Genovese wrote what amounted to the manifesto for the new scholarly society. He decried the specialization, careerism, bureaucratization, and political conformity of academic history. At a time when public interest in history is flourishing, Genovese lamented that "[c]ontemporary academic history is being systematically gutted of the breadth, the drama, and, most dangerously, the tragedy that have accounted for its abiding hold over the public imagination."Who is responsible for the problems of professional history? THS's first book, a collection of essays entitled Reconstructing History (Routledge, 1999), gives clear indication that discomfort with postmodernism and identity politics is the glue that holds the new organization together. The book's title is clearly intended as a rebuttal to the British historian Alan Muslow's volume, Deconstructing History (Routledge, 1997). A comparison of Muslow's views with those of the leaders of THS is, therefore, instructive.Muslow decries the "crude" notion of the historian as impartial observer who conveys the facts of the past. History so conceived, he argues, is based upon the mistaken belief that there is "some reasonably accurate correspondence between the past, its interpretation and its narrative representation." This approach, Muslow says, is no longer tenable. It "obscures history's real character as a literary undertaking" and makes the error of assuming that there is "a discoverable and accurately representable truthfulness in the reality of the past." History, according to Muslow, "can be no more, nor less, than a representation of pastness." The past is not discovered or found in the archives; it is "created and represented by the historian as a text." It is a quaint "self-deception" to think that the more a historian struggles with the evidence, the closer he or she gets to the past.It is precisely this sort of muddled relativism that galvanizes the members of THS into action. They do not pretend that historians can arrive at "definitive" accounts of the past, nor do they presume to have attained pure "neutrality." Rather, they deplore the chilling effect of the deliberate rejection of scholarly detachment and objectivity on a profession already very strongly influenced by identity politics.THS has as one of its goals the promotion "frank debate in an atmosphere of civility, mutual respect, and common courtesy." This was tested a bit on Day #3 in a very animated session on Michael Lind's book, The Vietnam War Revisited. Lind was present to make his case that seen in the context of the Cold War and the need for the United States to uphold its reputation as a trustworthy great power, American involvement in the Vietnam conflict was necessary. Lind also argued that (1) at some point the U.S. commitment to the war became counterproductive in the light of the effect of the war on America's international prestige and its domestic stability; and (2) indeed, the war might have been winable had alternative strategies been employed.Well, 25 years after the fall of Saigon, the Vietnam War is still a deeply divisive topic, and at times emotions ran high. But the moderator kept the session on task, and Lind had ample opportunity to defend his work against tough questions. One has to wonder if the flagship organizations of professional history in America would have even hosted such a session.Another example of the emerging "THS culture" was a very illuminating plenary session on the new cultural history. The new cultural history features micro-historical examinations of often very mundane aspects of the past. This promised to be a very lively session. Genovese, after all, had complained in his Los Angeles Times piece that academic historical writing all too frequently becomes "a series of vignettes of everyday life that bear an eerie resemblance to the contemporary sensibilities of identity politics." Particularity is no sin for the historian, but THS members tend to be deeply troubled when the new cultural historians dismiss the possibility of any synthesis of these micro-histories. Moreover, not only is a synthesis not possible; it is not desirable!So on Day #3 two scholars, Rochelle Gurstein and Russell Jacoby, gave papers seasoned generously with examples of the excesses all too common in today's academy: lists of titles of works in the new cultural history that emphasize the trivial and downright silly and examples of excruciatingly awful writing in which banal points, bathed in theoretical jargon, are announced solemnly as profound insights, etc. Based on the frequent bursts of laughter and approving glances, the audience loved it! Affinity for such suspect scholarship is precisely how the AHA and OAH had lost their way.But then a respondent, literature professor Jonathan Arac, rose to remind all that while the examples Gurstein and Jacoby furnished were indeed egregious, were not they in danger of adopting a strategy dangerously close to those they criticize? Historians must not select items "at random" and paint an entire subdiscipline with that brush without demonstrating the representativeness of those examples. To be sure, the new cultural history has major problems: it risks antiquarianism and fragments history by focusing on the particular and often trivial without the benefit of a larger narrative in which to embed its findings. It also engages in conceptual dilution when it expands culture to cover almost anything. But Arac reminded us that there is something to be gained by a serious and rigorous examination of "the other," "the hidden," and "the social construction of identity"—the shibboleths of the new cultural history.To the extent I am any judge of such things, the audience appeared to be duly but gently chastised. This was THS at its best: sharply critical of troubling trends in the guild, but also entertaining criticism of itself. David and I left the session satisfied. This was what an academic exchange should be: scholarly, tough, illuminating, and civil.Is The Historical Society for real? Detractors have dismissed it as a group of conservative, schismatic scholars, "a cranky sect of malcontents at the margins of the American historical profession." Indiana State University labor historian Richard Schneirov counters that while a conservative historian might very well feel comfortable in the society, THS is not a conservative group. He provides examples of THS leaders with leftist political views: John Womack, Martin J. Sklar, and Louis Ferleger. And Eugene Genovese, though much harder to categorize these days, was once a Marxist.My own observations confirm those of Schneirov. In my conversations with David and his acquaintances, as well those overhead during the conference, I would have to say that the historiographical position once known as "the New Left" was abundantly present. During his Wisconsin days, David himself was a teaching assistant for William Appleman Williams, the dean of New Left diplomatic history.As to the claim that THS is schismatic, Schneirov contends that only time will tell. But he notes that the THS reflects the perception that "many historians believe their scholarly contributions are not welcome in the OAH and AHA and feel marginalized." This would include many whose approach to history is "out of vogue, e.g., the grand narrative style, and those whose subject matter is now not popular, such as political, economic, or diplomatic history." Again, my observations confirm this (although, like Schneirov, I retain my membership in both the OAH and AHA). Military and diplomatic historians, in particular, feel that their subfields are being gutted and are hard-pressed to hold slots open to replace those who retire.Schneirov suggests that maybe The Historical Society will function in the profession in a similar fashion to third parties in American political history. Third parties reflect issues or groups that the regular parties have ignored, reinvigorate public debate, and most often wither away after their message has been co-opted by the major parties. At the minimum, THS will give the concerns of professional fragmentation, trivialization, and politicization—concerns that the OAH and AHA have not addressed satisfactorily—"greater visibility and voice." This will be facilitated by the publication of two new journals: the Journal of the Historical Society, the first issue of which came out just last week, and History in Review, which the society hopes to launch later this year.Whether the future belongs to a smaller, comprehensive organization of professional historians like THS remains to be seen. It is an article of faith of THS membership that most of the output of contemporary historians captured by the newer trends of historiography will not be valued in a decade or two. If so, will the AHA and OAH swing back toward the THS approach? Perhaps. But in the meantime THS will carry the torch of the "noble dream" that historical inquiry can provide meaningful insight into a reality that is not merely the historian's construct. May it be so.
Donald A. Yerxa is professor of history at Eastern Nazarene College.
Visit Books & Culture online at BooksandCulture.com or subscribe here. The Historical Society's Web site offers information about the society, its conferences, its publications, and other related information.University of Pennsylvania history professor Marc Trachtenberg has a collection of press clippings and Internet postings about THS on his Web site.Though most areas of The Chronicle of Higher Education's Web site are off limits to nonsubscribers, the publication has an article and discussion area on THS that's available for all to peruse.Books & Culture editor John Wilson wrote on the formation of THS in the July/August 1998 issue of the magazine. Mark Noll's "History Wars" series for Books & Culture included:History Wars I: Some Recent Battles By Mark Noll (May/June 1999) History Wars II: Intellectual Fallout By Mark Noll (July/Aug. 1999) History Wars III: Can we trust "communities of the competent"? By Mark Noll (Sept/Oct 1999) History Wars IV: A "Peace of God"? (Nov/Dec 1999) The series' introduction in the May/June 1999 issue was supplemented with other articles:The History of History By C. Stephen Evans Is Geography Destiny? By Donald A. Yerxa "If We Ever Needed the Lord Before" By Jonathan Tucker Boyd Taking a Shot at Redemption By Douglas A. Sweeney Books & Culture Corner appears Mondays at ChristianityToday.com. Earlier Books & Culture Corners include:Semite Sensibility | What makes a movie Jewish? A series of film festivals takes a look. By Camilla Luckey (June 12, 2000) Beneath the Orange and Green | A survey shows Northern Ireland's hope lies in its churchgoers. By Mark Noll (June 5, 2000) Barna & Bailey | The Greatest Research Show on Earth? By John Wilson (May 22, 2000) Peacemaking in Northern Ireland | Former U.S. Senator George Mitchell considers the long, often painful process. By Mary Cagney (May 15, 2000) Our Bodies, Our Selves? | Facing the discomfort we have with our physiques. By John Wilson (May 8, 2000) True West | Three excellent museum shows—not to mention our magazines—reexamine the American frontier. By John Wilson (May 1, 2000) Defending Faith and Learning | Baylor University's Polanyi Center comes under fire from the university's faculty. By John Wilson (Apr. 24, 2000) Lie Is Beautiful | Dante understood irony's use as a weapon against intellectual arrogance. By Andrew Jones (Apr. 17, 2000) Who in Hell? | Theologian John Sanders considers the eternal fate of non-Christians. By John Wilson (Apr. 10, 2000)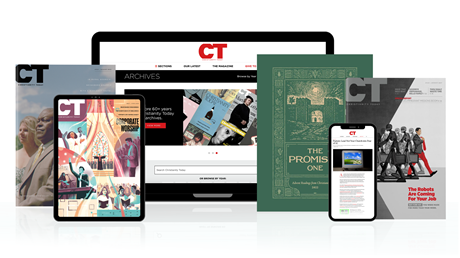 Annual & Monthly subscriptions available.
Print & Digital Issues of CT magazine
Complete access to every article on ChristianityToday.com
Unlimited access to 65+ years of CT's online archives
Member-only special issues
Subscribe
History Wars Update
History Wars Update