As attacks on Christian targets in several parts of India assume epidemic proportions, church leaders have complained of efforts to"whitewash" anti-Christian violence as simply a problem of"law and order."India's Christians are shocked and anxious not only over violence directed against them and against church buildings, but also by the frequent support given by politicians to perpetrators of the violence.In one of the latest incidents, an explosion-on May 21 at the concluding ceremony of a four-day convention organized by the Gospel Churches Association of India at Machlipatnam in the southern state of Andhra Pradesh-injured more than a dozen people.Even before conducting an investigation into the explosion, a senior police official ruled out the"hand of outsiders" in the incident, and claimed it was the result of divisions among Christians."The preliminary investigations so far indicated that it does not look like any outsider doing it. It looks to be more of a faction feud among the local Christians," H J Dora, director-general of Andhra Pradesh police told reporters on May 22.However, A. Vijaykumar, president of the Baptist Churches Association of India rejected the police claims. He said the incident was"part of a trend against the Christian community" also visible in other parts of the country."This is a matter of grave concern for us. This is first time that such a thing has taken place in Andhra Pradesh," he told the South Asian Religious News service. (ENI was unable to contact Vijaykumar.)The All India Christian Council (AICC) said in a statement on May 29:"The bomb blast in Machhilipatnam was the handiwork of communal elements, and not the result of an internal strife in the community as the police had said." The statement followed the visit of a three-member AICC fact-finding team to the site of the explosion. Chandrababu Naidu, chief minister of Andhra Pradesh, had ordered a new investigation after the AICC delegation presented him with their findings, the statement said.Other incidents have also occurred in recent months elsewhere in India. In the northern state of Uttar Pradesh several Christian schools and convents were looted in April, prompting the state government to argue with media reports that the incidents were directed at the Christian community.And in the city of Nasik, in the western state of Maharashtra, 33 youths were arrested after an attack on May 9 at a Protestant hostel that screened a film about Christ. When two senior Hindu politicians arranged bail for the youths, and then held a public reception for them, more than 4,000 Christians took part in a protest march.In Indore, in the central Indian state of Madhya Pradesh, a dozen Hindu youths were arrested after allegedly attacking several Catholic churches on May 12. A senior leader of the BJP-the Bharatiya Janata Party, a pro-Hindu political party that leads the governing federal coalition-shocked local Christians by expressing support for the youths.Christians have accused Hindu organizations of deliberately disseminating"misinformation" about the various attacks. John Dayal, convener of the United Christian Forum for Human Rights, an organization that exposes those behind anti-Christian violence, was singled out for criticism at a BJP press conference on May 4. Venkaiah Naidu, BJP spokeperson, accused Dayal of"using the cover of a religious organization to carry on his strident tirade against the BJP and the government." Naidu demanded that Dayal cease his"political" activities.Archbishop Alan Basil de Lastic, president of the Catholic Bishops' Conference of India (CBCI), publicly rejected the comments, stating that"it was wrong of Naidu to single out and attack John Dayal, and to insinuate political motives to his human-rights activities."Dayal has been since 1997 an unofficial spokesman for those concerned about attacks against the Christian community. In his defense of Dayal, Archbishop Lastic said he had"focused the attention of the government and civil society on the systematic campaign of hate against our community from certain quarters.""This is the tip of the iceberg, the churches need to be alert," Chandran Paul Martin, communications secretary of the National Council of Churches in India (NCCI), said of the criticisms and attacks against Christians. Speaking from NCCI headquarters in Nagpur in central India, Martin said that"churches should not feel intimidated by such tactics and should continue the work of social emancipation by serving the poor."In an interview with ENI, Archbishop Lastic said:"Some groups are interested in projecting Christians as a danger to India." (About 2.3 percent of India's one billion citizens are Christian; 82 percent are Hindu.)Archbishop Lastic explained that the social impact of Christian social service was what prompted anti-Christian violence, which has been on the rise since 1998, when the BJP entered the government.Christians, Archbishop Lastic said, had been"instrumental" in speaking out and standing up for the oppressed low castes and tribals dominated by upper-caste Indians who were ardent supporters of the BJP.Attempts to drive Christian social workers out of rural areas was also a reason for the violence, said the archbishopRichard Howell, general secretary of the Evangelical Fellowship of India (EFI), told ENI:"The persecution of Christians continues. There is definitely a political agenda behind it." Speaking from New Delhi, he added:"The Christian community is not a threat to the nation. But by attacking the Christian community, they [Hindu fundamentalists] want to consolidate Hindu votes."Dayal told ENI that it was"not enough" for churches to express concern about attacks on Christian targets."We need to be alert to the sinister designs of the saffron parivar [Hindu fundamentalist groups] to dilute the secular framework of the nation."Copyright © 2000 ENI.
Related Elsewhere
See our recent coverage of the church in India:India's First Dalit Archbishop Holds 'No Grudge' Over Predecessor's Attack | Once"untouchable" Dalits make up bulk of country's Christians (May 11, 2000) India's Christians Resist Move to Register Conversions | States' legislation unconstitutional, say leaders. (May 2, 2000) Indian Churches Protest 'Price Tag' for Christian Conversion | Orissa ordering official permission, fees to change religion. (Mar. 23, 2000) Build Bridges, but Fight Fanaticism, India's Churches Told | National Council of Churches in India will also work against strengthening of caste system. (Mar 9, 2000) Arrest made in India murder of missionary Graham Staines | Hindu radical apprehended after one year, but Christians claim state oppression now main problem. (Feb. 2, 2000) Hindus Protest Papal Visit to India | Fundamentalists accuse Christians of 'forced conversions' (Nov. 16, 1999) The Fiery Rise of Hindu Fundamentalism | After a missionary and his two sons are martyred, Christians in India press for greater religious freedom. (Mar. 1, 1999)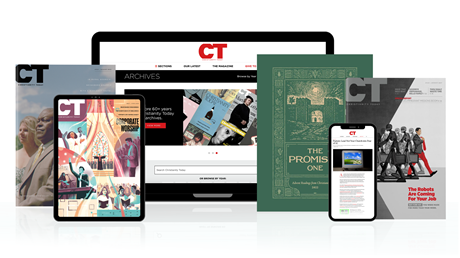 Subscribe to Christianity Today and get access to this article plus 65+ years of archives.
Home delivery of CT magazine
Complete access to articles on ChristianityToday.com
Over 120 years of magazine archives plus full access to all of CT's online archives
Subscribe Now
As Attacks Continue Indian Churches Warn of Growing Danger
As Attacks Continue Indian Churches Warn of Growing Danger