Meet Samuel L. Jackson, movie star. This weekend's release of Shaft confirmed what many have suspected since 1994's Pulp Fiction: Jackson can draw crowds. With $21.7 million in ticket sales, Shaft proved that audience interest in the charismatic actor extends beyond his typical ensemble movies like A Time to Kill and Rules of Engagement.
What's Hot
Christian critics spared no compliment to describe Jackson's allure. "The coolest actor in movies today can arguably be said to be Samuel L. Jackson," writes Michael Elliott of Crosswalk.com, while others prefer the adjectives "mesmerizing," "dynamic," and "magnetic." The enthusiasm for Shaft's plot, however, was minimal. Elliott continues: "All the attitude in the world can't disguise the fact that logically, the script is full of holes and the dialogue full of uncomfortable cliches." The film is an update/remake/rehash of the 1971 hit Shaft, which starred Richard Roundtree as a private detective and "sex machine," as the Oscar-winning theme song dubs him. Here, Roundtree passes the franchise's mantle to Jackson, who plays John Shaft's nephew: a New York cop who quits the corrupt police force to bring a wealthy white killer to justice. Tom Neven, editor of Focus on the Family magazine, sees the film as little more than exploitation of the brand name: "The first Shaft was part of an historical moment in America: it was a breakthrough action film with an African-American as the hero. … This new Shaft might be a slam-bang action film, but for young audiences, there is no historical context for why the Shaft character struck such a strong chord in 1971." Other gripes included Shaft's vigilantism—"the film is about little more than street justice," says the Dove Foundation—and villainized cops. "Both the police department and the justice system in this film are portrayed as generally corrupt institutions," writes Preview's John Adair, "influenced by racism and money." (Such charges are not uncommon among artists today; Bruce Springsteen has drawn the protests of New York City police with his new song "American Skin (41 Shots)," a tribute to West African immigrant Amadou Diallo, killed by police gunfire last year while reaching for his wallet.) At least one reviewer appreciated the changes that three decades have brought to Shaft: Holly McClure of Crosswalk.com "applaud[s] director John Singleton for choosing to tease the audience with a sexy opening (similar to a James Bond movie) and leaving all other sexual situations out of the plot."
The car-heist actioner Gone in 60 Seconds generated a bit of enthusiasm among Christian critics this week, as opposed to the tepid reviews it received initially. Christian Spotlight, which offers a fan's-eye view through its open-submission policy, lets guest reviewer Chan Pederson gush: "This remake is a grabber from the beginning and doesn't let go, contrary to what other reviewers may have said. … An all-star cast makes the film a joy to watch, and [it] has some of the best car chases on film." Movieguide, too, calls it "an entertaining summer movie," that even "manages to give some redemptive moral qualities to the hero and his quest." (I'll try to remember that next time I get carjacked.) Countering this ardor is a particularly loathing review from J. Robert Parks of The Phantom Tollbooth: "[It's] an action film with little action, a thriller with few thrills, and a roller coaster of a film that merely coasts. … It also has the virtues of being visually flaccid and morally bankrupt." Inept stunt sequences and "vomit-inducing" dialogue also rankle Parks. World magazine can't compete with that ire, but likewise dismisses the film as "a 1980s rock video" version of The Dukes of Hazzard.
What's New
Titan A.E., the first American animated film aimed at the teenage set, didn't connect with either its target audience or with critics. Many reviewers, like Michael Elliott of Crosswalk.com, simply found the animation too distracting to engage the film. "The voices of Titan A.E. did not blend with the animated drawings to which they were attached. … A combination of 3-D technology and 2-D animation was used, [but the] two styles that don't blend well [and] make for a disappointing film." The plot—which sees the Earth destroyed at the film's start and follows a group of surviving humans searching for a spaceship rumored to hold their species' only hope for survival—also drew few kudos. "Sci-fi buffs have pretty much seen all this again and again, [in] Star Wars and Battlestar Galatica," writes the Dove Foundation. Some critics debated the symbolism of the Titan spaceship the characters seek. Movieguide calls the Titan "a type of Noah's Ark" since it houses humanity's hope for regeneration, concluding that Titan A.E. is a "redemptive movie that includes only a couple moderately questionable elements." The U.S. Catholic Conference questions it, though: "The ludicrous premise that humans will have power [that belongs to God] is somewhat problematic." The issue came down to whether biblical imagery was valid in a film that neglects God. "God is only mentioned once, in an exclamation," notes Paul Bicking of Preview, but the ending is "reminiscent of a biblical picture." (A word of caution: Nearly every Christian review gave away the ending in order to address it, so be prepared for spoilers if you follow our links.) But for Bob Smithouser of Focus on the Family the visual, narrative, and theological hang-ups weren't enough to spoil the movie: "It's a rollicking, PG-rated space fantasy that avoids profanity, sexual situations and Force-like spiritual counterfeits."
Also crash-landing at the box office is Boys and Girls, starring Claire Forlani and Freddie Prinze Jr. (in his third straight flop) as two friends who bicker throughout high school and college before realizing they're meant for each other. "[It's] a sloppy, teen-ized retread of the 1989 R-rated comedy When Harry Met Sally," points out Steven Isaac of Focus on the Family, rejecting it as "nonsensical depictions of brainless collegians banging their empty romantic heads against life's immovable walls." The U.S. Catholic Conference echoes these comments, saying the movie "draws out the obvious as the two argue over commitment, sex and friendship until the cliched final clinch." Movieguide sticks up for the movie to a certain degree, calling it a "funny story," but feels it's marred by the many sexual scenes and the "plastic" acting of Forlani, who "delivers some of her lines as though she were reading from an obscured cue card."Fantastia 2000 entered wide release for a four-week engagement, after four months exclusively on large-format IMAX screens. The animated Disney film failed to make the top ten, collecting only $2.9 million this weekend, but nevertheless remains a hit with over $50 million in ticket sales this year. Read our earlier coverage of the movie here.
What's Noteworthy
Fantasia 2000 isn't the only IMAX movie to perform well recently. Thanks to its high-profile release and the word-of-mouth hit Everest, the large format is becoming big business. Two Christian sites recently profiled some current IMAX releases: the new dramatic release Cirque Du Soleil: Journey of Man, the long-running and profitable documentary The Mysteries of Egypt, and the little-seen Wolves. Mary Draughon of Preview calls Cirque Du Soleil "visually magnificent." The film, narrated by Ian McKellen, depicts each stage of life through interpretive acrobatic acts. "While young children will not understand the metaphoric Journey of Man," Draughon writes, "they will be completely absorbed by the [acrobats'] unbelievable beautiful, graceful movements." The illustrative segments leave quite a bit open for debate, however. "It provides a humanist endorsement of imagination, youth and love," Movieguide says. "No God is present or implied. Man is unexplainably dumped into the world to begin his journey with no reference to the Creator." But Draughon disagrees, noting the scene in which "a baby begins life in the fluid of the mother's womb. So controversial theories are left to personal belief and choice of interpretation since none is verbalized."Draughon also recommends The Mysteries of Egypt, which focuses on the construction of the pyramids and the discovery of King Tut's tomb in 1922. It manages to be "wholesome, entertaining and educational" as it takes viewers "on a fascinating armchair journey through the mysterious land of the beautiful Nile River." While Egyptian religious beliefs are implied by the pharaohs' preparations for the afterlife, Draughon says the movie "deals with historical facts. … The Egyptians' ingenuity in building and maintaining a sophisticated civilization—and the beautifully designed works of art uncovered after thousands of years—boggles the mind."The documentary Wolves didn't have as much bite. Movieguide enjoyed the portion that "takes the viewer through the life cycle of a wolf family" but not the half focused on whether wolves should be allowed back into their natural habitat of Yellowstone National Park. "It is unnecessary to use a 40-minute movie, which costs full price to attend, as a soapbox for environmentalist arm-twisting." John Adair of Preview likewise lamented that "much of the interesting footage and scientific information seems jettisoned in favor of stories involving several 'wolf activists.'" But he still recommends the film as "an interesting, educational good time," and for its beautiful photography.
Steve Lansingh is editor of thefilmforum.com, a weekly Internet magazine devoted to Christianity and the cinema.
See earlier Film Forum postings for these other movies in the box-office top ten:Big Momma's House,Mission: Impossible 2,Dinosaur,Gladiator,Shanghai Noon, and Road Trip.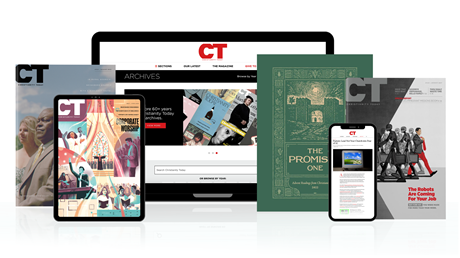 Subscribe to Christianity Today and get access to this article plus 65+ years of archives.
Home delivery of CT magazine
Complete access to articles on ChristianityToday.com
Over 120 years of magazine archives plus full access to all of CT's online archives
Subscribe Now
Titan A.E. Crashes Without Impact
Titan A.E. Crashes Without Impact