Behold the power of cheese: Three intentionally dopey movies ruled the box office this weekend, including new offerings Big Momma's House and Gone in 60 Seconds. Christian critics were less than happy with the processed American cuisine, but—unlike vicious mainstream reviewers—conceded the fun of such fare.
What's Hot
Most Christian reviews for the car-theft caper Gone in 60 Seconds were formatted in "but" sentences:
"Zippy car chases and flashy autos set a fast pace," says the U.S. Catholic Conference, "but underdeveloped characters, weak scripting and trite dialogue do little to keep the momentum going."
John Adair of Preview says "the action is exciting," but "the actual stealing of the cars comes off as fairly easy and glamorous."
(The Dove Foundation bills the film as How to Commit Felonies.)
The blunt mainstream reviews, on the other hand, featured no ifs, ands, or buts. Flashy autos? Just "slickly produced pornography for the sports car lover," says Charles Savage of the

Miami Herald

.
Zippy chases? Glamorous thievery? Not according to the

Calgary Sun

's Louis B. Hobson, who says the "one major car chase [is] pretty paltry. The actual car thefts are equally dull."
Walk in an hour late for maximum enjoyment, suggests Christian reviewer Michael Elliott of Crosswalk.com: "For the first three-quarters of the film, there just isn't much happening. While I appreciate the effort to establish characters and relationships, this particular story line just doesn't support a great deal of introspection."
As the Christian faith of Mission: Impossible 2 director John Woo becomes more widely known, more reviews are offering thoughts of where Woo's beliefs are present in the film.
Josh Spencer of

Stranger Things

magazine notes the "images of doves flying in chaos, which are intentionally spiritual.… Other possible indications of his beliefs include an obvious avoidance of nudity (two implied sex acts gave ample opportunity) and self-sacrifice as a main plot element."
Woo explained in Premiere magazine how he first used doves as spiritual metaphors in The Killer
("When the men die, I cut to the dove flying—it's the soul, rescued and safe, and also pure of heart"), but doesn't mention how it applies to

M:I-2

, merely calling the dove "one of my habits."
PlanetWisdom didn't find in the film anything "close to a Christian worldview. But, then, it doesn't have much of a worldview at all. It's just a cartoon.… It's hard to take any of [it] seriously." That pretty much echoed the sentiments of other Christian reviewers, who passed off the movie as fluff.
The U.S. Catholic Conference calls it a "lightweight thriller,"

World

magazine calls it "watered-down James Bond," and Sarah Barnett of Culture@Home says its "all style and not much substance. The violence and the acrobatics are excessive and even, at times, pretentious."
None of the reviews of Big Momma's House could be categorized as "glowing," but many Christians found the film to be genuinely funny, if inappropriately so.
"By the normal standards of movie reviewing—plot, characters, direction, cinematography—

Big Momma's House

is a failure," writes J. Robert Parks of The Phantom Tollbooth.
"But by the ultimate standard—did I have a good time?—it's quite successful." The movie features Martin Lawrence as an FBI agent who impersonates the obese grandmother of a criminal's ex-girlfriend to weasel information out of her. "This is one funny movie," says the Dove Foundation, although the objectionable language and crude content rankled its reviewer.
Holly McClure of Crosswalk.com agrees that it's "an entertaining movie, but not necessarily a family-friendly movie."
Mainstream reviewers didn't find as much to laugh at; Marshall Fine of Gannett News Service complains that it's "a one-joke movie" with the best bits "given away in commercials," and the

Orlando Sentinel

's Jay Boyar says "Lawrence gives this depressing effort his all, but that is not nearly enough." Reviewers of all sorts agreed that there wasn't much point in looking for depth from this movie.
"The film's moral point," writes Crosswalk.com's Michael Elliott, that "one's actions and appearances might lie but truth can still be in one's heart, was misleading."
Preview's Paul Bicking echoes that, saying "some people may be offended by scenes in the gospel church where [Lawrence] gets up as Big Momma and 'testifies' about telling the truth."
What's New
Mr. Ed, meet Lucky, entertainment's latest talking horse. In Running Free, Lucky narrates his own life story—from his abandonment as a colt to his adoption by an orphaned stableboy in a southern African mining town. Trouble is, reviewers hated the voiceovers, which presumably were added to help young ones follow the story of this family-targeted movie.
"I didn't like the voice of the horse or the way the dialogue was written—it was kind of corny," says Holly McClure of Crosswalk.com.
Mainstream reviewer John Anderson of

Newsday

agrees: "The visual storytelling is so strong it would have told the tale quite adequately, even eloquently, without resorting to the horse's mouth." Chatty animals aside, the film earned high praise for its themes and its desert photography.
The Dove Foundation says the movie does well at "alerting children that although the world can be a difficult place, we can overcome its brutality and disappointments."
The U.S. Catholic Conference highlights the film's "beautiful shots of wildlife and desert grandeur," which also drew compliments from mainstream reviewer Jean Oppenheimer of

New Times Los Angeles

: "

Running Free

is so visually magnificent that anyone who feels spiritually or emotionally connected to nature will walk away with something."
Preview's Mary Draughon likewise calls it "a visual treat" for its desert scenes and native animals, but warns readers of the visuals of "rear male nudity in one scene, and the adolescent native girl's breast [which] is exposed once very briefly."
Hmm… a G-rated film with a teen's bare breast raises only one eyebrow? I seem to remember a wave of complaints over the same thing in the PG-13 American Beauty last fall. Maybe it needed a talking horse.
Passion of Mind is a psychological mystery about a woman (Demi Moore) who inhabits two lives—one as a mother in rural France and the other as a wealthy literary agent in New York City—waking in one world when sleeping in the other.
Most mainstream critics panned it, but Crosswalk.com's Holly McClure says that's because they saw it as a puzzle rather than an emotional journey. (Roger Ebert of the

Chicago Sun-Times

joshes, "at least she doesn't have eager kidneys; getting up in the middle of the night to go to the bathroom could lead to schizophrenic whiplash.")
McClure says that "women will appreciate the emotional journey each of her characters take in trying to discover which life is real, which isn't, and why she is fantasizing about one of them.… It explores the fears they have about their choices in life (career, relationships, children) and the passion to want to have all of it."
The Dove Foundation agrees—at least agrees that men won't get it. "The ending doesn't make up for the tedious, amoral claptrap we have to sit through for 90-some minutes," writes Phil Boatwright. "As for Ms. Moore's performance, well, she has great hair."
McClure and Boatwright were on the same page, however, concerning Sunshine. The drama, which depicts a Jewish family's struggle to hold onto its identity throughout the tumult of the 20th century, stars Ralph Fiennes as three different patriarchs in five generations of the Sonnenschein family.
Boatwright liked a scene where characters who "have been raised in and embrace communism, complete with its disdain for religious beliefs… [come to] the realization that religion is valid." However, he was troubled by the lack of "humor or joy found by its characters.… The poignancy of the film rests in its examination of how each generation repeats destructive acts."
As such, the movie becomes like

Groundhog Day

without the release of February 3. "Bottom line," writes McClure, "this is a long movie that I kept waiting to have a redeeming moment in the end, to reward me for struggling through [the concentration-camp torture and many graphic sex scenes]."
What's Noteworthy
With little to laud on the big screen, reviewers turned their attention to the telly to find something worthwhile. They're highlighting the TV movie Bonhoeffer: Agent of Grace, which premieres tonight, June 14, at 9:30 p.m. ET on PBS (check your local listings). The film dramatizes the life of Dietrich Bonhoeffer, the German theologian who helped Jews escape Nazi capture and was eventually hanged for his role in trying to assassinate Adolf Hitler.
"It shows us a theologian in action," writes Elesha Coffman, assistant editor of

Christian History

, "rethinking what it means to serve God, love others, and, especially, to tell the truth." Although "dramatic narrative does edge out historical reporting," and Bonhoeffer is given limp lines like "believe in the future, no matter what," Coffman says there's still "more than enough of Bonhoeffer's courage and depth to make

Agent of Grace

a film with real force."
Movieguide was equally impressed, praising actor Ulrich Tukur for being "so real, so authentic, so profoundly aware of all the nuances, that we meet Bonhoeffer in him." His story, Movieguide says, is allowed to speak for itself: "It clearly highlights the great moral questions raised by the Gospel of Jesus Christ. By asking the right questions,

Bonhoeffer

helps us think through the answers that we would give."
Hollywood Jesus elaborates on these questions: "Bonhoeffer said, 'Being evil is worse than doing evil.' Do you agree?… He opposed his own church in their support of Hitler. Would you do the same? What about respect for authority? He was part of a conspiracy to assassinate Hitler. Is this moral or ethical?"
The Dove Foundation notes that "the subject matter may be disturbing for little ones, but for teens and adults, it is… a prodding for men and women of faith to take a stand against [evil]."
Steve Lansingh is editor of thefilmforum.com, a weekly Internet magazine devoted to Christianity and the cinema.
Related Elsewhere
See earlier Film Forum postings for these other movies in the box-office top ten:Dinosaur,Gladiator,Shanghai Noon,Road Trip,Frequency,Small Time Crooks, and U-571.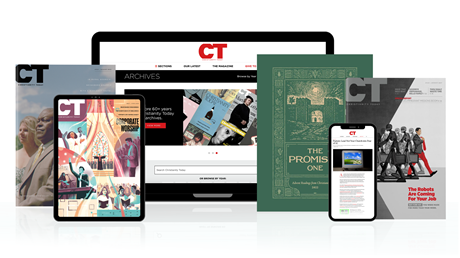 Subscribe to Christianity Today and get access to this article plus 65+ years of archives.
Home delivery of CT magazine
Complete access to articles on ChristianityToday.com
Over 120 years of magazine archives plus full access to all of CT's online archives
Subscribe Now
Fluff and Fluffier
Fluff and Fluffier