The Torah scroll was stolen Sunday night from Roei Yisrael synagogue, Jerusalem's messianic congregation. Ten bottles filled with gasoline were also found, which police say indicates a botched arson attempt. A Conservative synagogue was the victim of an arson attack earlier in the weekend, but Yosef Shalom, head of Roei Yisrael, thinks the damage to his church is due more to harassment of messianic Jews by ultraorthodox Jews than by anti-Semitism.
They won't leave, but that doesn't mean they're happy. "The Southern Baptist Convention's recent revision of its basic statement of faith underscores the need for the Baptist General Convention of Texas to redefine its relationship with the Southern Baptist Convention, not cut all ties and start an alternative national body," says Charles Wade, executive director of the largest state convention of the nation's largest Protestant denomination. Outgoing Southern Baptist president Paige Patterson dismisses the talk of schism. "The reason they have to talk in terms of redefining rather than exodus is for the simple reason they would lose too many churches," he tells the Fort Worth Star-Telegram.
The BBC notes that the 15-part evangelistic course is now in 121 of the U.K.'s 158 prisons. Ian Dingwall, the non-Christian deputy governor at Rochester Prison, thinks Alpha is great. "It certainly affects [prisoners'] behavior within the prison and they start to plan for the future," he says.
Who wants to play with characters called Pikachu and Charizard when you can play with Noah, Daniel, and Jonah? That's British entrepreneur David Tate's rationale for Christian Power Cards, a teaching game based on the popular Pokémon trading-card craze. But don't look for the special Jesus card: there isn't one. "It would defeat the purpose if Jesus was beaten by one of the bad characters," says Tate. (See a related article at ITN Online.)
In an effort to crack down on "dangerous sects," members of France's Socialist Party have created a bill to outlaw "exercis[ing] serious and repeated pressure on a person in order to create or exploit a state of dependence." Or, as French officials put it, proselytism. If President Jacques Chirac signs the bill, the French government would shut down any religious group after two of its members are found guilty of violating it. Religious-liberty advocates are already mobilizing.
Despite Methodist Church president Tomasi Kanailagi's comments that "The Methodist Church is strongly against the coup," and his calls for Fijians "to pray for the nation and refrain from illegal activities," former senior military chaplain Josateki Koroi says the church isn't doing enough to stop the coup.
Joshua Davey was valedictorian of his Spokane high school, made perfect grades, and won a state scholarship. But when he decided to use the scholarship to attend Northwest College, an Assemblies of God school in the Seattle suburbs, the state revoked the scholarship. "It was simply a matter of his choice of degree that excluded him from eligibility for state financial aid," says Carolyn Busch, executive policy adviser to Washington Gov. Gary Locke. "We try to be as open as we can on our policies, but when a student chooses a theology degree, then they are not eligible for state financial aid." The state constitution's separation of church and state forbids it, she says. The Washington Times article is a nice summary (to ChristianityToday.com's Weblog, no other major papers have carried news of the case), but the news is a little old. The American Center for Law and Justice filed suit on Davey's behalf more than six months ago.
See our past Weblogs: June 29 | 27 June 23 | 22 | 21 | 20 | 19 June 15 | 14 | 13 June 9 | 8 | 7 | 6 | 5 June 2 | 1 | May 30 May 26 | 25 | 24 | 23 | 22 May 19 | 18 | 17 | 16 | 15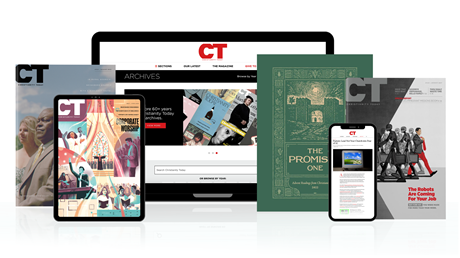 Subscribe to Christianity Today and get access to this article plus 65+ years of archives.
Home delivery of CT magazine
Complete access to articles on ChristianityToday.com
Over 120 years of magazine archives plus full access to all of CT's online archives
Subscribe Now
Jerusalem's Messianic Synagogue Attacked
Jerusalem's Messianic Synagogue Attacked