After several decades of revisionism, deconstruction, race/gender/class analysis, parody, and a library full of plain old-fashioned scholarship, the time is ripe for a fresh understanding of the American West. No surprise, then, that Books & Culture's sister publication, Christian History, is devoting an issue to this subject, nor that B&C itself will feature a special section on the New Western History in the July/August issue. And three first-rate museum shows offer a cross-section of new views of the West.The first, "Pacific Arcadia: Images of California 1600-1915," just finished a run at the Joslyn Museum of Art in Omaha after opening at Stanford University's splendid new Cantor Center for the Visual Arts in 1999 and moving from there to the San Diego Museum of Art. Fortunately, the catalogue of the exhibition is available from Oxford University Press in paperback for $25; the author is Claire Perry, curator of American Art at the Cantor Center.The second exhibition, "Illusions of Eden: Visions of the American Heartland," concluded its opening run yesterday at the Columbus Museum of Art in Columbus, Ohio, but after stints in Vienna and Budapest, the exhibition will return to the United States, first to the Madison Art Center in Madison, Wisconsin (February 24-May 13, 2001) and then to the Washington Pavilion of Arts and Science in Sioux Falls, South Dakota (June-August 2001). As the text of the catalogue reminds us (in English, German, and Hungarian), the Midwest—as much as California—beckoned as a kind of Eden, when the frontier was the "American Heartland."Finally, "The American West: Out of Myth, Into Reality," which opened in February at the Mississippi Museum of Art in Jackson, is moving to the Terra Museum of Modern Art in Chicago, where it will run from June 24 to September 17, and then on to Toledo. The guest curator, Peter Hassrick, the Charles Marion Russell Chair in art history at the University of Oklahoma, has assembled an extraordinarily rich gathering of Western art from museums and other lenders throughout the United States. All three exhibitions and their catalogues are worthy of attention. Whether your abiding images of the West were formed by John Wayne, Gunsmoke, Bonanza, and The Rifleman or by Sam Shepherd, Mel Brooks, The Long Riders, and The Unforgiven, you'll find much to chew on here.
John Wilson is Editor of Books & Culture: A Christian Review.
Related Elsewhere
Visit Books & Culture online at BooksandCulture.com or subscribe here.Stanford's site still has a page on " Pacific Arcadia: Images of California 1600-1915," as well as an article about the exhibition. The catalogue is available in both hardcover and paperback editions.See the excellently designed Heartland Project site for more on "Illusions of Eden."The Mississippi Museum of Art Online has a little blurb or two on " The American West: Out of Myth, Into Reality." Subscribe now to Christian History to receive its upcoming issue, "How the Rest Was Really Won: The neglected story of Christians' role in taming America's most diverse and rugged region."Earlier Books & Culture articles on the American West includeThe Atomic West (Sept./Oct. 1999) California Haze (Sept./Oct. 1999) Aliens, A-Bombs, and Mastodons | Travels in Nevada and Colorado (Jan./Feb. 2000)Books & Culture Corner appears Mondays at ChristianityToday.com. Earlier Books & Culture Corners include:Defending Faith and Learning | Baylor University's Polanyi Center comes under fire from the university's faculty. By John Wilson (Apr. 24) Lie Is Beautiful | Dante understood irony's use as a weapon against intellectual arrogance. By Andrew Jones (Apr. 17, 2000) Who in Hell? | Theologian John Sanders considers the eternal fate of non-Christians. By John Wilson (Apr. 10, 2000) My Cab Ride With Gloria | Meeting a legend, tearfully. By Frederica Mathewes-Green (Apr. 3, 2000) I Read the News Today | Finding the most important story in headlines' sum. By John Wilson (Mar. 27, 2000) Peace Be With You | Looking beyond naivete and cynicism about peacemaking at Wheaton's Christianity and Violence conference (Mar. 20, 2000) Putting the Poor on the National Agenda | Ron Sider's timely proposals. By Amy L. Sherman (Mar. 13, 2000) "To Know the Universe" | Well, sort of. By John Wilson (Mar. 2, 2000) Guelzo's Lincoln Book a Winner | Established by Richard Gilder and Lewis Lehrman to honor the best historical work each year on Lincoln and the Civil War era, the prize is now in its tenth year. By Allen C. Guelzo (Feb. 21, 2000)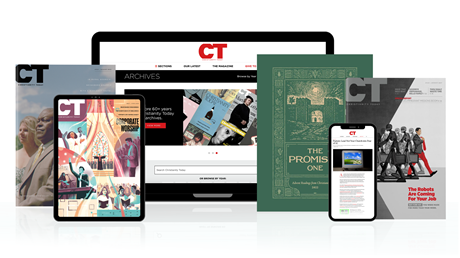 Subscribe to Christianity Today and get access to this article plus 65+ years of archives.
Home delivery of CT magazine
Complete access to articles on ChristianityToday.com
Over 120 years of magazine archives plus full access to all of CT's online archives
Subscribe Now
True West
True West