Introducing a splendid special section, "Perfect Bodies: Why We Want Them; Why We Hate Them," in the Summer 1999 issue of re:generation quarterly editor Andy Crouch observed that our "obsessions" with our bodies are rooted in our identity as creatures made in the image of God, disfigured by sin.
"But thanks to the Spirit he promised to leave with us," Crouch writes, we are in contact with a gloriously embodied Friend and Lord who eats fish on the beach, walks through walls, ascends into heaven, from which he will return, still bearing nailprints in his flesh, to reign over a recreated earth. He is everything we want to be: fully enfleshed yet fully free, disfigured yet beautiful, dead yet alive. Our obsessions have a reason: every human being, whether she knows it or not, seeks that real embodied humanity which he is.
The distance between Crouch's theological reflections on the body and the exhibition, "Picturing the Modern Amazon" (at the New Museum of Contemporary Art, 583 Broadway in New York, through June 25), may at first seem too vast to bridge. Here is an exhibition of paintings, sculptures, videos, photographs, posters, comic-book illustrations, and a miscellany of other items devoted to physically powerful women, with an emphasis on bodybuilders. Both the exhibition and the book that accompanies it, edited by Joanna Frueh, Laurie Fierstein, and Judith Stein and published by Rizzoli, are framed by the discourse of academic feminism.But it is precisely the distance and the polarization between Crouch's column (and the rq special section more generally) and the exhibition that generates energy and goads us to reactions and reflections beyond superficial assent or dismissal. The pages of Picturing the Modern Amazon force the reader to contemplate, however unwillingly, his or her own body; to think about the ways in which bodies (especially women's bodies) are presented to our gaze; to examine previously unexamined assumptions about men and women and their bodies and natures.Such matters, far from being the exclusive province of academic "Gender Studies" or the possession of a particular ideology, are the stuff of everyday life—and, as Andy Crouch reminds us, we can only begin to make sense of all this when we acknowledge whose we are, and how we came to the discomfort we feel in our bodies, and where our hope lies.
John Wilson is Editor of Books & Culture: A Christian Review.
Related Elsewhere
Visit Books & Culture online at BooksandCulture.com or subscribe here.Unfortunately, the "Perfect Bodies" issue of re:generation quarterly isn't on re:generator, the magazine's Web site. Still, the wonderful magazine (winner of The Utne Reader's 1999 Alternative Press Award for "Spiritual Coverage") has a great site, including one of the most intelligent Christian message boards anywhere.The New Museum of Contemporary Art has a text description of the "Picturing the Modern Amazon" exhibit, but (strangely) no pictures.The Village Voice, CNN, and New York Post also covered the exhibit.The catalogue/book for Picturing the Modern Amazon can be ordered at Amazon.com (naturally) and other book retailers.Books & Culture Corner appears Mondays at ChristianityToday.com. Earlier Books & Culture Corners include:True West | Three excellent museum shows—not to mention our magazines—reexamine the American frontier. By John Wilson (May 1) Defending Faith and Learning | Baylor University's Polanyi Center comes under fire from the university's faculty. By John Wilson (Apr. 24) Lie Is Beautiful | Dante understood irony's use as a weapon against intellectual arrogance. By Andrew Jones (Apr. 17, 2000) Who in Hell? | Theologian John Sanders considers the eternal fate of non-Christians. By John Wilson (Apr. 10, 2000) My Cab Ride With Gloria | Meeting a legend, tearfully. By Frederica Mathewes-Green (Apr. 3, 2000) I Read the News Today | Finding the most important story in headlines' sum. By John Wilson (Mar. 27, 2000) Peace Be With You | Looking beyond naivete and cynicism about peacemaking at Wheaton's Christianity and Violence conference (Mar. 20, 2000) Putting the Poor on the National Agenda | Ron Sider's timely proposals. By Amy L. Sherman (Mar. 13, 2000) "To Know the Universe" | Well, sort of. By John Wilson (Mar. 2, 2000)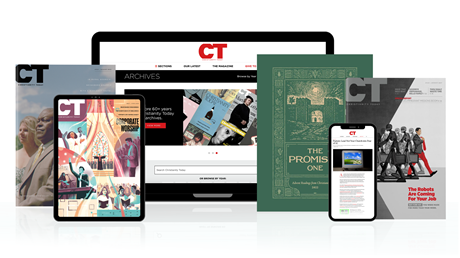 Subscribe to Christianity Today and get access to this article plus 65+ years of archives.
Home delivery of CT magazine
Complete access to articles on ChristianityToday.com
Over 120 years of magazine archives plus full access to all of CT's online archives
Subscribe Now
Our Bodies Our Selves?
Our Bodies Our Selves?