Leaders of Kosovo's Muslim, Orthodox and Roman Catholic communities have set up a joint council to promote democracy and human rights, modeled on an inter-religious body in Bosnia-Herzegovina."With one united voice, we again strongly condemn all acts of violence and all violations of basic human rights," three religious leaders said in a declaration from Kosovo's capital, Pristina. The declaration was signed by Kosovo's Muslim Mufti, Rexhep Boja, by the Serbian Orthodox Bishop of Rasko-Prizren, Artemije Radosavljevic, and by the head of Kosovo's Roman Catholic community, Bishop Marko Sopi.The Inter-Religious Council of Kosovo has been set up at a crucial moment in relations between the main faith communities of the region. Violence in Kosovo and atrocities by some Serbs forced many Kosovo Albanians, most of whom are Muslim, to flee the province in the run-up to and during NATO's military action last year. However, since the arrival of KFOR, the international peace-keeping force which was installed there after NATO's military campaign, ethnic Albanians, reacting to the destruction and carnage inflicted on them, forced tens of thousands of Serb residents to leave the province—three-quarters of the province's 200,000 Serbs have now left, and up to 100 Serbian Orthodox churches and monasteries have been destroyed or desecrated since the 1999 NATO campaign. Several churches and cemeteries belonging to the province's 70,000 Catholic minority—most of them ethnic Albanians—have also been targeted. KFOR peace-keeping troops have denied claims that the Kosovo Liberation Army (UCK), which received support from Arab states during last year's conflict, is mounting a fundamentalist Islamic campaign in the province.In their statement announcing the formation of the inter-religious council, the religious leaders said: "The acts that have happened and continue to happen against innocent persons are evil and cannot be condoned in any way by any of our respective religious traditions."The decision to establish the council was taken after a visit to Kosovo this month by an interfaith delegation from Bosnia, whose members explained the advantages of taking "concrete steps together.""Together we support the building of strong local democratic institutions that will continue to ensure security, peace and well-being for all," the statement continued. "We look to the international community to provide necessary support for the inhabitants of Kosovo to achieve this goal."The declaration was issued on April 13, the final day of the Bosnian delegation's tour, which included visits to Pristina, Pec and Prizren, as well as to the Orthodox monasteries of Decani and Gracanica.Relations between Muslim, Orthodox and Roman Catholic leaders have been tense throughout the Balkans since the break-up of Yugoslavia at the beginning of the 1990s. However, in various regions steps have been taken to improve ties within the last three years. Bosnia's inter-religious council was set up in 1997, and a similar committee incorporating all churches and faiths has been functioning in Croatia since March 1998. An inter-religious organization also meets monthly in Yugoslavia to co-ordinate charity efforts.Reacting to the news of the inter-religious council in Kosovo, the Roman Catholic Archbishop of Belgrade, Franc Perko, described it as an "important initiative." But he pointed out that the event had been "totally ignored" by pro-government newspapers in Serbia."That the three communities—Muslim, Orthodox and Catholic—have come together is clearly a good development since it will extend the communion and collaboration already underway in Bosnia," the archbishop told Ecumenical News International. "But it's important to remember that religious communities have only a limited influence, and can do little in practice to bring about peace."A Muslim leader, Imam Muhammed Spahic, welcomed the council's formation as evidence of conciliatory attitudes within the Serbian Orthodox Church. But he added: "Any initiative couched in such words is to be commended, but what counts is the practical intentions behind them."In their declaration, the Kosovo leaders promised "more active co-operation" in building a "stronger future" for Kosovo's 2.2 million inhabitants, 90 percent of whom are ethnic Albanians."We appeal to the international community to work harder on resolving the situation of all the prisoners, missing and abducted persons whose unknown fate remains one of the deepest wounds of our recent tragic conflicts," the declaration continued."We commit ourselves to work together to rebuild the many destroyed and damaged religious buildings in Kosovo, and we appeal to our friends and partners in various international agencies to assist us with the necessary resources to accomplish this essential task."The religious leaders said the new council would discuss ways to "develop our own structures and means of co-operation," adding that they had received "support and assistance" from the World Conference on Religion and Peace (WCRP) on how to help improve relations.Copyright © 2000 Ecumenical News International. Used with permission.
Related Elsewhere
Coverage of the Kosovo conflict in Christianity Today and ChrisitanityToday.com includes:Only Human Contact Can Ease Kosovo Tension, Says Orthodox 'Cyber-Monk' | Father Sava Janjic is pessimistic about the future (Mar. 20, 2000) The Case for Compassion in Serbia | A year after NATO bombing, Yugoslav Christians discover unity in caring for the poor (Mar. 7, 2000) Orthodox Condemn Milosevic (Oct. 4, 1999) Evangelicals Resent Abandonment (July 12, 1999) Churches Reach Out to Refugees (June 14, 1999) Doing Church Amidst Bombs and Bullets | Balkan evangelicals feel strain of ethnic cleansing (May 24, 1999) Bridging Kosovo's Deep Divisions | A tiny evangelical minority has a vision for how to overcome the explosive mix of religion and nationalism (Feb. 8, 1999) See also Books & Culture's January/February 1999 cover story, " The Dead Zone | Pursuing the truth about genocide in the killing fields of Bosnia and Kosovo."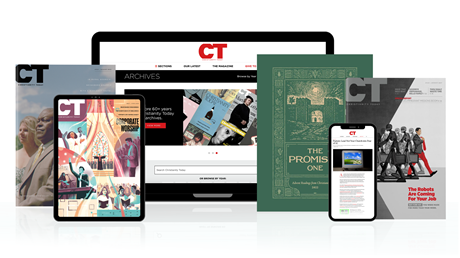 Annual & Monthly subscriptions available.
Print & Digital Issues of CT magazine
Complete access to every article on ChristianityToday.com
Unlimited access to 65+ years of CT's online archives
Member-only special issues
Subscribe
Kosovo Takes a Lesson from Bosnia in Interfaith Relations
Kosovo Takes a Lesson from Bosnia in Interfaith Relations