The United States should not grant permanent normal trade relations status to China until it makes significant changes to improve religious freedom, a federal commission on religious liberty overseas recommended May 1.In the first mandated report of its existence, the Commission on International Religious Freedom contradicted President Clinton and the Republican congressional leadership by urging a hold on PNTR for China without swift improvements. Congress is scheduled to act on trade relations for the communist giant in late May, when a close vote is expected.The report by the panel included recommendations also on United States policies that could help religious liberty in Sudan and Russia. The commission had said its first year of work would concentrate on those three countries.To measure improvement by China on religious freedom, the nine-member panel provided the following benchmarks:
China should begin a high-level dialogue with the United States government on religious liberty.
Beijing should ratify the International Convention on Civil and Political Rights, which it has signed.
It should allow the commission and human rights groups unfettered access to imprisoned religious leaders.
The government should respond to inquiries regarding those imprisoned for religious reasons.
Beijing should release all religious prisoners.
Congress also should announce it will hold yearly hearings on religious and other human rights in China and invite the Dalai Lama, the exiled Tibetan Buddhist leader, to speak at a joint session, the panel recommended.The commission would accept substantial progress toward these goals in place of completion, said panel chairman David Saperstein at a news conference at which the report was released."We chose things that really were do-able in a fairly short period of time, knowing that they may not be completed, but, in the aggregate, significant progress on the religious freedom front could be made," Saperstein told reporters. "It is our genuine hope, our genuine hope, that that kind of progress takes place and that the Congress therefore be able to grant PNTR."While a majority of the commissioners favor PNTR for China, it is "impossible to ignore the serious deterioration in religious freedom in the past year" in that country, said Michael Young, the commission's vice chairman.The commission was "convinced that for Congress to simply grant China PNTR at this moment, with no significant improvement in the state of religious freedom, would be to send Beijing a signal that these awful, inexcusable, inhumane policies did not require a more immediate response -- and this we could not recommend," Young said.China's repressive policies included a nationwide crackdown on the Falun Gong sect and increased suppression of Protestant and Catholic house churches and Tibetan Buddhists.Among other suggestions, the panel said the United States should work to prevent China from being selected to host the Olympics until substantial progress is made.Sudan has been a particularly flagrant violator of religious liberty. The militant Islamic regime in Khartoum has sought to inflict its religious views on Christians and animists, as well as other Muslims, during a lengthy civil war.In the last decade, about 2 million people have died as a result of the war. From 4 million to 5 million have had to flee their homes. Khartoum supports raids by its troops, especially of Christian and animist villages in the southern and central parts of the country. The soldiers frequently kill men and kidnap women and children to take them back as slaves to the northern Sudan or another country. The regime increasingly has conducted bombing campaigns against schools, churches and hospitals. At least 100,000 Sudanese are estimated to have died of starvation in a year as a result of the regime's intentional withholding of food aid to its people.The commission's recommendations on the East African country called for increased aid that avoids control by the Khartoum regime and a 12-month plan intended to cause the government to improve religious freedom. During the year, the United States should, among other suggestions by the commission, seek to inform other countries of Sudan's genocidal practices and try to increase economic pressure on Khartoum. If significant progress does not occur in a year, the United States should aid rebel groups that have improved human rights records, the panel said.The commission also called for the U.S. government to block any foreign company participating in development of oil fields in Sudan from obtaining capital in U.S. markets. A recent, initial public offering of stock in this country of PetroChina was about $3 billion. The China National Petroleum Corp., PetroChina's parent company, owns 40 percent of the Greater Nile Petroleum Operating Co. in Sudan. Revenue from the pipeline is helping Khartoum pay for its military campaign, the panel said.Russia is not guilty of the violations China and Sudan are, but the panel brought recommendations partly because of the potential for deterioration of religious liberty there. Among those, the commission said the United States should pressure President Putin to rescind his edict requiring nonregistered religious groups to be disbanded at the end of the year.Among the plans the panel has for the next year is to analyze United States policy alternatives "that could promote the right to change one's faith and the right to seek to persuade others to change theirs (i.e., evangelism by both foreign missionaries and indigenous believers)."The commission, which is authorized until 2003, is required by the 1998 law that established it to issue a report by May 1 each year. Its report is sent to the president, secretary of State and Congress."It is clear [the White House] will have significant differences on some of our policy recommendations," Saperstein said. "I would hope that they would be relatively few, albeit important ones to the administration."Under the International Religious Freedom Act, the State Department is required to issue a report on religious liberty overseas by Sept. 1 each year. Last year, the State Department designated China and Sudan as two of seven "countries of particular concern," regimes guilty of ongoing religious persecution.Copyright © 2000 Baptist Press.
Related Elsewhere
The report is available at the commission's Web site.See also ChristianityToday.com's recent story, "How to Change China | Christian business leaders preach economic engagement to expedite reform. But others are leery" (May 4, 2000).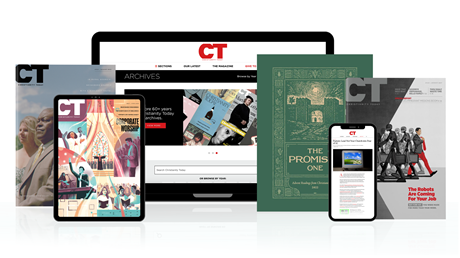 Annual & Monthly subscriptions available.
Print & Digital Issues of CT magazine
Complete access to every article on ChristianityToday.com
Unlimited access to 65+ years of CT's online archives
Member-only special issues
Subscribe
China Should Improve on Religion to Gain Permanent Trade Status Commission Says
China Should Improve on Religion to Gain Permanent ...