More than 100 carefully-built rock cairns mark the new cemetery at the edge of this small, arid town in southern Ethiopia.The new cemetery, set apart from the graves of the residents of this desert community, is for the many people who have died in recent weeks after migrating here in search of food, fleeing the ravages of a drought that now threatens to devastate the Horn of Africa with a deadly famine. Sora Guyo is one of the new arrivals. The 45-year-old Oromo-speaking man is a pastoralist, an animal herder who roams through the arid landscape of southern Ethiopia's Great Rift Valley with his small herd of cattle and goats. He and his animals depend on seasonal rains, but for three years the rains haven't come. All 12 of Sora's cattle have died, and their carcasses litter the desert along with those of thousands of other animals.Sora sleeps in a temporary camp at the foot of a nearby mountain with his wife and three children. He walks to town every day to sell a little firewood. Like most of the pastoralists who have migrated here, Sora is emaciated. With little hope left, he leans wearily on his staff. Even if the rain returns soon, his animals are gone and would take years to replace."In the old days, we would have stolen some cattle from the Somalis," he told ENI. "Today we can't do that. I don't know what we're going to do."There is no widespread famine in Ethiopia, at least not yet. The images of starving children from the eastern Ethiopian town of Gode broadcast by CNN, the BBC and other media, are not representative of the whole country, according to relief workers. But millions of Ethiopians are on the edge of famine, and some communities are reduced to eating moss and leaves."If aid doesn't come in a timely manner, we're going to see a lot more Godes," declared Anne Bousquet, the Catholic Relief Services representative in Addis Ababa, the Ethiopian capital."It will be a crime against humanity if we let hundreds of thousands of people die because there's not enough food here," Christian Balslev-Olesen, general secretary of DanChurchAid, said during a tour of the drought-stricken Borena region in the south of the country.Relief officials had earlier estimated that 8 million Ethiopians would need food assistance this year, but they now warn that continued failure of the seasonal rains may add another 2.6 million people to the list."To feed that many people will cost around one-third of a billion dollars. That's about what we spent on one day of Nato bombing during the war in Kosovo," Balslev-Olesen declared to ENI. "Ethiopia has the infrastructure in place, a very good monitoring system, experienced non-governmental organisations, and a very organised society at a local level. There's no excuse for the international community to let people die here."Drought is a perennial phenomenon here and throughout the Horn of Africa. Ethiopia became the poster child for famine after a drought in 1984-85 claimed up to a million lives.International donors and the Ethiopian government then took steps to prevent further famines. Yet one of the critical elements of that strategy, the Food Security Reserve, failed this year. The reserve—of more than 350,000 metric tonnes of grain—acts as a buffer when hunger strikes, allowing swift mobilisation of food aid without waiting the three to nine months which major donors like the European Union and the United States need to get food delivered. Food can be "borrowed" from the reserve and repaid later by donors.Some repayments of food taken from the reserve last year were late, and the reserve's warehouses are now almost empty. The world is scrambling to get food into the pipeline, but whether it arrives in time is a question that hangs like a deadly cloud over communities such as Dubuluch.Although many international relief officials give the Ethiopian government high marks for its disaster response, many believe that politics is compounding the growing tragedy. The government in Addis Ababa faces a medley of armed opposition groups scattered around the country. One church official, who asked not to be identified, suggested the government might have dragged its feet in recognising the drought in some areas of this vast country where there are armed rebels."The government left us alone, ignoring all indications of drought, so that when we starve the rebels will also starve," the official told ENI. "Starvation will be the ultimate mechanism to achieve a truce."Church-related relief organisations are taking responsibility for feeding at least one-tenth of Ethiopia's hungry, with much of the work co-ordinated by a unique partnership being negotiated between two international church relief networks.According to church officials in Ethiopia, a joint appeal is likely to be issued by Caritas Internationalis, the Rome-based network of Roman Catholic development and relief organisations, and Action by Churches Together (ACT)—a Geneva-based aid network established by the Lutheran World Federation (LWF) and the World Council of Churches (WCC),.While the agreement still needs approval from the directors of both networks, Rudolf Hinz, an LWF official who came to Addis Ababa to participate in negotiations for the new initiative, predicted that it would represent "the closest and most efficient co-operation among churches working in emergency situations anywhere."The joint appeal will support the emergency work carried out by the Joint Relief Partnership (JRP), an Ethiopian organisation which unites the Ethiopian Orthodox Church, the Ethiopian Catholic Secretariat, the Mekane Yesus Ethiopian Evangelical Church, the Lutheran World Federation, and Catholic Relief Services. The JRP was formed during the 1980s famine."This is a cutting-edge agreement," said Stein Villumstad, assistant general secretary for policy and human rights of Norwegian Church Aid. "We're building on a history of efficient local co-operation. These local organisations represent the only alternate distribution system for food aid in the country. The churches are on the ground and know what's really going on in Ethiopia."Leaders from the country's other major religious tradition, Islam, have been invited to join the JRP, but have not accepted.While most of the JRP's work depends on outside financial support, Ethiopians are also contributing their share. According to Asmamaw Belay, who is in charge of relief efforts for the Ethiopian Orthodox Church, the church's patriarch, Abuna Paulos, will call on church members later this week, as his church celebrates Orthodox Easter, to contribute to church-sponsored relief work. A similar collection six years ago netted 1.5 million birr (about US$200,000), Asmamaw said."Today people are suffering throughout the country, so His Holiness will remind the faithful that those who have two coats should give up one, just as in the Gospel," Asmamaw said. (The Ethiopian Orthodox Church is the country's biggest church, with about 19 million members, a third of the total population, according to the World Churches Handbook, published in London.)The risks posed by drought to Ethiopia's citizens are being exacerbated by the country's smouldering two-year border war with neighbouring Eritrea. Observers estimate that the Ethiopian government is spending more than US$1 million every day on the conflict, maintaining half-a-million soldiers along the Eritrean border and resettling and feeding up to 350,000 civilians displaced by the conflict.One-tenth of Ethiopia's trucks have been pressed into service ferrying personnel and equipment to the northern front. Ethiopia's Prime Minister Meles Zenawi has refused to accept any food aid shipped through the Eritrean port of Assab, which before the conflict handled 75 per cent of relief assistance destined for landlocked Ethiopia. The international community is spending more than US$6 million to improve facilities in the neighbouring port of Djibouti and to improve roads leading from the port to the Ethiopian border.The government adamantly insists that the drought and the war are two separate issues that should not be linked. "In Ethiopia we do not wait to have a full tummy to protect our sovereignty," Prime Minister Meles declared last week.Since late 1998 church leaders from both sides of the conflict have been working behind the scenes to end the war. With assistance from Norwegian Church Aid, three conferences have been held bringing together Eritrean and Ethiopian religious representatives. The meetings have included Orthodox, Protestant, Roman Catholic and Muslim participants.But an Ethiopian participant, who asked not to be named, told ENI that the talks had "failed to produce any breakthroughs because neither side has ventured very far from the position of its government."Copyright © 2000 ENI.
Related Elsewhere
An excellent related article appeared last weekend in The Washington Post.More coverage of the growing famine is available from the Sydney Morning Herald, The Jerusalem Post, Chicago Sun-Times, Los Angeles Times, Canada's National Post, the International Herald Tribune, CNN, USA Today and other news sources.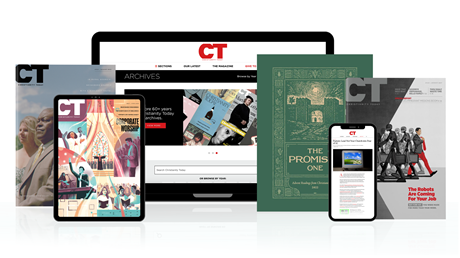 Subscribe to Christianity Today and get access to this article plus 65+ years of archives.
Home delivery of CT magazine
Complete access to articles on ChristianityToday.com
Over 120 years of magazine archives plus full access to all of CT's online archives
Subscribe Now
International Community Has No Excuses in Ethiopia Says Aid Official
International Community Has No Excuses in Ethiopia ...