When the Christian Internet directory Crosswalk.com relaunched its movie department two months ago, it brought together, in true Siskel-and-Ebert fashion, a pair of reviewers with quite different perspectives on film. Michael Elliott, as we reported in an earlier profile, is a relative newcomer to critiquing who uses movies to illustrate Biblical principles. Holly McClure, on the other hand, is a veteran reviewer for newspapers, radio, and television who writes with families in mind—both to inform parents about questionable material and to suggest points of conversation with their children."I review from a different perspective than Michael," McClure says. "His reviews are from a religious perspective and more philosophical, mine are aimed … to teach adults, children and teens to be movie savvy and discern for themselves what they should or shouldn't see."Although McClure's Christian faith was instrumental in developing this family-friendly approach, the partnership with Crosswalk.com marks the first time her reviews have been carried by an explicitly Christian outlet. "It's a whole new audience to connect with," she says, excited at the prospect. McClure believes her reviews are quite relevant to Christians. "The church needs to become more media savvy and aware of how entertainment minded we are as a culture. … Instead of trying to shelter our kids or teens from it, we need to teach them how to be aware of it." For instance, while many Christian reviews dismissed the recent film Where the Heart Is because of its unwed mother protagonist, hers encourages "a mother and teenage daughter (and son) to see [it] together because it deals with poor choices (promiscuous sex, pregnancy, poor dating choices) and the consequences."McClure understands, though, if parents disagree with her advice. "I can not, and will not, be the Holy Spirit for people," she says. "But I can give them helpful information so they can decide for themselves (or let the Holy Spirit convict them) about what they want to be exposed to, influenced or persuaded by." In the case of Where the Heart Is, she notes the offensive "language and frank sexual discussion," as well as the strongly adult storyline. McClure says her typical review will "inform the reader about the good elements in a movie, the not-so-good that they may need to watch out for, and the detailed scenes with sexual situations, language and violence." She also includes a parental advisory noting an appropriate age group for viewing—and as a single mom of three teenagers, she's practiced in drawing the line.Her children are actually what led her to become a film critic in the first place. McClure loved the movies growing up; she and her three sisters "would quote lines we could remember and sing the songs for days after we saw a movie." In particular, she loved "that movies can take you out of your world, and for the two hours you're sitting in a theater, you get to take a trip and share another life, another world, another place that you wouldn't get to share if it weren't for the movie." When she became a mother in the '80s, McClure revived her childhood tradition of movie night, but "soon realized I was taking a lot of trips to the restroom and covering their eyes during many scenes that I found objectionable." At the time, there were no reviews aimed at parents with kids, so she started her own with a friend in a weekly Albuquerque newspaper. That led to a column in the Orange County Register, for which she still writes, and syndication in 360 other periodicals around the country. She also hosts a daily talk show on KPRZ in San Diego called "Holly McClure Live," is a regular guest on FOX FX's The New Movie Show, and had guested several times on Bill Maher's Politically Incorrect.McClure is encouraged that the mainstream media has embraced her family-focused approach to movies. "We are told to be a light and salt to the world," she says, "in whatever we do or wherever we are, and that's what I try to do. … I basically let my faith speak for itself in the way I review a movie." Readers of all sorts have embraced her informative style that lets them choose for themselves what's appropriate viewing. "I get letters from kids, teens, parents, even grandparents, who tell me they like my viewpoint and reviews. Not everyone is a parent and actually that encourages me. I see people caring about how they spend their money and what they spend it on. … I feel it's more important than ever to teach our kids and teens how to be more discerning and educate them on how to make choices that are healthy and best for them."
Steve Lansingh is editor of thefilmforum.com, a weekly Internet magazine devoted to Christianity and the cinema.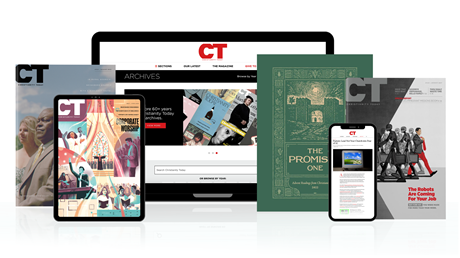 Subscribe to Christianity Today and get access to this article plus 65+ years of archives.
Home delivery of CT magazine
Complete access to articles on ChristianityToday.com
Over 120 years of magazine archives plus full access to all of CT's online archives
Subscribe Now
Movie Mom
Movie Mom