Some of Fiji's churches have cautiously distanced themselves from the bid to overthrow the elected government which has brought chaos to the capital, Fiji, and focussed international attention on the ethnic divisions in this Pacific nation.On Friday, May 19, armed soldiers in civilian clothing led by Fijian businessman George Speight, took the prime minister, Mahendra Chaudhry, and other politicians hostage at Fiji's parliament in Suva, the capital.Chaudhry is Fiji's first ethnic Indian prime minister, and Speight said he was acting in the name of indigenous Fijians against a government dominated by ethnic Indians. (About 50 percent of Fiji's 800,000 citizens are ethnic Fijians, 45 percent are of Indian origin, and 5 percent are of other origin, including European and Chinese. About 52 percent of the population are Christian, 38 percent Hindu and 7.8 percent Muslim.)On May 22 leaders of the Methodist Church (MC)—by far the biggest church in Fiji, representing about 70 percent of ethnic Fijians—publicly disassociated itself from the coup attempt. The church's president, Tomasi Kanailagi, called on members "to pray for the nation and refrain from illegal activities, which are against what Christianity stood for."While he implied that the church did not support the taking of hostages, he said that the MC did not "want to meddle in the politics of it."Other churches, such as the Assemblies of God (more than 30,000 members), also called for prayer. The Anglican Bishop of Polynesia, Jabez Bryce, whose church has about 8,000 members in Fiji, and the biggest number of Indo-Fijian (ethnic Indian) Christians, went a step further, stating that "in our democratic society there are legitimate ways to express disapproval. Those avenues have not been exhausted."On May 19 seven armed men took over the Parliament complex in Suva, taking Prime Minister Chaudhry, cabinet ministers and some parliamentarians hostage, and threatened to shoot them if there was a rescue attempt. It is not clear whether Speight, unknown in political circles until now, is a front man for powerful nationalist Fijians. Speight immediately formed what he called an "interim government" and demanded the resignation of Fiji's president, Ratu Sir Kamisese Mara. Instead the president declared a state of emergency, which gave him executive powers, imposed a night curfew in Suva, and demanded the release of the hostages. Police and army commanders publicly support the state president.Speight is demanding that the government be controlled completely by ethnic Fijians, even though Indo-Fijians are almost as numerous as the indigenous population. Indians were originally brought to Fiji by the British colonial administration in the late 19th century to work as indentured labor on cane fields.Fiji's ethnic divisions are deep, and there is prejudice on both sides of the ethnic divide. While ethnic Fijians own about 85 percent of the land—which may not be sold—Indo-Fijians dominate business and white-collar jobs. In 1987 a senior Fijian army officer, Sitiveni Rabuka, staged two coups, toppling the Labor Party-led coalition government (dominated by Indo-Fijians). Eventually a series of constitutional changes allowed the Labor Party, this time led by Mahendra Chaudhry, to form yet another coalition government in 1999. Prime Minister Chaudhry has been widely criticized as being arrogant and insensitive to ethnic Fijian concerns, especially in relation to land reform. Many Indo-Fijians lease land owned by Fijians under a 99-year-lease system. These leases are now expiring, and ethnic Fijians are not willing to renew them, forcing Indo-Fijians off the land. Land reform is a highly sensitive issue for ethnic Fijians, as land forms a strong part of their cultural identity.But there is another side to this coup that is rarely publicly voiced, namely traditional divisions among ethnic Fijians. Fiji has three large traditional "tribal" or provincial alliances that predate British colonialism here. These divisions are now surfacing in public as chiefs declare their support either for the president or for Speight. These divisions were apparent in 1987—the then Labor Party prime minister, Dr Timoci Bavadra, from the western part of Fiji (economically the most powerful region), was not acceptable to the Eastern chiefs (who traditionally include the paramount chief).While the "race" card is heavily played in Fijian politics, it is seen by some analysts as little more than an emotional front hiding real historical conflicts and vested interests of both provincial political alliances and elite business interests. According to a political scientist, Dr Teresia Teaiwa, "the image of a humble, God-fearing, dignified and hospitable people, marketed by the Fiji Visitors' Bureau, is chillingly contraverted. The chiefs and church ministers stir their people, but the simple truth is they do not control them. A group of alert and ambitious businessmen has used this feature of Fijian leadership to its advantage."The Great Council of Chiefs (GCC), a traditional body now recognized by the 1997 constitution, has been meeting since Tuesday, May 23, in an attempt to resolve the crisis. So far its only resolution has supported the president. However, the chiefs also clearly state that they sympathize with Speight's cause.The hostage crisis continues, with thousands of ethnic Fijian supporters gathering outside the parliament buildings.The complexity of political, ethnic and tribal allegiances is part of the reason for the caution of the churches. The MC itself is deeply divided. These divisions surfaced after the 1987 coups, when there was a struggle for leadership within the church that left deep scars. Other churches have similar problems.The crowds gathered at Parliament to support the Speight coup are praying and singing hymns. Many of them are almost certainly churchgoers. The same may apply to many of the Fijians who last Friday looted about 200 shops, most owned by Indians, causing damage estimated at US$15 million.However, many Fijians, Christians included, have expressed horror and shame at these actions. While they may agree with some of Speight's grievances, they do not believe a coup is the way to resolve the problems.Yet, as Bishop Bryce put it: "We need to examine ourselves to see how much responsibility for the present state of affairs lies with us … Have we been concerned to right injustices that others suffer, and to free ourselves of selfishness?"Copyright © 2000 ENI.
Related Elsewhere
See more on the Fiji coup at Fijilive, Fijivillage.com, the BBC, and Yahoo's full coverage.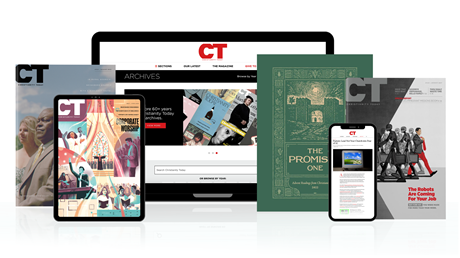 Subscribe to Christianity Today and get access to this article plus 65+ years of archives.
Home delivery of CT magazine
Complete access to articles on ChristianityToday.com
Over 120 years of magazine archives plus full access to all of CT's online archives
Subscribe Now
Churches Distance Themselves from Attempted Coup in Fiji
Churches Distance Themselves from Attempted Coup in Fiji