Former U.S. Senator John Danforth, a prolife minister who has spent much of his recent time trying to help St. Louis's inner city, is George W. Bush's top pick as running mate, Time magazine reports.
Higher powers are apparently sparing the multifaith site from the dotcom meltdown as venture capital continues to pour in. Inside.com reports that Beliefnet's next step is to launch Web Start, a kind of build-your-own-homepage for churches, synagogues, and other houses of worship. "Digital charity plate functions and auctions" will follow. A nice idea, but do you really want your church web site to have banner ads and e-commerce opportunities? And hasn't this been tried before?
Rupert Murdoch's Fox Family Channel, which the Australian mogul purchased from religious broadcaster Pat Robertson three years ago, "has blown $500 million on original shows that have mostly gone nowhere, and is spending tens of millions more to buy network reruns like Providence, Early Edition and 7th Heaven," reports the all-things-media site Inside.com. "A dozen executives have fled in the past few months … " Executives blame, at least in part, Murdoch's agreement to air Robertson's The 700 Club "pretty much until the final judgment."
As reported earlier in the ChristianityToday.com Weblog, atheists responded to a council ruling that Muslims can broadcast their call to prayer by seeking the right to broadcast from their rooftops, "God does not exist." Now the city's Pentecostals are getting in on the act. Their roofs will be broadcasting, "Jesus lives. He is the way, the truth and the light. No one can accede to the Father without him. Hallelujah!"
Prime Minister Yoshiro Mori's comment calling Japan "a divine country with an emperor at its center," is "a perfect summation of State Shinto, the racist official religion that that drove Japan's expansionism in Asia and its war with the United States," says The New York Times. Reporter Howard W. French says this "jagged edge of a nostalgic form of nationalism is enjoying a powerful resurgence among conservative politicians." An even better article on Shinto's resurgence was published in the April 29 issue of World magazine—published a month before Mori's well-publicized statement.
Gustav Niebuhr's conclusions—that Christianity is more global than western—shouldn't surprise Christianity Today readers. But it's nice to see David Barrett (who's a CT advisory editor) get some press.
"From local papers to the Web, the press has responded with more religion news than at any time in decades," reports The Christian Science Monitor's front page. "Stories about everything from prayer groups to reincarnation to African-based ancestor worship have replaced what 30 years ago was primarily the domain of bake sales and church notices." But some reporters still don't get it. "People do want the good news … so that we can do good and feel good about ourselves," says Angela Davis, anchor at Minneapolis television station KSTP. That's not news, Angela, that's therapy.
Kathy Reak, national sales manager for the Colorado Springs's Convention and Visitors Bureau, says religious visitors account for 53 percent of the city's hotel room bookings. But, as ChristianityToday.com Weblog is published from the Wheaton, Illinois, area (formerly "evangelical Ground Zero"), it's sad to see our hometown paper so quick to call the Springs "the Vatican of evangelical Christianity."
Related Elsewhere
See our past Weblogs:
June 1 | May 30 May 26 | 25 | 24 | 23 | 22 May 19 | 18 | 17 | 16 | 15 May 12 | 11 | 10 | 9 | 8 May 5 | 4 | 3 | 2 | 1 April 28 | 27 | 26 | 25 | 24 April 19 | 18 | 17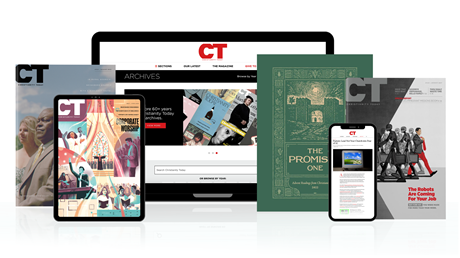 Annual & Monthly subscriptions available.
Print & Digital Issues of CT magazine
Complete access to every article on ChristianityToday.com
Unlimited access to 65+ years of CT's online archives
Member-only special issues
Subscribe
A Minister for Veep?
A Minister for Veep?