Twenty-six Anglican and Roman Catholic leaders from 13 countries, meeting for five days (May 15 to 19) near Toronto, Canada, in an effort to continue healing their 466-year-old rift, have decided to set up a commission to explore ways to reunite the two churches. The meeting also gave rise to hope that the Vatican may one day recognize Anglican ordinations.The meetings, at the Queen of the Apostles Renewal Center in Mississauga, were co-chaired by George Carey, Archbishop of Canterbury, and by Australian Cardinal Edward Cassidy, head of the Vatican's Pontifical Council for Promoting Christian Unity.Meetings between the two communions are not new—the Anglican-Roman Catholic International Commission, with nine members on each side, began its meetings in 1970. But Comments at the end of the Mississauga meeting suggest a breakthrough may be imminent.At a press conference on May 19, spokesmen for the Anglicans and the Roman Catholics would not comment on when or how they might become one communion. "It's something in God's hands," said Cardinal Cassidy. Asked the same question, Archbishop Carey responded: "How long is a piece of string?"The bishops had worshiped together, shared meals and slept under the same roof, but were not able to share the Eucharist, mainly because of objections from Rome. (In 1896 Pope Leo XIII ruled that the ministry of Anglican priests and bishops was "totally null and utterly void.")Cardinal Cassidy commented: "It's true that at the morning liturgy we were not able to fully share, in the sense we were not able to receive the Eucharist from each other. But the whole ceremony was almost identical … we have the same actions, the same words, same spirit, same tradition."Cardinal Cassidy suggested that the Vatican might offer a measure of recognition to Anglican priests. "We do not say this [Anglican ministry] is a ministry that doesn't have value. The question of validity is not something that says the orders are not valid or worth nothing. It's not a question of all or nothing."Archbishop Carey said he had been personally "hurt" by Roman Catholics who refused to recognize his ordination, but added: "There has been a recognition at this conference that our ministry is valid. We are no longer where we were 100 years ago, in 1896."A major issue for the new commission is likely to be the issue of Anglican ordinations and the Roman Catholic objections.Cardinal Cassidy said there would have to be some changes to the Anglican ordination process and a resolution to the question of "apostolic succession" before the ministries would be recognized.Archbishop Carey spoke of the similarities in the two denominations, saying: "We'll go back more determined to heal the wounds of the past."The conference agreed that there should be consultation before either communion made a decision on matters of faith and morals that would affect the other.The Canada meeting marks a new step in 35 years of dialogue between Roman Catholic and Anglican churches. In 1968 the two churches officially stated that their goal was full, organic unity.One of the two Canadians who took part in the meeting, Anglican Primate Archbishop Michael Peers, told the Vancouver Sun before the conference began that "numerous barriers to a merger remain"—including such issues as the ordination of women priests, examination of what accepting the authority of the Pope would entail, and the Roman Catholic Church's refusal to recognize Anglican ordinations.Archbishop Peers added that even though relations were good, he did not expect to see the two churches united in his lifetime.Bishop Gerald Wiesner, of British Columbia, who is president of the Canadian Conference of Catholic Bishops and who also attended the meeting, was more optimistic in his pre-conference comments to the Vancouver Sun. He said he believed that the Catholic Church could soon become more open to married priests. Bishop Wiesner also said the Pope's authority was increasingly moving away from a model of infallibility to the exercise of authority in a collegial manner, which would be more acceptable to Anglicans.About 1,300 Roman Catholics and Anglicans gathered in St Michael's Roman Catholic Cathedral in Toronto on May 17. During the service Dr Carey told the congregation that the cross "is a gift when it brings us together." But, he added, it could also create crisis when it divided the followers of Christ.Archbishop Carey told the assembly that they should not dwell on the past. "We cannot undo the past, but we can transcend it. The nearer we come to Christ, the nearer we come together."Archbishop Carey said at the news conference at the end of the meeting that he would have no problem with the universal primacy of the Bishop of Rome in a united church, but he asked: "What is the nature of jurisdiction and authority?"Archbishop Peers said at the news conference that long separation between Roman Catholics and Anglicans created a problem for theologians. However, he added: "Many, many lay people are not going to sit around for another 500 years while we undo it."In a telephone interview with ENI after the meeting, Archbishop Peers said: "We [Canadians] were quite startled to find out that Canada is, in terms of Anglican-Roman Catholic discussion at the level of bishops, far ahead of anybody else in the world except New Zealand. We are celebrating 25 years of annual meetings between Anglican and Roman Catholic bishops. That doesn't happen in most places.Referring to the principal obstacles to reunification of the Roman Catholic and Anglican communions, Archbishop Peers told ENI: "I think one of the most problematical issues focuses around the question of the ordination of women. Most Anglican provinces ordain women, but there are a minority who do not approve—that's our problem—and it divides us from Roman Catholics. The Roman Catholics have a problem with the ordination of women, particularly because the Pope has ended debate on the subject. He has simply said this is not to be debated. That's a comment which creates division in some places in the Roman Catholic Church and certainly makes it difficult for us. It seems to leave us at a standstill at the moment.But, on a more optimistic note, he added: "I think one of the most hopeful things in years has been [Pope John Paul's] pastoral letter Ut Unum Sint [That they may be one] which invited comment on the exercise of papal primacy. He invited comment not just from episcopal conferences of the Roman Catholic Church, but from other churches. In Canada, Roman Catholic bishops responded, but so did the Anglican/Roman Catholic Dialogue. When he [Pope John Paul] asks about the exercise of his ministry, that clearly is the most open invitation in centuries."Copyright © 2000 ENI.
Related Elsewhere
Other media coverage of the Canada meeting includes:Catholics Softening Anti-Anglican Stance, National Post (May 20) Anglicans, Catholics Discuss Union, Associated Press (May 19) Pope Calls for Unity Among Catholics, Anglicans, National Post (May 18) Catholics, Anglicans Meet to Find a Common, National Post (May 15) Bishops Meeting in Canada, Associated Press (May 19) Paisley coming to Canada for Protestant rally against Anglican and Catholic meeting, National Post (May 9)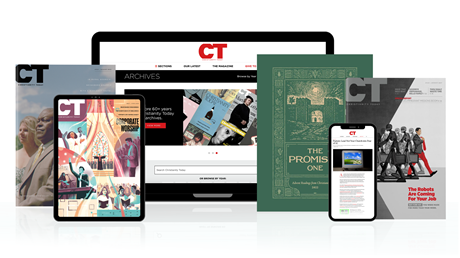 Annual & Monthly subscriptions available.
Print & Digital Issues of CT magazine
Complete access to every article on ChristianityToday.com
Unlimited access to 65+ years of CT's online archives
Member-only special issues
Subscribe
Canada Meeting Gives New Hope for Unity Between Anglicans and Catholics
Canada Meeting Gives New Hope for Unity Between ...