What has happened to the spirit of the early church, and how can we get it back? Two very different men pondered this question and, in their quest for an answer, sparked two very different revivals. Their stories are told in two books recently translated into English: History of the Pentecostal Revival in Chile, by Willis Collins Hoover (Imprenta Eben-Ezer), and The Awakening: One Man's Battle with Darkness, by Friedrich Zuendel (Plough).
Chile was not Willis Collins Hoover's first choice of mission field. Inspired by David Livingstone, he wanted to go to Africa. But Methodist missionary bishop William Taylor assigned Chile, so Hoover and his wife left for South America in 1889. Hoover assumed leadership of the Methodist Episcopal Church in Valparaiso in 1902, the year the adult Sunday school class was studying the Book of Acts. That was also the year a parishioner asked him, "What prevents our being a church like the early church?" Hoover answered, "Nothing prevents it, except something within ourselves."
However, as Hoover's account (the first half of the book) describes, the Pentecostal revival that began in Valparaiso was nearly prevented at many turns. An earthquake destroyed the church. Controversy raged over a woman with a dark past who, after conversion, seemed gifted with special power to convict people of their sins. Newspapers, not unlike the Los Angeles press covering Azusa Street, touted "The Work of a Swindler, or a Huckster," "Shouts, Swoonings, and Slaps," and "Tragi-Comic Scenes. Full Details." And the Methodist hierarchy worked to stop Hoover, charging him with imprudent conduct and "teaching and disseminating false and anti-Methodist doctrines" (apparently forgetting that emotional outbursts were a hallmark of Methodist revivals from the very beginning).
Hoover originally published the chapters of his account in the church magazine. Its strength, aside from first-hand freshness, is the inclusion of many supporting documents: letters, other accounts of revival meetings, and the full texts of the official church censures. The memoir is also unpleasantly defensive in spots, as Hoover was probably seeking to reassure his congregation of the revival's rightness despite fierce opposition from other Methodist leaders. Hoover eventually broke with the Methodists, and the new church split in 1933; naturally, no retelling of church splits will be entirely congenial.
The account was translated by Hoover's grandson, Mario G. Hoover, who spent 13 years with his grandfather in Chile. The second half of the book is Mario's collection of more of his grandfather's writings, reflections by his grandmother, his own personal memories of those 13 years, an update on Pentecostalism in Chile (which now claims as many as two million adherents), and brief biographies of Hoover's descendents.
If a Methodist missionary in Chile isn't a thoroughly unlikely candidate to launch a revival, a Lutheran pastor in 1830s Germany surely is. Yet it was Johann Christoph Blumhardt, serving an unpromising parish in the Black Forest, who said, "I long for another outpouring of the Holy Spirit, another Pentecost. That must come if things are to change in Christianity, for it simply cannot continue in such a wretched state. The gifts and powers of the early Christian time—oh, how I long for their return! And I believe the Savior is just waiting for us to ask for them."
Blumhardt's story in The Awakening (excerpted and translated from Zuendel's 1880 biography) begins not with all-night revival meetings but with a harrowing spiritual battle. An orphan girl named Gottlieben was suffering strange maladies and fits, and Blumhardt, despite counsel and his own inclination to stay out of it, engaged numerous demons in an ultimately successful attempt to free the girl. Much of the saga is told in the pastor's own carefully measured words, quoted from an account he wrote after the fact to dispel wild rumors, and though he's trying not to be sensational, the account reads like The Exorcist.
As the last demon left, it cried "Jesus is the victor!". This became Blumhardt's motto. His congregation, supportive through the ordeal, responded by seeking Christ's victory over their own sins and ailments. Soon Blumhardt was inundated with visitors wishing to confess to him, and as the penitents seemed so tormented by their guilt, the pastor began to grant absolution. This got him in trouble with the state church, which found his practices dangerously Catholic. Unlike Hoover, Blumhardt accepted the church's censure, first ceasing to host out-of-town guests, then ceasing to see anyone in his office; his only ministry was from the pulpit and in prayer. Eventually, though, these limitations chafed, and Blumhardt left his parish to start a community (the Bruderhof) at a spa called Bad Boll.
Though their names are largely forgotten, the theology of Blumhardt and his son, Christoph Friedrich, became immensely influential in Germany. Emil Brunner cited Christoph Blumhardt and Soren Kierkegaard as the best predecessors of Neo-Orthodoxy. Karl Barth, Dietrich Bonhoeffer, Jacques Ellul, Jurgen Moltmann, and other powerful figures also felt the Blumhardts' influence.
Whether evidenced by spiritual ecstasy and tongues or by confession and healing, the Holy Spirit's presence was profound in these two pastor's churches. These books remind us that the excitement of the early church is not lost—but it may crop up in ways no one can expect.
Elesha Coffman is Assistant Editor of Christian History
Related Elsewhere
The Awakening can be purchased at the Christianity Online bookstore. For History of the Pentecostal Revival in Chile you'll have to go to Amazon.com or another book retailer. for more on the Blumhardts' theology, see Thy Kingdom Come: A Blumhardt Reader. More Christian History, including a listing of events that occurred this week in the church's past, is available at ChristianHistory.net. We also strongly encourage you to subscribe to the quarterly print magazine. Christian History Corner appears every Friday at ChristianityToday.com. Previous Christian History Corners include:Asking the Wrong Questions | The Christian History staff's field trip to see the Dead Sea Scrolls (May 19, 2000) Glorified Gore | The early church wouldn't have been pleased with Gladiator. (May 12, 2000) Maniac or Martyr? | Two centuries after his birth, John Brown remains a divisive figure (May 5, 2000)Dietrich's Friend Eberhard | A fellow resister of the Nazis, editor, and biographer dies half a century after his subject and companion (April 28, 2000)When Is Easter This Year? | It may be hard to tell when Easter will fall, but it was even harder for the church to create its calculations. (April 20, 2000)Coming Soon to a Bookshelf Near You | Christianity Today's annual book awards contain some choice history selections (April 14, 2000)The Original 'Charitable Choice' Program | Transferring authority over Native Americans from the military to the church was a nice idea, but it failed. (Apr. 7, 2000)Donne on Death | Poet John Donne's "morbid tendencies" were neither unfounded nor without an attendant hope. (Mar. 31, 2000)Heaven Can't Wait | Mass suicides, like last week's in Uganda, may be a newer tactic, but the temptation to predict, even force, the coming of kingdom bliss is not. (Mar. 24, 2000)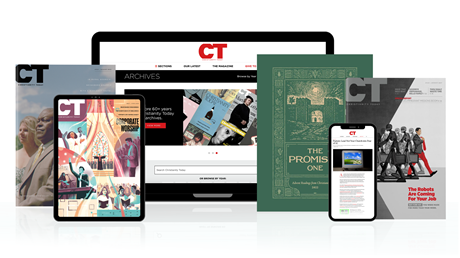 Subscribe to Christianity Today and get access to this article plus 65+ years of archives.
Home delivery of CT magazine
Complete access to articles on ChristianityToday.com
Over 120 years of magazine archives plus full access to all of CT's online archives
Subscribe Now
Revive Us Again
Revive Us Again