If you are a political junkie, this is the time you live for: the closing stretch of a presidential campaign. Every day brings another pile of stories: "G.O.P Leaders Fret at Lapses in Bush's Race," for instance, right next to "Gore Offers Vision of Better Times for Middle Class." (Hey, whatever happened to "working families"?) Debates are just around the corner, and meanwhile there's the debate over the format of the debates.
I hate to be the one to rain on your parade, but according to a covy of political scientists, all this campaign hoopla is just a big show. As Robert Kaiser writes in the Washington Post, reporting on the annual meeting of the American Political Science Association in Washington, D.C., seven academic number-crunchers have announced that "Campaign 2000 is effectively over."
Indeed, Alan Abramowitz of Emory University says that "the outcome of a presidential election can be accurately predicted based on factors that are known well before the official campaign gets under way."
But what about the carefully crafted and obscenely expensive attack ads? The personal appearances (Gore's all-nighter, for instance, or "Bush Planning to Emphasize Town Meetings")? The dueling plans to spend the budget surplus?
No, it doesn't mean diddley, Abramowitz says, fingering his calculator: "Despite the time, effort, and money devoted to campaigning, there is very little that the candidates can do during September and October to alter the eventual outcome of a presidential election."
So what does determine the outcome of the election? Well, Kaiser explains, "Abramowitz's model—using a complex mathematical formula—combines economic growth in the first half of the election year, the popularity of the incumbent president July 1, and the number of terms the incumbent party has been in power." The other analysts have their own wrinkles, but they all rely heavily on measures of economic growth and, more broadly, the national sense of well-being or lack thereof. And according to their forecasts—on this all agree—Al Gore will be our next president.
Are they right? We'll answer that question next week.
John Wilson is Editor of Books & Culture and Editor-at-Large for Christianity Today.
Related Elsewhere
Visit Books & Culture online at BooksandCulture.com or subscribe here.
The Washington Post's August 31 article, "Academics Say It's Elementary: Gore Wins," is available online. Other articles on the American Political Science Association forecasts include:
The game is still in early innings—columnist Steve Neal, Chicago Sun-Times (Sept. 8, 2000)
And the Winner Is Gore, if They Got the Math Right—The New York Times (Sept. 4, 2000)
Political Scientists See Gore Victory Over Bush—Reuters (Aug. 31, 2000)
A Presidential Hopeful's Progress | The spiritual journey of George W. Bush starts in hardscrabble west Texas. Will the White House be his next stop? (Sept. 5, 2000)
Bush and Gore Size Up Prolife Running Mates | Will abortion stances play an influential role in Vice Presidential selection? (July 17, 2000)
Bush's Faith-Based Plans | Bush argues that private religious organizations can partner successfully with government. (October 25, 1999)
Can I get a Witness? | Candidate testimonies must move beyond piety to policy. (August 9, 1999)
Beliefnet, a multifaith Web site, has extensive coverage of religious issues in the campaign.
Books & Culture Corner appears Mondays at ChristianityToday.com. Earlier Books & Culture Corners include:
Humans and Other Animals | How much do we share with the birds of the air and the beasts of the field? (Aug. 28, 2000)
Cardinal Mahony's Baloney Sandwich | The public face of Catholic social teaching. (Aug. 21, 2000)
In Praise of Miscegenation | Racial categories don't mean what they used to. Hallelujah. (Aug. 14, 2000)
"Give 'Em Hell, Harry!" | Looking back at the 1948 presidential campaign. By Elizabeth Jacoway (Aug. 7, 2000)
Roaring Lambs | The Evangelical Culture of Euphemism, Part 3. (July 31, 2000)
The Evangelical Culture of Euphemism, Part 2 | Should we distinguish between
public and private discourse? (July 24, 2000)
The Culture of Euphemism | A dispatch from the Christian Booksellers Association convention. (July 17, 2000)
Get Outta My Face! | The most troublesome word in religion today. (July 10, 2000)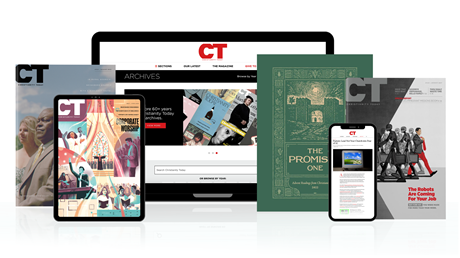 Subscribe to Christianity Today and get access to this article plus 65+ years of archives.
Home delivery of CT magazine
Complete access to articles on ChristianityToday.com
Over 120 years of magazine archives plus full access to all of CT's online archives
Subscribe Now
Pencils Down the Election's Over
Pencils Down the Election's Over