The second annual report from the U.S. State Department's Office of International Religious Freedom marks China, Iraq, Afghanistan, Sudan, and Myanmar, as some of the most repressive nations in the world. The report, released September 6—just as the U.S. Senate begins to debate granting Permanent Normal Trade Relations (PNTR) status to China—details "marked deterioration" of religious freedoms in mainland China during the past year.This information is expected to be a topic of conversation when Chinese President Jiang Zemin meets with Bill Clinton on Friday. Jiang, visiting the United States for the United Nation's Millennium Summit, is scheduled to dialogue with Clinton about trade and other concerns for an hour. In China more than 35,000 Falun Gong practitioners have been arrested this year—5,000 of whom have been sent to labor camps. Protestants and Catholics who meet in unofficial house churches have suffered heavily as well, according to recent news of beatings, imprisonment, and property destruction.The report also criticized Iraq for conducting a "brutal campaign of murder, summary execution, and protracted arbitrary detention against religious leaders and adherents of the majority Shiite population."Afghanistan persecuted Shiite Muslims, as well, with public executions, floggings and amputations for any failing to follow its strict interpretation of Islamic shari'a law. In Myanmar, Christian members of the ethnic Chin minority were coerced to convert to Buddhism, and Buddhist monks who promoted human rights were arrested and their monasteries destroyed. Communist countries such as Vietnam, Cuba, and North Korea were cited for numerous cases of religious repression, as were U.S.-friendly nations like Saudi Arabia, Egypt, Germany, France, and Israel. Both Laos and Azerbaijan were lauded for significant improvements in religious freedom. Azerbaijan's president has worked to ensure greater status for religious minorities and Laos released a large number of Christians previously imprisoned for their faith. About 30 countries took steps toward improvement after last year's report. The U.S. Commission on International Religious Freedom (USCIRF) praised the report, but questioned whether it would translate into direct policy toward the nations involved."Once again the facts are in," said USCIRF Chairman Elliott Abrams, " The real question is what will the Administration and Congress do with them. The record during the almost two years since passage of the International Religious Freedom Act in 1998 leaves much to be desired. While many fine words have been spoken, little action has followed."The USCIRF said it was "disappointed" in the U. S. government's policy toward several countries of particular concern following their designation in 1999. Abrams especially criticized U.S. relations with Sudan and China, terming Sudan sanctions as "grossly inadequate and ineffective" and blasting the Administration for continuing to "push for Permanent Normal Trade Relations status for China without requiring any improvements in that government's egregious and deteriorating record on religious freedom."The USCIRF also commended Ambassador-at-Large Robert Seiple, who is resigning in order to create a think tank at Eastern College, for his work compiling the report, and asked that the next U.S. president move swiftly to "fill the position with a person as knowledgeable and distinguished."
Related Elsewhere
Read the U.S. State Department's 2000 Annual Report on International Religious Freedom, as well as last year's report.Visit the USCIRF Web Site to learn more about their mission and information-gathering protocol at uscirf.gov.Other media coverage of the report includes:U.S. Rights Report Faults China for Harassing Religious Groups—The New York Times (Sept. 6, 2000) U.S. State Department report says 'religious intolerance remains far too common' around world—CNN (Sept. 6, 2000) Chinese religious rights 'deteriorated'—The Washington Times (Sept. 6, 2000) Report paints grim picture of global religious freedom—The Jerusalem Post (Sept. 6, 2000) Annual U.S. report on religious freedom sharply rebukes Hanoi—San Jose Mercury News (Sept. 6, 2000) Iran dismisses U.S. anti-Iran allegations on religious freedom—Islamic Republic News Agency (Iran) (Sept. 6, 2000) Chinese FM Spokesman Slashes US Religion Report—People's Daily (China) (Sept. 6, 2000) China Says U.S. Religion Report a 'Fabrication'—Reuters (Sept. 6, 2000) State Dept. Accuses Iraq, Afghans—Associated Press (Sept. 5, 2000) U.S. Blasts China, other for Persecution—Reuters (Sept. 5, 2000) Report: China's Repression Up—Associated Press (Sept. 5, 2000)Previous Christianity Today articles about the U.S. government's response to religious persecution includes:U.S. Ambassador for Religious Freedom to Resign | Robert Seiple stepping down to form think tank at Eastern College. (July 12, 2000) House Approves Divisive U.S.-China Trade Pact | But will permanent normal trade relations status help human rights? (May 25, 2000) China Should Improve on Religion to Gain Permanent Trade Status, Commission Says | Religious liberty in Sudan and Russia also criticized. (May 8, 2000) How Free Are We? | One year later, Christian leaders examine the International Religious Freedom Act. (Jan. 25, 2000) Religious Freedom Act: One Year Later | Little progress seen so far, but advocates see hope for future. (Dec. 30, 1999) Religious Freedom Report Released (Oct. 25, 1999) Religious Freedom Panel in Place (June 14, 1999) Congress Appoints Freedom Panel (Apr. 26, 1999) Religious Persecution Bill Encounters Stiff Resistance (Oct. 5, 1998) State Department Report Decries Persecution of Christians (Sept. 1, 1997)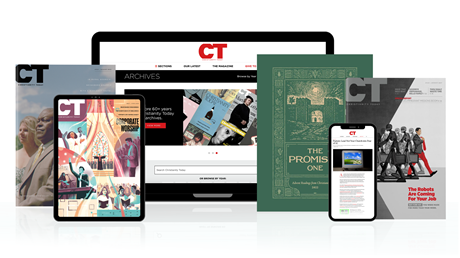 Annual & Monthly subscriptions available.
Print & Digital Issues of CT magazine
Complete access to every article on ChristianityToday.com
Unlimited access to 65+ years of CT's online archives
Member-only special issues
Subscribe
Religious Freedom Report Rebukes China Others
Religious Freedom Report Rebukes China Others