The U.S. House of Representatives overwhelmingly passed legislation Sept. 26 to provide legal protection to all newly born infants, including those who survive abortions.
The House vote was 380-15 on a pro-life measure that was extremely difficult even for abortion-rights advocates to oppose, especially in an election year. Although a Senate version has not been introduced, supporters are hopeful senators will take up the House bill before adjournment, which is scheduled Oct. 6.
The Born-alive Infants Protection Act, H.R. 4292, would establish in federal law that a baby living outside his mother's womb is legally a person. Though the long-standing principle in law has been that born-alive infants are entitled to legal protection, the legislation is necessary because of recent developments in law, academia and medicine, supporters say.
The developments calling that principle into question include the U.S. Supreme Court decision in June striking down a state ban on partial-birth abortion, which involves the killing of a nearly totally delivered child. The bill's backers also point to a July opinion by the U.S. Third Circuit Court of Appeals. A three-judge panel struck down New Jersey's pan on partial-birth abortion, saying the procedure could not be a "partial birth" because a "woman seeking an abortion is plainly not seeking to give birth," according to the National Right to Life Committee.
In addition, some in American academia, including Princeton University professor Peter Singer, contend parents should be able to kill newly born babies who are handicapped or unhealthy.
Also, babies who survive abortion are being allowed to die without care and are being targeted for such deaths. At a July hearing before a House subcommittee, two nurses testified babies, some who might be able to survive with proper care, are being left to die when they survive abortions at Christ Hospital in Oak Lawn, Ill. The abortion method used at Christ Hospital is known as induced-labor, or live-birth, abortion, testified Jill Stanek, a registered nurse. The goal of the procedure is to cause a woman's cervix to expel a premature baby who dies in the process or shortly after departure from the womb. One of the babies who was born alive survived for nearly eight hours without medical care, she testified.
The bill would not affect any abortion procedure or require medical treatment on an infant where it is not currently administered, said the measure's chief sponsor, Rep. Charles Canady, R.-Fla.
Shannon Royce, legislative counsel of the Southern Baptist Ethics & Religious Liberty Commission, noted, "This bill affirms what we thought was settled law until the disastrous Supreme Court decision this summer, and that is a child who is born alive is deemed a person under the 14th Amendment and deserves all the protections of any other person. The fact that the House vote was so overwhelming demonstrates an appropriate understanding of what human life is."
The National Abortion and Reproductive Rights Action League opposes the legislation.
The 15 House members who voted against the bill were Reps. Julia Carson, D.-Ind.; John Dingell, D.-Mich.; Chaka Fattah, D.-Pa.; Benjamin Gilman, R.-N.Y.; Charles Gonzalez, D.-Texas; Alcee Hastings, D.-Fla.; Jesse Jackson Jr., D.-Ill.; Nancy Johnson, R.-Ct.; Barbara Lee, D.-Calif.; Nita Lowey, D.-N.Y.; Carolyn Maloney, D.-N.Y.; Cynthia McKinney, D.-Ga.; Nydia Velazquez, D.-N.Y.; Maxine Waters, D.-Calif., and Melvin Watt, D.-N.C.
The House Judiciary Committee approved the bill in July with a 22-1 vote. Watt was the lone member to oppose it.
Related Elsewhere
Transcripts of the House floor debate, as well as more information about the bill are available at the Library of Congress' Thomas site.
The National Right to Life Committee has tracked the progress of this bill.
Media coverage of the vote includes
House OKs bill to protect infants in failed abortions—The Washington Times

House OKs Abortion Procedure Bill—Associated Press
Doctors in Britain are debating whether fetuses feel pain.
Previous Christianity Today articles about partial-birth abortion include:
Partial-Birth: What Next? | Louisiana's special assistant attorney general questions well-intentioned lawmakers. (Aug. 16, 2000)

Partial-birth Abortion Ban May Go to Supreme Court | Differing appeals court rulings increases chances of forthcoming decision. (Dec. 11, 1999)

Abortion Is Not a "Necessary Evil" | Why Americans oppose abortion but want to keep it legal. (May 24, 1999)

Partial-Birth Bans Make Little Headway in States | (April 5, 1999)

Federal Judges Block Restrictions | (April 27, 1998)
Copyright © 2000 Christianity Today. Click for reprint information.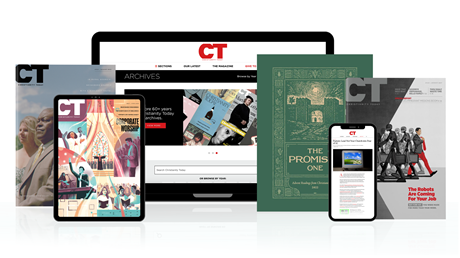 Annual & Monthly subscriptions available.
Print & Digital Issues of CT magazine
Complete access to every article on ChristianityToday.com
Unlimited access to 65+ years of CT's online archives
Member-only special issues
Subscribe
House Passes Bill to Protect Babies Outside the Womb
House Passes Bill to Protect Babies Outside the Womb