On this date more than 425 years ago, one of the bloodiest episodes of the Reformation era began in Paris: The Saint Bartholomew's Day Massacre. Following the assassination of their leader, Admiral Gaspard de Coligny, thousands of Huguenots (French Calvinists) who had gathered in the city for a royal wedding were slaughtered by their religious and political enemies. These excerpts from a report by Filippo Cavriana, a Mantuan physician in the service of French queen Catherine de Médicis, offer horrible details:
"Cossein, the Gascon commander, the German Besme, a former page to [Catholic party leader] Monsieur de Guise, Hautefort, the Italians Pierre Paul Tossinghi and Petrucci, went with a numerous troop to the house of the Admiral [Coligny], whom they had orders to kill. They broke down the door and went up the stairs. At the top of it they found a kind of makeshift barricade, made of chests and benches hurriedly heaped together. They thrust their way into the room, found eight or ten servants, whom they killed, and saw the Admiral, standing at the foot of his bed and dressed in a furred gown.
"The day was only just dawning and things could barely be made out. They asked him, 'Are you the Admiral?' He replied that he was. They rushed at him and covered him with insults. Besme grasped his sword and made to plunge it into his bosom. But he cried out, 'Ah, young soldier, have pity upon old age!' Vain words.
"With one stroke Besme laid him at his feet: they fired two pistols straight into his face and left him lying there lifeless. The whole house was given over to pillage. Meanwhile some of these men appeared on the balcony and said, 'He is dead.' Those below, Guise and the others, would not believe it. They asked him to be thrown out of the window, which was done. The corpse was stripped, and when it was naked pieces were cut off it . …
"Everywhere there were people who fled and others who ran after them, crying 'Kill! Kill!' There were men and women who, with the knife at their throats, were called upon to recant to save their lives, but they would not, and so lost both soul and body. There was no mercy either for age or for sex. It was in very truth a massacre. The streets were strewn with naked, mutilated corpses; the river was covered with them.
"The murderers wore the sleeve of a shirt on their left arms. Their watchword was 'Glory to God and the king!'
"When it was day, Monseigneur d'Anjou took horse and went through the city and the suburbs with eight hundred cavalry, a thousand foot and four pieces of artillery to beat down the houses that resisted. There was no need for them. The Huguenots, attacked without warning, thought only of flight.
"There was no laughter among the shouts. The victors did not shout with joy, as victors usually do, for the spectacle before them was so heart-breaking and hideous."
Who started the massacre? How did the situation in France get so dire? And what became of the Huguenots who survived? These questions still provoke fierce debate, and no one has all the answers, but you can start exploring the topic this week at the Christian History Web site as we begin our issue on Huguenots and the Wars of Religion.
Elesha Coffman is managing editor of Christian History magazine.
Related Elsewhere
More Christian history, including a list of events that occurred this week in the church's past, is available at ChristianHistory.net. Subscriptions to the quarterly print magazine are also available. Sign up for a trial subscription and receive a free copy of the magazine's Huguenot issue.
The Huguenot Society of Wisconsin, which helped with artwork for Christian History's issue, offers several of the images online. The National Huguenot Society also offers more information and links about these French Protestants and the Wars of Religion.
Christian History Corner appears every Friday at ChristianityToday.com. Previous editions include:
Live Long and Prosper | Though a recent survey raises questions, the health benefits of faith have been documented for centuries. (Aug. 17, 2001)

Divided by Communion | What a church does in remembrance of Christ says a lot about its history and identity. (Aug. 10, 2001)

Thrills, Chills, Architecture? | The most exciting adventure at St. Paul's Cathedral would be a time-traveling jaunt through its history. (August 3, 2001)

Deep and Wide| A dive into Reformation imagery yields striking new insights, while a drive-by church history overview largely disappoints. (July 27, 2001)

Shelling the Salvation Army | If William Booth's church could handle sticks and stones in the 1880s, it should withstand the recent barrage of hateful words. (July 20, 2001)

Historical Hogwash | Two books—one new, one newly reissued—debunk false claims about the "real" Jesus. (July 13, 2001)

Ghosts of the Temple | Soon after Jerusalem fell, the Roman Colosseum went up. Coincidence? (July 6, 2001)

Endangered History | The National Trust's list of imperiled places gives unnoticed gems a chance to shine. (June 29, 2001)

The Communion Test | How a "Humble Inquiry" into the nature of the church cost Jonathan Edwards his job. (June 22, 2001)

Visiting the Other Side | The Israelites spent time on both sides of the Jordan. Now tourists can, too. (June 8, 2001)

Beyond Pearl Harbor | How God caught up with the man who led Japan's surprise attack. (June 1, 2001)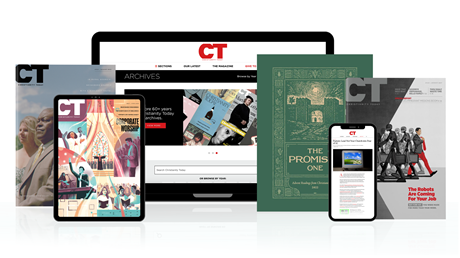 Annual & Monthly subscriptions available.
Print & Digital Issues of CT magazine
Complete access to every article on ChristianityToday.com
Unlimited access to 65+ years of CT's online archives
Member-only special issues
Subscribe
Eyewitness to a Massacre
Eyewitness to a Massacre