ECFA criticized in homeless ministry investigation
As the Pittsburgh Post-Gazette and television station KDKA continue their investigation into homeless charity Light of Life Ministries, the Evangelical Council for Financial Accountability (ECFA) is also coming under fire. Initial reports in July by the two media organizations accused Light of Life of mismanagement, overspending on fundraising, exaggerating how many homeless people it serves, nepotism, and other ills. The ministry's board immediately requested an investigation from ECFA—but the Post-Gazette says the self-described "Christian Better Business Bureau" was the wrong choice and dropped the ball. "The … ministry has been a member of ECFA, like other Christian nonprofit social service organizations, for the last 12 years," notes an editorial today. "And ECFA's first executive director, Olan Hendrix, is a paid management consultant to Light of Life. With such close ties, how could the mission get a hard, unbiased look at how it runs its service? … ECFA's five-page public statement summarizing its 'compliance review' of Light of Life is an exercise in damage control. After making perfunctory acknowledgment of the mission's problems, the statement ultimately spins away from sharp criticism of its member." The editorial continues, describing what the ECFA report included, and—more importantly—what it left out. The Post-Gazetteis hitting this story pretty hard, and one would expect the ECFA to have a response to this kind of criticism, so readers can expect more to come.
Sexual assualt charge escalates criticism of Christian school famous for football
"Often accused of breaking or bending the rules in its quest for football superiority, Evangel [Christian Academy] now faces a more incendiary charge—that its leadership ignored allegations of a sexual relationship between a student and a coach/administrator." That's the bottom line of a 3,625-word Houston Chronicle article that details criticism of the Shreveport, Louisiana, school known for its staunchly Christian approach to education and its domination of football. The Assemblies of God school, which has produced such players as Terry Bradshaw and Joe Ferguson and was named national high school football champion in 1999, begins this season without its head coach, who is on leave after being arrested on a charge of sexually assaulting a 15-year-old student. However, Dennis Dunn—who had also been principal—maintains his innocence (he has not yet been indicted) and school officials believe him. While the assault case forms the backbone of the Chronicle's story, it also details other accusations against the school: "While Evangel supporters embrace the program in the spirit of true believers, many in the community view it skeptically, their opinions formed by years of allegations that the school has improperly recruited players and the perception that it conducts its business with a holier-than-thou attitude." Johnny Booty, pastor of the church associated with the school and interim head coach, says such accusations stem from the school's beliefs. "The sign out front says 'Evangel Christian Academy,'" he says, "and we don't apologize for that. We win some friends and make some enemies because of that fact. … We believe in God. And because we have taken such a stance, it is like a lightning bolt."
Dallas Theological Seminary takes heat for readmitting student
While Evangel takes criticism for the alleged assault against one of its students, Dallas Theological Seminary is under fire for allowing a sexual offender to graduate. Jon Gerrit Warnshuis, a Dallas-area pastor charged with sexual assault and sexual indecency, was apparently expelled from the seminary in the late 1980s over unrelated sexual allegations but allowed to return and graduate with a master's degree in theology in 1992. "We believe that people should be given a second chance if they turn their lives around," former seminary president Donald Campbell tells the Fort Worth Star-Telegram. But school officials didn't tell churches that were thinking about hiring Warnshuis about the incidents when they called for references. Nor, did they tell alert authorities to the earlier incidents—which reportedly involved children—despite a Texas law requiring them to do so. (When or if Dallas Seminary issues a response to the criticism, Weblog will of course let you know.)
Enlarging the spires on the temple of the Holy Spirit
Donna Batten, a Christian mother of five from Ulster, Northern Ireland, explained to Friday's Belfast Telegraph why she had her breasts enlarged to a 34DD: it's all because of her Christianity. Pastors and religious commentators can no doubt find weeks worth of commentary in Batten's quotes, but Weblog will let her speak for herself:
We believe the body is the temple of the Holy Spirit and that we should look after it and maintain it, and that's what I'm doing. … To me it would be wrong to have got my boobs done and have them hanging out, on show, tempting men. That would be a sin. But, I'm not like that. I dress quite modestly. … Some older Christians might think this was wrong but no one at my church has said to me that it's a sin. Instead people take the approach, "that's your business, if it makes you happy." … And, taking it to its logical conclusion, where would you draw the line? If it's not wrong to dye your hair, or wear make-up, why would cosmetic surgery be wrong? Essentially it all comes down to the same thing. … We're God's children, he wants us to have the best of everything, to have an abundance of everything.
Related Elsewhere
See our past Weblog updates:
August 24 | 23 | 22 | 20

August 17 | 16 | 15 | 14 |13

August 10 | 9 | 8 | 7 | 6

August 3 | 2 | 1 July 31 | 30

July 27 | 25 | 24 | 23

July 20 | 19 | 18 | 17 | 16

July 13 | 12 | 11 | 10 | 9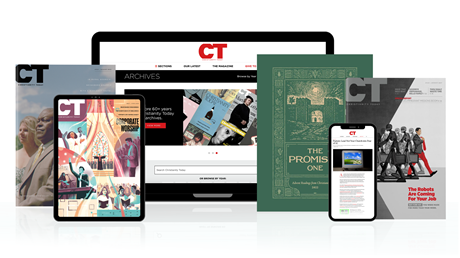 Annual & Monthly subscriptions available.
Print & Digital Issues of CT magazine
Complete access to every article on ChristianityToday.com
Unlimited access to 65+ years of CT's online archives
Member-only special issues
Subscribe
Did the Evangelical Council for Financial Accountability Pull Its Punches?
Did the Evangelical Council for Financial ...