Don't miss the January/February issue of Touchstone magazine, which features a special section, "Return to the Father's House: God the Father and Human Fatherhood." As the title and subtitle suggest, this issue addresses two pressing questions—the widespread effort in some quarters of the church to downplay or even eliminate the biblical conception of God as Father, and the crisis of (human) fatherhood in the United States—and argues that the two are in fact closely linked.
Touchstone, if you haven't seen it, defines itself as "a Christian journal, conservative in doctrine and eclectic in content, with editors and readers from each of the three great divisions of Christendom—Protestant, Catholic, and Orthodox. The mission of the magazine, and of its publisher, the Fellowship of St. James, is to provide a place where Christians of various backgrounds can speak with one another on the basis of shared belief in the fundamental doctrines of the faith as revealed in Holy Scripture and summarized in the ancient creeds of the church." (Readers who have seen Touchstone already may notice that the January/February issue is uncommonly handsome and sprightly, thanks to a much-needed redesign.)
There is far more to chew on in the January/February issue than can be readily summarized here, ranging from sociologist David Blankenhorn's powerful essay on "the spiritual dimensions of fatherhood and the spiritual sources of contemporary father absence" to Father Patrick Reardon's characteristically provocative and immensely learned theological reflections on what Christians do and do not mean "when we call God by the name Father." I urge you to read it for yourself—or better yet, in a Sunday school class or a reading group. But here are two reactions.
First, all of us who are committed to Scripture and to the "ancient creeds of the Church" are in Touchstone's debt. I hope the issue at hand will be read widely, and not only among those who are inclined to accept its theses without examination. But, second, one can agree that the language of God as Father is fundamental, non-negotiable, and yet dissent strongly from the manner in which that truth is mixed with other contentions by various contributors to this special section—including connections made between the Fatherhood of God and human fatherhood.
In particular, it is very unfortunate that the January/February issue is introduced—with the imprimatur of his fellow senior editors—by Leon J. Podles, who also contributes a long essay, "Missing Fathers of the Church: The Feminization of the Church and the Need for Christian Fatherhood." Some readers of Books & Culture and Christianity Today may be familiar with Podles's book, The Church Impotent: The Feminization of Christianity. "My thought has continued to develop," he writes in the Touchstone essay,
and I have slightly revised my thesis. In what follows I will first summarize my thesis that men stay away from the church because they regard it as a threat to their hard-won masculinity. Second, I will explore how the church has become identified with femininity. Third, I will consider how this feminization has undermined fatherhood, and how the Church can reach men and help them to be Christians and Christian fathers.
What follows, as we'll see in more detail next week, is an exercise in conspiracy theory, with all the usual attributes of the genre. Here the point is to note how, in Podles's hands, the argument has mutated far from its origin in a clearly identifiable conflict with late-twentieth-century, feminist-inspired efforts to erase God as Father. For Podles, the "feminization of Western Christianity" is vast, malign process that began in the thirteenth century! If you have a weakness for elaborate tales about second and third gunmen, if you feel a sneaking admiration for the sheer ingenuity of conspiracy theorists and their dogged resistance to mundane counter-evidence, stay tuned.
John Wilson is Editor of Books & Culture and Editor-at-Large for Christianity Today.
Related Elsewhere:
Visit Books & Culture online at BooksandCulture.com or subscribe here.
Touchstone magazine's Web site has several sample articles from the issue available, including A Sociologist Looks at Fatherlessness & Its Causes by David Blankenhorn.
Books & Culture Corner appears Mondays at ChristianityToday.com. Earlier Books & Culture Corners include:
What's the University For? | In James Davison Hunter's The Hedgehog Review, academics nibble on the hands that feed them.

Mary, Mary, Quite Contrary? | Experiencing Marian devotion as a Protestant (Jan. 29, 2001)

Opening the Mind of Science | Science Goes Postmodern, Part 2 (Jan. 22, 2001)

Science Goes Postmodern | David Foster Wallace creates math melodrama with his essay-review. (Jan. 15, 2001)

On Being Human, Part 3 | Did Natural History swallow an unscientific argument because it explained human experience in evolutionary terms? (Jan. 8, 2001)

On Being Human, Part 2 | Learning from information rather than instinct is often harder than it looks. (Dec. 18, 2000)

On Being Human | Natural History magazine celebrates a milestone. (Dec. 11, 2000)

Are You Re:Generated? | Inside one of the best religious publications on the planet (that's not Christianity Today). (Dec. 4, 2000)

The Promise of Particularity Amid Pluralism | A dispatch from the Annual Meeting of the American Academy of Religion and the Society of Biblical Literature. (Nov. 22, 2000)

The Horror! | Joan Didion encounters evangelical Christianity. (Nov. 13, 2000)

Election Eve | Why isn't anyone focusing on those who simply won't bother to vote? (Nov. 6, 2000)
Article continues below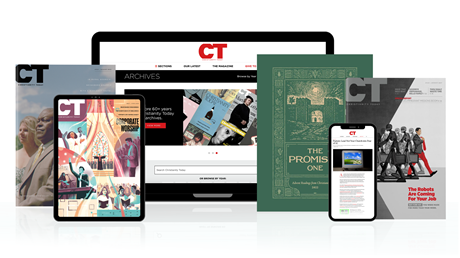 Subscribe to Christianity Today and get access to this article plus 65+ years of archives.
Home delivery of CT magazine
Complete access to articles on ChristianityToday.com
Over 120 years of magazine archives plus full access to all of CT's online archives
Subscribe Now
Return to the Father's House
Return to the Father's House