"The fox knows many things, but the hedgehog knows one big thing," wrote the poet Archilochus in the seventh century B.C. In our time his aphorism was given currency by the philosopher Isaiah Berlin. And a couple of years ago, the pithy saying was picked up by a newly founded journal, The Hedgehog Review: Critical Reflections on Contemporary Culture, the brainchild of sociologist James Davison Hunter. Published three times a year by the Institute for Advanced Studies in Culture, a Hunter-directed think tank at the University of Virginia, and capably edited by Jennifer Geddes, the journal has just completed its second year with a special issue, "What's the University For?" that will be of interest to many readers of Books & Culture.
An editorial note at the outset poses the question thus: "In what ways will this Enlightenment-era institution (with roots that draw from the inheritance of even deeper Christian sources)"—the university, that is—"be sustained in an increasingly post-Enlightenment social order?" Even if one dissents to a greater or lesser degree from this formulation, with its implied emphasis on the great modern/postmodern divide, it's hard to disagree with the conclusion that "the nature and direction of higher education certainly warrants serious and sustained reflection."
Jackson Lears's subject is "The Radicalism of Tradition: Teaching the Liberal Arts in a Managerial Age." Lears begins rather self-consciously with an unhelpful gambit, explaining how both conservatives and leftists in the academic theater of the culture war have missed the point about what is really going on in the university. Along the way, of course, he is careful to establish his liberal bona fides (as in a reference to "the big lies"—unidentified—"of William Bennett and other pseudo-traditionalists"), but his main point is the disastrous impact of "market-based pedagogy." In almost every paragraph of Lears's essay I found a good deal to disagree with; still, I was glad to have read it.
In "A Word to the New Humanities Professor," Mark Edmundson offers a satiric complement to Lears's essay. Edmundson deftly skewers many of the features of the Consumer University—the professor as "communications facilitator" and so on—and deliciously sends up pompous education-speak. But when all is said and done, a reader outside the academic world can't help but wonder why Edmundson hasn't left that world a long time ago. In this essay there's a mixture of sophisticated contempt for others and sophisticated self-loathing that is acutely self-aware and finally deeply wearying.
In "Intellectuals and Their Discontents," Russell Jacoby follows up on his widely discussed 1987 book, The Last Intellectuals: American Culture in the Age of the Academic. His essay, which superbly demonstrates the virtues it commends, is a plea for intellectuals to "reclaim the vernacular and reassert themselves in public life." I am all for the kind of writing Jacoby champions—that is part of the reason Books & Culture exists, to encourage just such writing, both "serious and accessible"—but I'm much less certain about what is entailed in the call for intellectuals to "reassert themselves in public life," especially given Jacoby's nostalgic reference to intellectuals in the Kennedy era, as hymned in The Best and the Brightest.
Subsequent essays by Gerald Graff ("Two Cheers for the Argument Culture"), Julie Reuben ("The University and Its Discontents"), George Marsden ("The Incoherent University"), and Richard Rorty (responding to earlier versions of the essays by Reuben and Marsden, with replies from both authors) are all worth reading, as is a revealing interview with the philosopher Martha Nussbaum. A review of five recent books on "Higher Learing in America," by Carl Trindle, and a bibliographic essay on the university, by Steven Jones, round out an an exceptionally interesting volume.
Since its medieval—not Enlightenment—beginnings, the university has always been in flux, in contest, far more than is suggested by the framing of this collection of reflections. It would be nice to have another volume of essays looking at the long history of the university with an eye to our twenty-first-century present.
John Wilson is Editor of Books & Culture and Editor-at-Large for Christianity Today.
Related Elsewhere:
Visit Books & Culture online at BooksandCulture.com or subscribe here.
The Hedgehog Review can be ordered at the Institute for Advanced Studies in Culture's Web site. (Be forewarned: the publications page regularly crashes some browsers.)
Books & Culture Corner appears Mondays at ChristianityToday.com. Earlier Books & Culture Corners include:
Mary, Mary, Quite Contrary? | Experiencing Marian devotion as a Protestant (Jan. 29, 2001)
Opening the Mind of Science | Science Goes Postmodern, Part 2 (Jan. 22, 2001)
Science Goes Postmodern | David Foster Wallace creates math melodrama with his essay-review. (Jan. 15, 2001)
Article continues below
On Being Human, Part 3 | Did Natural History swallow an unscientific argument because it explained human experience in evolutionary terms? (Jan. 8, 2001)
On Being Human, Part 2 | Learning from information rather than instinct is often harder than it looks. (Dec. 18, 2000)
On Being Human | Natural History magazine celebrates a milestone. (Dec. 11, 2000)
Are You Re:Generated? | Inside one of the best religious publications on the planet (that's not Christianity Today). (Dec. 4, 2000)
The Promise of Particularity Amid Pluralism | A dispatch from the Annual Meeting of the American Academy of Religion and the Society of Biblical Literature. (Nov. 22, 2000)
The Horror! | Joan Didion encounters evangelical Christianity. (Nov. 13, 2000)
Election Eve | Why isn't anyone focusing on those who simply won't bother to vote? (Nov. 6, 2000)
Three Books and a Wedding | Remembering the good news. (Oct. 30, 2000)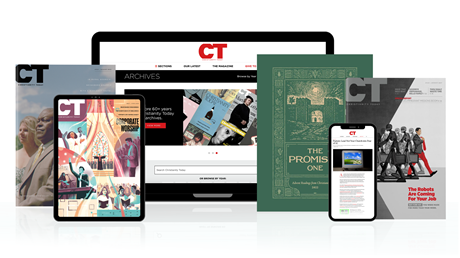 Subscribe to Christianity Today and get access to this article plus 65+ years of archives.
Home delivery of CT magazine
Complete access to articles on ChristianityToday.com
Over 120 years of magazine archives plus full access to all of CT's online archives
Subscribe Now
What's the University For?
What's the University For?