The fledgling Christian film industry, which so far only boasts 1999's The Omega Code as a breakout hit, suffered a setback this weekend as the heavily promoted Left Behind movie placed 17th at the box office with $2.2 million. The $17.4 million adaptation of the best-selling novel has sold remarkably well as a video in the past three months—ranking #16 at Amazon.com for 2000—but few were willing to pay to see a movie they already owned. As reported in an earlier Film Forum, viewer comments at Crosswalk.com, Christian Spotlight, and Hollywood Jesus were quite mixed, while Christian critics embraced it more readily.
What's Hot
Taking the box-office crown for the second week in a row was the screwball comedy The Wedding Planner. Christian critics agreed that it has a yesteryear aura—although it meant different things to different people. Holly McClure of Crosswalk.com said "I laughed, was emotionally moved, and appreciated the higher-moral approach the story took to ultimately bring two people together. … This is a throwback to the classic romance-comedies that have witty dialogue, a couple of romantic dance numbers, old-fashioned romantic touches and modern relationship situations." But for Movie Reporter Phil Boatwright, the old-time feel came off as a "throwback to all those empty-headed Doris Day/Rock Hudson comedies of the mid-'60s. … Let's get real; those three films they made were pretty silly stuff. The Wedding Planner goes beyond silly, bordering on the insulting." In the film, Jennifer Lopez as a twice-shy wedding coordinator who becomes attracted to the fiance of a client, and must decide whether to pursue her career or the possibility of love. Hollywood Jesus thought the familiar feel of the story raised spiritual questions: "It is a simple plot. We know the end from the beginning. We have seen stories like this many times before. But it still holds us. We want to believe in destiny. We want to believe that there is a grand design behind our lives." PlanetWisdom said the familiar feel was simply the easiest way to a romantic's heart. " Yes, the movie is predictable. But I don't think lovers of romantic films will mind. If so, why would they watch the same movies over and over? This film is perfect for them." But for Nappaland's MovieSpot, it just translates into lack of originality: "Unfortunately, instead of creating a clever story and matching it with dynamic acting, all this movie does is rehash used ideas (how about an eccentric father here? and an oddball suitor there?) and hope for the best." Other detractors included the U.S. Catholic Conference, which called it a "tiresome film filled with artificial emotions, contrived situations and flat jokes," and Michael Elliott of Crosswalk.com, who was wary of the movie's worship of puppy love: "Of the four weddings which are depicted in the film, each one was elaborate, ostentatious, and emphasized the fairy tale ideal of romance."
What's New
A trio of recent films, Sugar and Spice, The Pledge and The Gift upset Christian critics who found unflattering or inaccurate depictions of Christians in them. Sugar and Spice drew the most vehement protests: The satire about a group of cheerleaders who rob a bank (to help pay for the care of their leader's out-of-wedlock baby) features a dim-witted Christian cheerleader whose beliefs are mocked. "I'm sure there have been more malicious Christian caricatures to come out of Hollywood than Sugar and Spice's Hannah," says Bob Smithouser of Focus on the Family, "but they elude me. The girl is a sanctimonious prude who pummels her peers with self-righteous advice. Even when her moral stands are appropriate, the way she goes about them displays piety and amazing insensitivity. For example, when the girls learn that Diane is pregnant and the word 'abortion' pops up, Hannah pleads, 'Please, Di, don't be a whore and a murderer.'" Movie Reporter Phil Boatwright was upset that Hannah "goes along with the robbery, believing that it's more important to stand by your friends than your religious convictions." Crosswalk.com's Michael Elliott, on the other hand, enjoyed the humor in her character: "[Actress] Rachel Blanchard also has some nice moments as the token good girl Christian who, when asked to study crime films to get ideas for their heist, comes back with a report of The Apple Dumpling Gang because her parents only let her watch G-rated films." Still, Elliott found other moments offensive. "There is one scene in particular which is uncomfortably disrespectful of the crucifixion of Jesus Christ," he says. Other critics found the teen violence to be rather disturbing in wake of recent school shootings. "Suggesting teenagers watch certain movies (Heat, Point Break, Reservoir Dogs) to learn how to rob a bank might have been funny ten years ago," says Holly McClure of Crosswalk.com. "Since we have seen firsthand, murder, crime and copy-cat behavior manifest from children and teenagers who've watched too much television or movies, it's hardly funny or 'entertaining' to watch it in a movie." Likewise, the U.S.Catholic Conference says, "The combination of teens and guns as well as the flippant attitude toward teen-age pregnancy in director Francine McDougall's film is disturbing."
The Pledge is a character study of a retired police officer (Jack Nicholson) who can't let go of his last case because he made a promise to bring the killer to justice. Despite this cop's mental instability, Christian critics were chagrined that he would suspect a local minister of being the serial killer. "The movie plays on the tired old cliche that Christians who are vocal about their faith may really be dangerous fanatics, if not secret serial killers," says Movieguide. Movie Reporter Phil Boatwright agrees, charging that "there is a condescension toward Christianity and Christians throughout the film. … At one point, a gentle Christian man is suspected to be the deviant. Hey, why not? They're the usual suspects in today's who-done-its." However, David Bruce of Hollywood Jesus says, "The bottom line in the film, however, is not about religion. It is about the destructive quality of an obsessive commitment to a job. It is about placing things before relationships with God and others. It is a brilliant film." Tom Neven, editor of Focus on the Family magazine, found several elements to like as well. "Too obvious in many of his roles, Nicholson is stunning here in the way he subtly conveys myriad sides of his character, never overacting. And moviegoers are left with the interesting feeling that they've been on the wrong side of the looking glass throughout the story. Intriguing." But most Christian critics dismissed it as boring and repulsive. "Unfortunately, there doesn't seem to be much point to it all," says J. Robert Parks of the Phantom Tollbooth. "While the themes of unwanted retirement and old age would've been fantastic ones to investigate, [director Sean] Penn never quite focuses his attention. … We're given a detective thriller that isn't that thrilling." Curtis D. Smith, guest reviewer for Christian Spotlight, says "something apparently got lost in the translation between Friedrich Duerrenmatt's namesake novel and the bland, distasteful screenplay Penn chose to shoot." Crosswalk.com's Michael Elliott complains that "good performances and interesting direction are not enough to balance the completely unedifying nature of this rather disturbing tale. … The evil nature displayed by the crime scenes are spiritually nauseating and morally repugnant."
In The Gift, Christianity is not mocked or feared, but watered down—at least according to Preview. Annie (Cate Blanchett) experiences psychic visions and makes her living telling futures, but "is also a religious person who frequently attends church, which could seem to legitimize a practice spoken against in the Bible." Other critics found different reasons to dislike the film. Crosswalk.com's Michael Elliott says the story idea—that a psychic being stalked by a killer who is afraid she'll reveal the bodies of his victims—seems a little hard to swallow. "It is the story itself that is the weakest element to the film, "Elliott says. "Extremely predictable and at times ludicrous, it is a credit to [director Sam] Raimi's skills that he managed to keep the tension as taut as he did." Movieguide says the premise has been done before: "Despite The Gift's attempts to be original, it is quite similar to this past summer's What Lies Beneath. The psychic powers and occult themes, popular with recent horror/thriller movies, often comes across as too convenient or contrived for the movie's storyline." J. Robert Parks of the Phantom Tollbooth says everything else is contrived, too: "Most of the characters in The Gift are painted with a pretty broad brush. … The film's setting is equally obvious, as what feels like the Louisiana bayou is the backdrop for rain-soaked nights and flashes of lightning that suddenly illuminate our potential villains." Holly McClure of Crosswalk.com says that while she likes "a good murder mystery, one that makes you think and one you can't figure out … the dark journey to get there that ruined the rest of the movie for me: … murder, infidelity, sexual abuse by a father to his son, spouse's death, spousal abuse, child abuse and lots of discussion about sexual promiscuity."
Shadow of the Vampire is a humorous reimagining of F.W. Murnau's filming of the vampire classic Nosferatu, which finds the director hiring a real vampire (Willem Dafoe) to play the title role. Murnau's deal with the vampire to give him the neck of the leading lady reveals how the creative impulse often goes hand in hand with a destructive one. "This Faustian agreement calls to mind the burning question of how far one should be allowed to go in pursuit of art?" says Michael Elliott of Crosswalk.com. "Using the German post-WWI era of moral decadence as the setting, [the screenwriter] imagines Murnau as a bold visionary who is experimenting in any number of categories: not only film, but also drugs and sexual license." Elliott says that in addition to food for thought, the film offers a great performance by Dafoe, who gives "one extraordinary performance. … Walking a fine line between camp and creepy, he commands attention in every frame of celluloid in which he appears. " The Phantom Tollbooth's J. Robert Parks agrees that Dafoe's "performance is nothing short of mesmerizing. His obsession with blood is palpable, and his growing contempt for Murnau elicits both laughter and a strange sense of fear." But he was saddened that the film had so little ambition. "Given this great premise and the opportunity to explore the creative process or the relationship of acting and reality, or the evolution of the vampire movie over the years, Shadow settles for the easy laugh." Other Christian critics felt similarly let down; the U.S. Catholic Conference says it's " absorbing in part, but not entirely consistent as it sometimes produces unintentional giggles despite the eerie nature of the film," and Preview objected to the inclusion of a "bloody throat wound" and "a private club featuring sex acts and private rooms for injecting a drug."
Christian critics called Snatch stylish and entertaining, but were too bothered by the characters' lack of honor to enjoy the film much. The comedy from director Guy Ritchie centers around several thieves who are out to double-cross each other in order to nab a large diamond. "Creative camera work, solid acting, and innovative, interesting storytelling are upstaged by gratuitous violence and obscenity and a humanist, almost nihilistic worldview," complains Movieguide. Sarah Barnett of Culture@Home agrees that "Snatch is an exceedingly clever film. With more twists and turns than a corkscrew perm, this movie does have a lot going for it. But … the lightness with which human life is taken in this film is concerning." The U.S.Catholic Conference also felt "the escalating brutality and benign attitude towards wrongdoing are repulsive." Other critics felt the film rebuked the characters' actions: "The film is about the nature of sin within community," says David Bruce of Hollywood Jesus. "It is a fun take on how sin corrupts us. There is much truth to be gained from its humorous portray of sin." Jeff Diaz of The Film Forum told a story of how he'd felt betrayed recently and found himself, to his dismay, reacting with as much anger as the people in Snatch. "So in the end I suppose that this movie was a grand wake-up call. Destruction comes at a price none of us are truly willing to pay." Christian Spotlight guest reviewer Bryan Truong found the movie too impressed with itself to be interesting. "Ritchie just goes out of his way to prove to the audience how cool and slick his film is supposed to be, and I found this to be very distracting, making the movie less charming and engaging."
What's Noteworthy
The Amati Girls is a comic look at the lives of four Italian-American sisters whose Catholic faith helps them get through life's transitions and heartaches. Holly McClure of Crosswalk.com says "this incredible story will touch your heart, make you laugh ,and allow you to shed a tear for the things that are dearest to us all in life, including family! … I appreciate the way the family's strong Catholic faith is portrayed as a believable and relevant part of their lives, not a crutch or a joke." Preview says that while "it seems occasionally stilted, many will enjoy this decent, touching drama for adults. With a message about trusting God, encouraging family, and a father's place in his daughter's life … The Amati Girls can be recommended for an entertaining and heartwarming visit." Movie Reporter Phil Boatwright was bothered by some "sappy moments, and [that] everyone gets a chance to over-emote, but it is a delight to see the likes of Paul Sorvino, Mercedes Ruehl, and Sean Young in a film promoting family values." Movieguide says "the character development is superb, and the acting is superior," and makes for "an emotional, heart-rending movie … that preaches many virtues."
Steve Lansingh is editor of TheFilmForum.com an Internet magazine devoted to Christian conversation about the movies.
Related Elsewhere:
See earlier Film Forum postings for these movies in the box-office top ten: Cast Away, Save the Last Dance, Crouching Tiger, Hidden Dragon, Traffic, Finding Forrester, and Chocolate.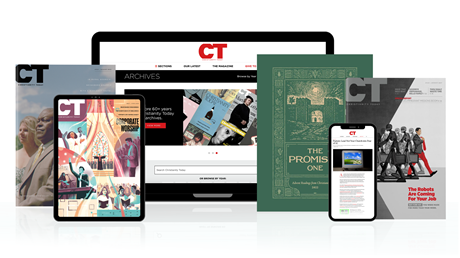 Annual & Monthly subscriptions available.
Print & Digital Issues of CT magazine
Complete access to every article on ChristianityToday.com
Unlimited access to 65+ years of CT's online archives
Member-only special issues
Subscribe
We're Number 17! We're Number 17!
We're Number 17! We're Number 17!