Delegates and observers at the southern Evangelical Church of Vietnam (ECVN) general conference held February 7-9 described the outcome as miraculous and an answer to prayer.
"They defied the attempts at manipulation of the Bureau of Religious Affairs (BRA) and of a small number of pastors deemed either pro-government or naive who had cooperated with the authorities," an observer said.
The BRA was granted permission by the prime minister on January 19 to authorize the first general conference of the southern ECVN since 1976. The conference was postponed twice in December because of BRA interference deemed unacceptable by the church.
Nevertheless, Vietnam's Protestants were allowed more freedom than expected during the conference.
Government manipulation?
The BRA's plan to "gain control" over the southern ECVN was spelled out in a secret document called "Document 184A" which was leaked in June 2000 by an official believed to be a Christian. Crucial to the BRA's plan was the co-opting of "good" Christian leaders—meaning pro-government, pliable leaders—and the requirement to draft a new "patriotic" church constitution.
The BRA's crude attempt to manipulate these areas quickly became known and was widely publicized.
The conference convened at the Saigon Church in Ho Chi Minh City (formerly Saigon) on the evening of February 7. The three-day conference was attended by 482 church pastors and delegates and 278 guests, including high-ranking officials of the BRA and the Fatherland Front, according to a Reuters news agency report.
A BRA official told Reuters that it would grant the church official recognition after the church approved a constitution "conforming to Vietnam's constitution and laws."
Nhan Dan (Peoples Daily) reported that the "church would elect an executive board and adopt a charter 'respecting national tradition and social life in conformity with Vietnam's constitution and laws.'"
Vietnam's Protestants considered these public statements objectionable.
On the first ballot for president, Rev. Pham Xuan Thieu was elected by a two-thirds majority vote. Rev. Thieu, who received some of his education in Canada before 1975, has long had his movements restricted by authorities. He has recently been ill and did not aspire to leadership, but as the most trusted and respected leader, he was drafted into service.
Goals for 2004
The conference set some ambitious goals to be accomplished by 2004 and agreed on a nine-point plan. The ECVN will implement the regional and city representation provided for in the new constitution. It will also restore normal activity of many churches that have suffered during the last 26 years. This will include trying to provide new church buildings and chapels for congregations who live too far from existing church buildings.
The conference also agreed to find ways of supporting retired pastors and their widows and announced its intention to research ways to develop and promote church growth.
Two vice-presidents were also elected. The first was the aging Rev. Duong Thanh, pastor of the historic first evangelical church in Vietnam in Danang. The second vice-president elected was the Rev. Tanh Van Hi, pastor of the Ben Tre congregation in the Mekong Delta. He and his congregation suffered intense persecution in the first decade after the communist takeover.
The government's intention to create a "patriotic" church out of the process appears to have been thoroughly frustrated but, a number of the goals announced by the ECVN will only be achieved with the reversal of government policy in place during the last 26 years. The first tests will come when the ECVN seeks permission to open a seminary and Bible training classes for lay people, when it ordains ministers and upgrades in-service training, when it asks permission to print Christian literature and when it tries rotate pastors from one church to another as needed.
The ECVN 22-member executive board chosen at the conference includes only two token members of the tribal minority Christians, although minority Christians comprise three-quarters of the ECVN's estimated 600,000 members. Minority Christians were excluded by government authorities from participation in this "regularization" process. There was also concern over the changes in the new church constitution that the church drafting committee had been required to make. The district or diocese level of administration was to be replaced by city and area representatives. Many delegates feared that the provision for "new branch churches" in the constitution was not strong enough and might hinder the ability of the ECVN to grow by adding new churches. The authorities had tried unsuccessfully to eliminate the term.
House churches persecuted
Leaders of Vietnam's many illegal house church organizations, whose followers total about 200,000, have expressed concern that government "normalization" of the ECVN's situation could cause more difficulty for them. They run a constant battle with authorities and often suffer harassment and persecution.
And many of the house churches exist in tribal minority areas.
Several hundred churches of the minority peoples were confiscated or destroyed immediately following the communist takeover in 1975. Yet the number of tribal minority Christians has grown dramatically, even according to government documents. Denied church buildings in most places, many hundreds of minority Christian congregations are forced to worship in circumstances deemed "illegal" by the government.
Minority demonstrations
"It is ironic and significant that the ECVN conference should take place the very same week as unprecedented public demonstrations by Vietnam's minority peoples took place in the highland provinces of Dak Lak and Gia Lai," an observer said. According to media reports, thousands from minority tribal groups took part in what appeared to be well-planned, peaceful demonstrations over land confiscation and religious discrimination.
A February 9 Agence France Press report carried in The New York Times said, "Residents of the region say members of the outlawed Protestant churches, which have a large following among the ethnic minorities, have joined the protests in large numbers out of anger over confiscation of churches and the breakup of religious services."
In recent years, thousands of minority peoples have become Christians, particularly among the Mnong, Ede, Jarai, and Bahnar peoples who live in the regions where the demonstrations took place. One group, the Ede, have seen the number of Protestants grow from 15,000 in 1975 to more than 150,000 today.
Various reports have documented vicious persecution of Protestants among Vietnam's minority peoples, including among the Hmong in Vietnam's northwest provinces along the China border. Thousands of these new Hmong Christians in the north have fled to Dak Lak, where they believed they would experience more freedom to worship.
Government reacts to protests
The demonstrations in the highlands last week sent shudders down the spines of Vietnam's communist rulers. They believe that churches in Eastern Europe played a key role in the fall of communism, so they will likely assume that Protestants were the instigators of the demonstrations. Secret Vietnamese government documents about Protestant Christianity, released last November by Freedom House's Center for Religious Freedom in Washington, D.C., conclude that the communist revolution's worst enemy is the prospect of "peaceful evolution." Government leaders see "peaceful evolution"—with the vanguard of Protestant Christianity—as the latest strategy of the "U.S. imperialists."
While Christian minority peoples have many legitimate grievances over religious persecution, they share with all minorities another major injustice—the wholesale confiscation of their lands, with official complicity, by ethnic Vietnamese coming to the region to try to capitalize on Vietnam's coffee boom.
"It seems that the injustices the minority people have suffered have finally boiled over," the observer said.
The ECVN conference seems to be a positive step for Vietnam's Protestants. But so many difficulties remain it's certain that persecution will continue in the near future at least.
Related Elsewhere:
Other media coverage of Vietnam's recent religious persecution includes:
Exiles criticise Vietnam over religion — Radio Australia
Exiles slam Vietnam over religious rights — BBC (Feb. 14, 2001)
Vietnam denounces U.S. Hearing on Vietnamese religious freedom — Bloomberg (Feb. 13, 2001)
Vietnam religious rights cited — Associated Press (Feb. 13, 2001)
Vietnam suspends treason probe — Associated Press (Feb. 12, 2001)
Vietnam war-era group accused — Associated Press (Feb. 10, 2001)
Read the U.S. State Department's 2000 Report on International Religious Freedom section on Vietnam.
Previous Christianity Today articles about Vietnam include:
Vietnam Jams Hmong Christian Radio Broadcasts | Government tries to curb spread of Protestant Christianity along Chinese border. (Sept. 1, 2000)

Authorities Destroy 'Church' in Vietnam | Crude structure in Ho Chi Minh City slum had been erected only hours earlier. (July 27, 2000)

Napalm Victim Now Agent for Peace | Canadian Christian remembers tearing burning clothes from her flesh. (Feb. 8, 1999)

Jesus Can Still Mean Jail | The plight of Vietnam's 700,000 evangelical Christians. (Nov. 11, 1998)

House Pastors Jailed in New Crackdown | Seven Vietnamese pastors imprisoned. (Jan. 6, 1997)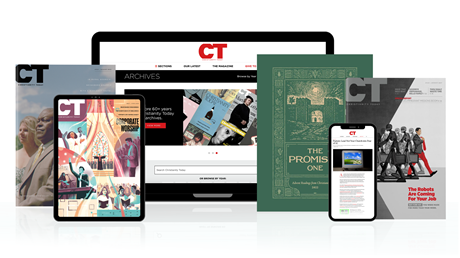 Annual & Monthly subscriptions available.
Print & Digital Issues of CT magazine
Complete access to every article on ChristianityToday.com
Unlimited access to 65+ years of CT's online archives
Member-only special issues
Subscribe
Vietnam Protestants Call Conference 'Miraculous'
Vietnam Protestants Call Conference 'Miraculous'