The new issue of Christian History begins with the childhood years of John and Charles Wesley, but in many ways we are picking up the story mid-stream. For though the Wesleys are rightly known as evangelical pioneers, the momentum for the movement they founded had been building long before they arrived.
In the seventeenth century, frustration with the German state church led to the rise of Pietism, a renewal movement within Lutheranism led by figures like Philipp Spener and August Francke. The revived Moravian Brethren, centered at Count Nikolaus von Zinzendorf's estate in Saxony, grew out of this movement. Pietism and Moravianism exerted a huge influence on Europe and beyond, partially through connections with the Wesleys.
Meanwhile in England, Dissenters (including the Wesleys' grandparents on both sides) offered their own alternative to the state church model. Their gatherings, or "conventicles," could meet anywhere and be led by nearly anyone, as long as the format was simple and the focus was on Scripture. Dissenters who eventually joined Methodist society meetings heard many familiar echoes.
The Wesleys consciously drew from all of these traditions in developing their movement. Both brothers experienced spiritual awakening among Moravians. John read and published Pietist classics. He also translated German hymns, while Charles wrote his own Moravian-inspired poetry. Methodist preachers often targeted enclaves of European immigrants, knowing their road would be smoothed by the influence of Continental traditions.
Yet the Wesleys, and Methodists after them, were not merely Pietists, Moravians, or Dissenters. In fact, the Wesleys developed grave concerns about each of these groups. They wanted Methodism to avoid the other movements' errors and excesses—all while sparking revival and staying within the Church of England.
Not surprisingly, the convergence of these multiple movements and motivations created some tension. Early Methodist leaders, and even the Wesley brothers, found themselves on different sides of numerous debates. But instead of halting Methodism or throwing it off track, these disagreements constituted dynamic tension, the chaos that breeds clarity.
The Wesleys did not boldly go where no one had gone before—they boldly harnessed the best impulses surrounding them and forged a new method of Christian living. They were precisely the pioneers eighteenth-century England was waiting for.
Elesha Coffman is associate editor of Christian History.
Related Elsewhere:
Christian History's Web site will offer more articles about the Wesleys from its current issue starting Monday, February 12.
More Christian History, including a listing of events that occurred this week in the church's past, is available at ChristianHistory.net. Subscriptions to the quarterly print magazine are also available.
The United Methodist Church has chronicled much of the Wesleys' history and original works. Read its materials on John, Charles, and Susanna.
Read John Wesley's thoughts on prayer and Scripture, from Wesley's "A Plain Account of Christian Perfection."
Charles Wesley's hymns—words and music—are also available online.
Christian History Corner appears every Friday at ChristianityToday.com. Previous Christian History Corners include:
Dangerous Myth-Conceptions | A new book traces the origins of historical misunderstandings about Christianity. (Feb. 2, 2001)
1,700 Years of Faith | Armenian Christians celebrate their heritage and look to their future. (Jan. 26, 2001)
This Is Your Life | Exploring the "well-worn sawdust trail" between fundamentalists and evangelicals. (Jan. 19, 2000)
The Heavens Declare the Glory of God | Like Paul, Galileo believed that God made himself known through creation. (Jan. 5, 2000)
Festive Flora | Deck the halls with boughs of pagan significance, falalalala, lalalala. (Dec. 22, 2000)

Peace on Earth? | Christmas Carols and the Civil War (Dec. 15, 2000)

Why December 25? | The month and day of Christ's birth have been hotly disputed for centuries. (Dec. 8, 2000)

The Book Everyone Should Buy | Or at least know about, anyway. (Dec. 1, 2000)

The Saga of St. Chad | A tale of political maneuvers and positioning. Sound familiar? (Nov. 22, 2000)

Accidental Radical | Jan Hus's ideas seem normal now, but in his age they were revolutionary enough to merit death. (November 17, 2000)

Top 10 Reasons to Read This Book | A list of Christian books that changed the century introduces authors and their impact on evangelicalism. (Nov. 10, 2000)

The Un-Denomination | The Southern Baptist Convention has been historically Un-Conventional. (Nov. 3, 2000)

Soul Crisis at the Conference on Faith and History | Academics gather asking questions like, "What does 'Christian history' actually mean?" (Oct. 27, 2000)

Case of the Missing Relic | A piece of Jesus' cross is stolen from a Toronto cathedral—or is it? (Oct. 20, 2000)

The Politicians' Patron | Is Thomas More a saintly model? (Oct. 13, 2000)

General Revelations | Reconsidering Robert E. Lee and Ulysses S. Grant. (Oct. 6, 2000)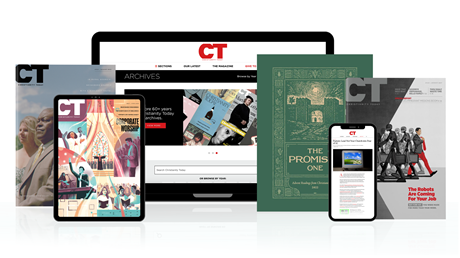 Annual & Monthly subscriptions available.
Print & Digital Issues of CT magazine
Complete access to every article on ChristianityToday.com
Unlimited access to 65+ years of CT's online archives
Member-only special issues
Subscribe
Innovating with the Flow
Innovating with the Flow