The Vatican has delivered a severe warning to a Belgian Jesuit priest for his views on religious pluralism.
The Vatican has asked Jacques Dupuis to remove "ambiguities" from his teaching which "could lead a reader to erroneous opinions" and raise doubts about Christ's saving power.
In a notification released this week and signed on January 24 by Cardinal Joseph Ratzinger, the 73-year-old Prefect of the Congregation for the Doctrine of the Faith, declared that Toward a Christian Theology of Religious Pluralism, a book published by Father Dupuis in 1997, gives rise to "difficulties on important doctrinal points" that had often been defined in church teaching.
The four-page notification, which is available on the Vatican's Web site (www.vatican.va), states that while other religions hold some truth, ultimately they also derive from the founder of Christianity. "It is consistent with Catholic doctrine to hold that the seeds of truth and goodness that exist in other religions are a certain participation in truths contained in the revelation of or in Jesus Christ. However, it is erroneous to hold that such elements of truth and goodness, or some of them, do not derive ultimately from the source-mediation of Jesus Christ."
The notification is likely to offend some followers of other faiths as it states that "according to Catholic doctrine, the followers of other religions are oriented to the church and are all called to become part of her."
Under pressure from the Vatican, Father Dupuis has signed the notification which will be placed in future editions of his controversial book. The book was originally published in English, French, and Italian. There have been further editions in all three languages, as well as in Portuguese and Spanish.
Dupuis, who was born in 1923, spent the period from 1948 to 1984 in India, which included 25 years teaching Christology. From 1984 to 1998 he taught the same subject at the Gregorian University in Rome, the prestigious Jesuit-run theological academy.
At a press conference in Rome yesterday, Dupuis told journalists he had based his book on his experience in India, "a country with a huge non-Christian majority."
Asked by ENI to summarize the book, Dupuis said: "I stress on one hand Jesus Christ's universal message of salvation, and, on the other, the positive value of non-Christian religions. The challenge here is to retain these two aspects without losing the substance of either."
Dupuis told the journalists that "at the start of October 1998, as I was about to begin my last course on Christology before retiring in 1999, Cardinal Ratzinger informed me that the Congregation for the Doctrine of the Faith had decided to hold a 'contestation' of my book on religious pluralism. So I had to abandon the course."
Dupuis added that there had been an exchange of letters between him and Cardinal Ratzinger who had sent him documents containing "very severe accusations against my book. I was summoned to answer under the strictest secrecy."
Finally, on September 4, 2000, Cardinal Ratzinger asked Dupuis to visit him in person, along with the superior general of the Society of Jesus (Jesuits), Peter-Hans Kolvenbach, and a church lawyer, Jesuit theologian Gerald O'Collins. At the meeting, Dupuis was asked to sign a text about the book.
Dupuis said yesterday that "at the end of a tense session of two hours" it became clear that the text submitted for his approval by the cardinal "contained false accusations against my book, to which I could not subscribe. I did not sign, even though the text mentioned the approval given to it by the Pope on June 16, 2000."
On December 6 another version of the text was presented to Father Dupuis. "I was requested this time to sign the text as it was sent to me, without any further discussion," he said, adding that one of the eight points of the new text declared that "it is contrary to the Catholic faith to consider the different religions of the world as ways of salvation complementary to the church."
The text also states: "By signing the text, Father Dupuis committed himself to assent to the stated theses and, in his future theological activity and publications, to hold the doctrinal contents indicated in the Notification, the text of which must be included in any reprinting or further editions of his book, as well as in all translations."
Dupuis said that the aim of the "Notification" was to make an example of him for various Catholic theologians from India who accepted the key role of Christ but also insisted on the positive aspects of non-Christian faiths.
Related Elsewhere:
Read a paper Dupuis delivered in 1990 on "Is Jesus Christ the one and universal Saviour?"
Other media coverage of the Dupuis controversy includes:
Vatican Rebukes a Theologian, but He Says He Can Work On — The New York Times
Vatican Reins in Jesuit Theologian — Associated Press (Feb. 28, 2001)
Vatican Has 'Difficulties' With Jesuit's Book on Pluralism — Los Angeles Times (Feb. 27, 2001)
The Vatican denies book by Jesuit theologian — The Boston Globe (Feb. 27, 2001)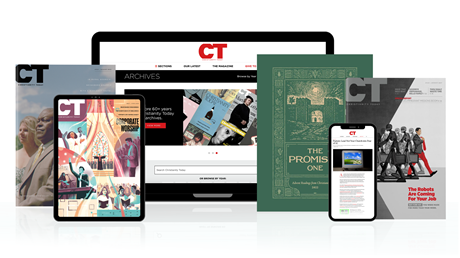 Annual & Monthly subscriptions available.
Print & Digital Issues of CT magazine
Complete access to every article on ChristianityToday.com
Unlimited access to 65+ years of CT's online archives
Member-only special issues
Subscribe
Vatican Attempts to Clarify Jesuit's Stance on Religious Pluralism
Vatican Attempts to Clarify Jesuit's Stance on ...