Last Thursday, the 2001 Templeton Prize for Progress in Religion was awarded to Arthur Peacocke, a biochemist and Anglican priest formerly dean of Clare College, Cambridge. He is the author of a number of books on science and religion, most notably Theology for a Scientific Age (enlarged ed., 1993).
Peacocke's distinguished career as a scientist included early research on DNA. His theology, alas, is typical of that of many thinkers who set out to explain what is "credible" for us to believe about God and his "interaction with the world" given the "comprehensive, indeed dazzling, perspective on the being and becoming of the world and of humanity that the sciences have … unveiled to our generation." This turns out to entail a rejection of anything resembling Christian orthodoxy from the first century to the present. There was no Fall as recounted in Genesis (whether interpreted literally or in symbolic terms), and instead of sin we have
a sense of incompleteness, a felt lack of integration and a widespread judgment that human individuals in twentieth-century society have failed to live up to the hopes engendered by scientific technology. These hopes have foundered on the rock of the obduracy of self-will operating in a humanity inadequate through its own inner paralysis of will to the challenge of newly won knowledge and power over the world.
There are pages and pages of this woolly stuff in Theology for a Scientific Age. Meanwhile, Scripture is discarded whenever it is convenient—so no virgin birth (the subject of which occasions an entirely irrelevant discussion of the mechanisms of heredity: the "science," you see), no atonement (unless redefined so as to be unrecognizable in biblical terms), no crude notions of a brazenly "intervening" God such as we see dealing with Abraham and Moses and Elijah (that God doesn't square with quantum indeterminacy; now we know better).
What makes all this rather creepy, from the standpoint of orthodox belief, is that Peacocke continues to use Christian language, talking about Jesus and the Holy Spirit and a very great deal about God's self-giving love. Again and again he returns to the assertion that the church must drop "incomprehensible and unbelievable" teachings and present the faith in a "credible" manner. It seems never to have occurred to him that as he was writing those very words, a charismatic evangelical fellowship across town was no doubt meeting for worship, affirming the very doctrines that Peacocke is so keen to toss overboard.
And while Peacocke's views don't represent the full spectrum of Anglicanism, a reading of his books makes it all too clear why so many Anglican churches are empty all over England. There's a bland obliviousness to the man, epitomized by the section in the superbly produced Templeton Prize presskit in which Peacocke summarizes and comments on his own books! "This was my first really major book in the field, the result of my being able to concentrate my thinking in my post as Dean of Clare College, Cambridge . …" "This was the first theologically informed analysis of this problem in the light of the new 'molecular biology' and was much quoted. … " So nice of you to tell us.
Peacocke calls his approach to science and theology "critical realism." What many readers will find in his work, however, is precisely an absence of the realism about the human condition that so distinguishes the biblical witness.
Also:
A few weeks ago, Books & Culture Corner discussed Leon Podles's essay, "Missing Fathers of the Church: The Feminization of the Church and the Need for Christian Fatherhood," which appeared in the January/February issue of Touchstone magazine. At the time, the essay was not posted online. Now it is. Enjoy.
John Wilson is editor of Books & Culture and editor-at-large for Christianity Today.
Related Elsewhere
Visit Books & Culture online at BooksandCulture.com or subscribe here.
The Templeton Prize Web site offers more information about the prize, past winners, and Peacocke. There's also a video of Peacocke receiving the prize.
A brief biography of Peacocke is available from PBS's Faith and Reason Web site.
A Peacocke article for The Tablet, "Darwin: Friend Not Foe," is available at the Roman Catholic British magazine's Web site and elsewhere.
Other media coverage of The Templeton Prize includes:
Religion Prize Won by Priest Much Involved with Science | The Rev. Arthur Peacocke, a Church of England priest and theologian who holds a doctorate in physical biochemistry, will receive the Templeton Prize for Progress in Religion. (The New York Times)

DNA Pioneer, Theologian Wins Religion Prize (The Washington Post)

Templeton Winner Urges Scientific Freedom to Fight Disease | Peacocke backs genetic manipulation of human DNA and some forms of cloning (The Washington Post)

Biochemist-theologian unites Darwin and divinity | For third year in a row, Templeton Prize for progress in religion goes to a scientist. (The Christian Science Monitor)

Templeton Prize (RealAudio, 14.4 kbps or 28.8 kpbs) | Robert Siegel of NPR's All Things Considered talks with Arthur Peacocke, an Englishman who won this year's Templeton Prize for Progress in Religion. Peacocke is a theologian and a scientist.

$1-Million Templeton Prize Goes to British Priest | Anglican cleric Arthur Peacocke also is a biochemist. His dual calling has led him to call for a theology that melds meaning and knowledge. (Los Angeles Times)

Priest wins science accolade (The Times, London)

Biochemist Wins Religion Prize (Associated Press)
Article continues below
Christianity Today and Books & Culture articles on past Templeton Prize winners include:
Physicist Wins Templeton Prize for Progress in Religion | Freeman Dyson, "midwife of Quantum Electrodynamics," futurist, and popularizer of science, honored for work on responsible science. (CT, Mar. 22, 2000)

The Universe Has a Mind of Its Own | A conversation with Templeton Prize-winner Freeman Dyson. (B&C, Nov/Dec 2000)

The Unthinkable | Paul Davies uses the G-Word, but leaves little room for God. (B&C, Sept./Oct. 1999)

Physicist Ian Barbour Wins Religion Award (CT, Apr. 26, 1999)

Bill Bright's Wonderful Plan for the World | Evangelicalism's power couple closes in on their radical mission. (CT, Jul, 14, 1997)
Books & Culture Corner appears Mondays at ChristianityToday.com. Earlier Books & Culture Corners include:
Are Scientists Taking Orders from Pat Robertson? | A Salon.com essay accuses the Intelligent Design movement of being primarily an arm of "conservative Republicans" and the "religious right." (Mar. 5, 2000)

Had Morse No Code? | Like much popular art, the finale of Inspector Morse functions like a dream of the collective unconscious. (Feb. 26, 2001)

Beware the Women! | A conspiracy theorist claims the church is becoming too "feminized." (Feb. 19, 2001)

Return to the Father's House | Touchstone magazine examines God the Father and human fatherhood. (Feb. 12, 2001)

What's the University For? | In James Davison Hunter's The Hedgehog Review, academics nibble on the hands that feed them. (Feb. 5, 2001)

Mary, Mary, Quite Contrary? | Experiencing Marian devotion as a Protestant (Jan. 29, 2001)

Opening the Mind of Science | Science Goes Postmodern, Part 2 (Jan. 22, 2001)

Science Goes Postmodern | David Foster Wallace creates math melodrama with his essay-review. (Jan. 15, 2001)

On Being Human, Part 3 | Did Natural History swallow an unscientific argument because it explained human experience in evolutionary terms? (Jan. 8, 2001)

On Being Human, Part 2 | Learning from information rather than instinct is often harder than it looks. (Dec. 18, 2000)

On Being Human | Natural History magazine celebrates a milestone. (Dec. 11, 2000)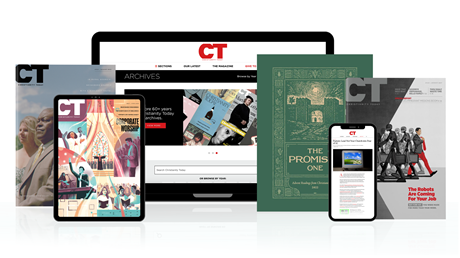 Annual & Monthly subscriptions available.
Print & Digital Issues of CT magazine
Complete access to every article on ChristianityToday.com
Unlimited access to 65+ years of CT's online archives
Member-only special issues
Subscribe
Examining Peacocke's Plumage
Examining Peacocke's Plumage