On the wall above our bed is a simple wooden crucifix made in Rwanda after the genocide there. It was given to us by Arne Bergstrom, vice president for International Ministries at World Relief, who coordinates WR's response to disasters human and natural. In the time we've known each other (Wendy and I attend the same church as Arne and his wife Marie and are members of the same small group, which has met weekly for more than six years), Arne's work has taken him all over the world—to Albania, where the tiny evangelical Christian minority showed Christlike love to Muslim refugees from Kosovo; to Turkey, after a devastating earthquake, where he visited a Christian convert who lived with her children in a shipping container; to Sierra Leone, where the brutal civil war has left countless young men and women mutilated, their hands or feet or both cut off.
It's one thing to read about such suffering in the paper, to see it on the TV news; it's something else to hear about it from a friend who has been there. The effect is to make the experience more real: no longer abstract Horror, hypothetical Evil, nor the stylized, cynical bleakness of so many journalistic accounts. And in that reality, along with the suffering and despair, there is always hope.
Wherever he is, in the western suburbs of Chicago or halfway around the globe, Arne runs, 50 miles a week and more. I think for him running is a spiritual discipline as well as a physical one. But to do justice to what he has witnessed, to cry out in pain and confusion and praise, Arne picks up his guitar and starts to play. He may sing a Dylan tune, or a contemporary hymn, or a song he's written himself. He's accumulated enough of the latter to release a CD, his first: Benediction. In addition to his own compositions it includes a couple of traditional numbers, including a stunning version of "How Can I Keep from Singing," a song I've asked him to play so many times he must be getting tired of it.
I've been playing the CD at home. As I listen, in my mind's eye I see a quiet man who looks like an aging hippie, with his beard and ponytail and gold-rimmed glasses. He's back from Cambodia or Sudan, singing. "Tell me," he asks, "what pain reaches the heart of our God / What touches the depth of his soul / Is it the cry of the hungry, the tears of the homeless / Or the flight of the refugee."
Uncomfortable questions—questions we'd prefer to evade with an ironic shrug. (At least that's what I would prefer to do.) But some people persist in asking them anyway. Thank you, Arne.
John Wilson is editor of Books & Culture and editor-at-large for Christianity Today.
Related Elsewhere
Visit Books & Culture online at BooksandCulture.com or subscribe here.
Benediction can be ordered by e-mailing abergstrom@wr.org
World Relief has a press release about the CD project.
Books & Culture Corner appears Mondays at ChristianityToday.com. Earlier Books & Culture Corners include:
To Poland, for an Evening | Once in a great while, a film like Kieslowski's The Decalogue discovers how to transport an audience. (Mar. 19, 2001)

Examining Peacocke's Plumage | The winner of the 2001 Templeton Prize for Progress in Religion rejects everything resembling Christian orthodoxy, but that doesn't stop him from co-opting the language. (Mar. 12, 2001)

Are Scientists Taking Orders from Pat Robertson? | A Salon.com essay accuses the Intelligent Design movement of being primarily an arm of "conservative Republicans" and the "religious right." (Mar. 5, 2001)

Had Morse No Code? | Like much popular art, the finale of Inspector Morse functions like a dream of the collective unconscious. (Feb. 26, 2001)

Beware the Women! | A conspiracy theorist claims the church is becoming too "feminized." (Feb. 19, 2001)

Return to the Father's House | Touchstone magazine examines God the Father and human fatherhood. (Feb. 12, 2001)

What's the University For? | In James Davison Hunter's The Hedgehog Review, academics nibble on the hands that feed them. (Feb. 5, 2001)

Mary, Mary, Quite Contrary? | Experiencing Marian devotion as a Protestant (Jan. 29, 2001)

Opening the Mind of Science | Science Goes Postmodern, Part 2 (Jan. 22, 2001)

Science Goes Postmodern | David Foster Wallace creates math melodrama with his essay-review. (Jan. 15, 2001)

On Being Human, Part 3 | Did Natural History swallow an unscientific argument because it explained human experience in evolutionary terms? (Jan. 8, 2001)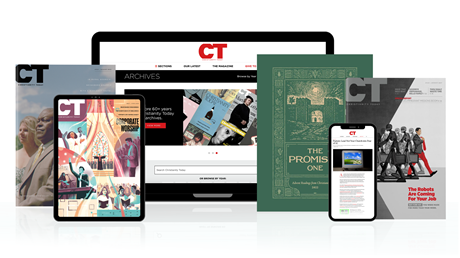 Subscribe to Christianity Today and get access to this article plus 65+ years of archives.
Home delivery of CT magazine
Complete access to articles on ChristianityToday.com
Over 120 years of magazine archives plus full access to all of CT's online archives
Subscribe Now
How Can I Keep From Singing?
How Can I Keep From Singing?