It came from cyber space
Weblog just got back from a weekend journalism conference in Nashville, where the local paper is The Tennessean. It's usually a fine paper, and Weblog has linked to it several times for several items on the Christian music world. But it committed a cardinal journalistic sin on Friday: running the complete text of a poem completely unattributed. Well, not completely: it apparently is "making the rounds in cyberspace." Well then, if it's being e-mailed around it must have just appeared ex nihilo. Actually, the poem, a 9/11-themed parody of Dr. Seuss's "How the Grinch Stole Christmas" titled "The Binch," was written by Christian humorist and cartoonist Rob Suggs (who recently illustrated The Prayer of Jabez for Kids).
One version of the message being circulated suggests that he works for Children's Heathcare of Atlanta. He doesn't. A common tag on the forward suggests he wrote it "to further explain the [terrorist attack] to the children." Nope. As Suggs told CT this morning, "This wasn't a grand gesture, a premeditated desire to minister to children, or an effort to speak to America through cyberspace. It was a parody that I spent ten minutes writing after considering the mythic parallels between Dr. Seuss' character and this horrific contemporary figure who was suddenly thrust like a dagger into the middle of our national psyche. … I merely wrote the verse for a few adult friends on the Net, not children—not even my own kids, who are 8 and 10. I tossed it off without even adding my name, and I had no expectation of forwarding."
For Suggs, The Tennessean's not attributing the poem (nor naming him in an accompanying article about its popularity online), is a blessing. Already his publisher, InterVarsity Press, has been deluged with calls, and his inbox is crammed with e-mail messages both positive and negative. And some other poor Rob Suggs in Atlanta has been getting way too many calls.
Supreme Court watch
As noted last week, the Supreme Court will decide in its 2001-2002 term whether school vouchers for religious private schools are constitutional. But other important cases will also be heard. Two cases involve online pornography. Ashcroft v. ACLU focuses on a law prohibiting any image that "appears to be of a minor engaged in sexually explicit conduct" or that "conveys the impression that the material is or contains a visual depiction of a minor engaging in sexually explicit conduct." The 9th Circuit Court of Appeals held that the law was unconstitutional, saying, "Congress cannot regulate virtual child pornography because it does not require the use of actual children." Ashcroft v. Free Speech Coalition challenges the 1998 Child Online Protection Act, which prohibits commercial Web sites from offering material "harmful to minors." Lower courts ruled that the law "imposes an impermissible burden on constitutionally protected First Amendment speech." A third case to be considered by the court examines whether Los Angeles overstepped constitutional boundaries when it banned businesses from both selling porn and showing it in booths.
But one case that won't be going before the Supreme Court is one closely watched by religious liberty groups. The court won't hear the case of four Orthodox Jewish students who said Yale University's requirement that they live in coed dorms violated their religious beliefs. Lower courts had rejected the suit.
Ann Coulter fired from National Review
Conservative columnist Ann Coulter has finally been fired from National Review Online, reports The Washington Post. She has been under fire for the last three weeks after she wrote about those who cheered the 9/11 attacks, "We should invade their countries, kill their leaders and convert them to Christianity." A follow-up article warned of "suspicious-looking swarthy males," but National Review Online Editor Jonah Goldberg decided not to run it. Consequently, Coulter went on the warpath against National Review, calling its editors "just girly-boys," and claiming the criticism of her article has come from "anti-Christian bigots who will jump on you for any mention of Christianity."
Unlike some others who've since retracted dumb statements they've made, Coulter continues to press her point—albeit with a bit more detail and subtlety. On last Tuesday's edition of Politically Incorrect, Coulter again argued that the United States should follow the example of General Douglas MacArthur. "And one of the things General MacArthur did, he considered converting the emperor [of Japan] to Christianity," she said. "He decided not to because he thought there would be a fight between Catholics and Presbyterians. But General MacArthur called in thousands of Christian missionaries. He distributed thousands of Bibles. It wasn't as much of a success story as the Christian missionaries were in Korea after the Korean War, but you know how it was a success story? They have unprecedented religious freedom there, something that is absent in every Muslim country."
Walter Cronkite loses his cool
"The most trusted man in America" told TV Guide, "The most abominable thing I've ever heard" was Jerry Falwell's post-9/11 comments. "It makes you wonder if [Falwell and Robertson are] worshipping the same God as the people who bombed the Trade Center and the Pentagon," he said. Whatever. Just a reminder: Cronkite is the celebrity spokesman for the Interfaith Alliance, which basically exists to attack "the religious right."
Related Elsewhere
See our past Weblog updates:
September 28 | 27 | 26 | 25 | 24

September 21 | 20 | 19 | 18 | 17

September 14b | 14a | 13 | 12 | 10

September 7 | 6 | 5 | 4

August 31 | 30 | 29 | 28 | 27

August 24 | 23 | 22 | 20

August 17 | 16 | 15 | 14 |13

August 10 | 9 | 8 | 7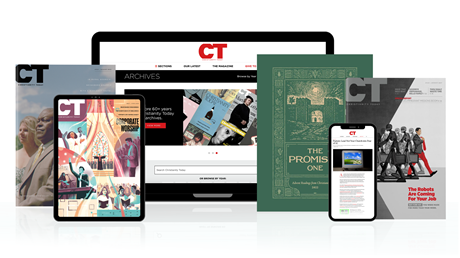 Subscribe to Christianity Today and get access to this article plus 65+ years of archives.
Home delivery of CT magazine
Complete access to articles on ChristianityToday.com
Over 120 years of magazine archives plus full access to all of CT's online archives
Subscribe Now
The Untold Story of America's Favorite E-mail Forward
The Untold Story of America's Favorite E-mail Forward