Unnamed Deity Bless the Episcopal Church
From today's Washington Post:
To reach people who never enter a sanctuary, [Episcopal pastor Harry] Brunett and [marketer Chuck] Donofrio have used market research and focus groups, and have designed weekly services that, among other things, deliberately de-emphasize Jesus Christ.

"The sad fact is the name of Jesus Christ has become for many people exclusionary," said Donofrio, president and CEO of a Baltimore marketing and public relations firm. "Many people experience using Jesus almost as a bludgeon to beat them into submission."
The Post reports that the services, where Zen master Thich Nhat Hanh is given equal time with Saint Benedict and Willie Nelson's "On The Road Again" is one of the hymns, has the backing of the Episcopal Diocese of Maryland and its bishop, the Rev. Robert Wilkes Ihloff. "We're enabling people to discover God themselves, maybe through Jesus, maybe through Buddha, maybe through any number of ways," says Brunett. "It's not a back-door way to catch people and bring them to the Episcopal Church."
Another missionary kidnapped in the Philippines
How stupid are these guerillas? They have to know that if anything happens to Martin and Gracia Burnham, the two New Tribes missionaries they are already holding captive, the U.S. military will rain down hellfire upon them. Now they go and kidnap another foreign missionary? Giuseppi Piarantoni, an Italian priest, was kidnapped last night as he celebrated Mass. The local military isn't totally sure it was the Abu Sayyaf who took him, but it sure looks that way.
The controversial sayings of Pat Robertson, part 6,531,402,312
"Ladies and gentlemen," Pat Robertson said on Monday's 700Club, "our president said Islam is a peaceful religion, [but] I beg to differ with our distinguished leader. That just isn't the case." (If you're watching the program, Robertson's comments appear 21 minutes in. If the first link doesn't work, try this one.) The Boston Globe asks a bunch of religious leaders what they think of the statement. "I think it's unhealthy that Robertson's doing it," says Michael Cromartie at the Ethics and Public Policy Center. "Even if he's right, what does he think the president is supposed to do? Wipe out all Muslims? If I was in Robertson's place, I'd want to encourage Islam to find its more peaceful doctrines and promote them." It doesn't sound like anyone is getting too bent out of shape over the comments, unlike when Robertson supported China's one-child policy or said the U.S. deserved the World Trade Center attack. For more on what The 700 Club is saying about Islam, check out its site's "Understanding Islam" area.
Prayer, revival, and church attendance after 9/11:
Christianity and Islam:
Politics and law:
Missions & ministry:
Related Elsewhere
See our past Weblog updates:
October 17 | 16 | 15

October 12 | 11 | 10 | 9 | 8

October 5 | 4 | 3 | 2

September 28 | 27 | 26 | 25 | 24

September 21 | 20 | 19 | 18 | 17

September 14b | 14a | 13 | 12 | 10

September 7 | 6 | 5 | 4

August 31 | 30 | 29 | 28 | 27

August 24 | 23 | 22 | 20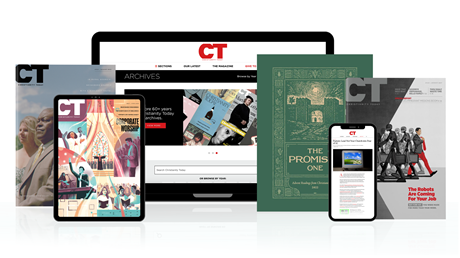 Subscribe to Christianity Today and get access to this article plus 65+ years of archives.
Home delivery of CT magazine
Complete access to articles on ChristianityToday.com
Over 120 years of magazine archives plus full access to all of CT's online archives
Subscribe Now
The Worst Seeker-Sensitive Church in America
The Worst Seeker-Sensitive Church in America